Penetapan Kadar Siklamat Pada Minuman Es Pada Pedagang Keliling Di Sekolah Dasar Kota Palu Menggunakan Metode Kromatografi Cair Kinerja Tinggi
Fanda Susan Watung

Qabul Dinanta Utama

Unviersitas Mataram
Keywords:
Cyclamate, Cold drinks, HPLC, Sweeteners
Abstract
Cold drink was one of beverage that favored by everyone, including children because the taste was sweet and fresh. This condition encouraged traders to add synthetic sweeteners, for example Cyclamate, which has a cheaper price than sugar. The addition of Cyclamate as sweetener was allowed in cold drinks, but it must meet the specified level requirements. This study aims to find out the content of Cyclamate in cold drinks that was sold by peddlers in an elementary school of Palu city, whether it had met the requirements that had been determined by the government. The assay of Cyclamate was analyzed by High Performance Liquid Chromatography (HPLC) method with an ultraviolet (UV) detector at a wavelength of 314 (nm), which had been derivatized to N,N-dichlorocyclohexylamine using sodium hypochlorite (NaCLO) in acidic solution. Samples were obtained from peddlers who was selling at an elementary school of Palu City. The test results showed that the cyclamate content are as following: Sample (1) = 121.27 mg/Kg, Sample (2) = 17.08 mg/Kg, Sample (3) = 105.61 mg/Kg, Sample (4) = 24.78 mg/Kg, Sample (5) = 121.27 mg/Kg . Based on this result, it can be concluded that the cyclamate content in all samples met the specified content requirements.
References
Angraini, N., & Desmaniar, P. (2020). Optimasi penggunaan High Performance Liquid Chromatography (HPLC) untuk analisis asam askorbat guna menunjang kegiatan Praktikum Bioteknologi Kelautan. Jurnal Penelitian Sains, 22(2). https://doi.org/10.56064/jps.v22i2.583

Behnoush, B., Sheikhazadi, A., Bazmi, E., Fattahi, A., Sheikhazadi, E., & Saberi Anary, S. H. (2015). Comparison of UHPLC and HPLC in benzodiazepines analysis of postmortem samples. Medicine (United States), 94(14). https://doi.org/10.1097/MD.0000000000000640

BPOM RI. (2019). Peraturan Badan Pengawas Obat Dan Makanan Nomor 11 Tahun 2019 tentang Bahan Tambahan Pangan. BPOM. Jakarta: Badan Pengawas Obat dan Makanan. Retrieved from https://standarpangan.pom.go.id/dokumen/peraturan/2019/PerBPOM_No_11_Tahun_2019_tentang_BTP.pdf

Ceccardi, S., Gancia, G., Bonfrisco, A., & Lizzi, E. (2020). Parliamentary question - E-001008/2020- Cyclamate in food poses a danger to our health. Retrieved November 11, 2023, from https://www.europarl.europa.eu/doceo/document/E-9-2020-001008_EN.html#:~:text=Cyclamate is an artificial sweetener,testing%2C resulted in testicular damage.

Chen, Z., Chen, G., Zhou, K., Zhang, P., Ren, X., & Mei, X. (2019). Toxicity of food sweetener-sodium cyclamate on osteoblasts cells. Biochemical and Biophysical Research Communications, 508(2). https://doi.org/10.1016/j.bbrc.2018.11.172

Handayani, T., & Agustina, A. (2015). Penetapan Kadar Pemanis Buatan (Na-Siklamat) Pada Minuman Serbuk Instan Dengan Metode Alkalimetri. Jurnal Farmasis Sains Dan Praktis, I(1), 1–7.

Horwitz, W. Latimer, G. (2019). Official methods of analysis of AOAC. AOAC International, 21st(February).

Jamil, A. et al. (2017). Gambaran Pengetahuan, Sikap, Tindakan Dan Identifikasi Kandungan Pemanis Buatan Siklamat Pada Pedagang Jajanan Es Di Kecamatan Kadia Kota Kendari Tahun 2017. Jurnal Ilmiah Mahasiswa Kesehatan Masyarakat, 1(69).

Manoppo, T., Sudewi, S., & Wewengkang, D. S. (2019). ANALISIS PEMANIS NATRIUM SIKLAMAT PADA MINUMAN JAJANAN YANG DIJUAL DI DAERAH SEKITAR KAMPUS UNIVERSITAS SAM RATULANGI MANADO. PHARMACON, 8(2). https://doi.org/10.35799/pha.8.2019.29318

Marlina, L. (2016). Identifikasi Kandungan Siklamat pada Minuman yang Dijual di Pinggir Jalan Cihampelas Sampai Jalan Batujajar. Jurnal Politeknik TEDC Bandung, 10(3).

Maudu, R., Hafid, F., & Dewi Susetiyany Ichsan. (2020). Analisis Kadar Siklamat Dengan Metode Kromatografi Cair Kinerja Tinggi Pada Minuman Jajanan Sekolah Di Kota Palu. Poltekita : Jurnal Ilmu Kesehatan, 13(1). https://doi.org/10.33860/jik.v13i1.27

Musiam, S., Hamidah, M., & Kumalasari, E. (2016). Penetapan Kadar Siklamat dalam Sirup Merah yang Dijual di Banjarmasin Utara. Jurnal Ilmiah Ibnu Sina, 1(1).

Ningtyas, T. S., & Fajriati, I. (2020). Analisis Pemanis Buatan Natrium Siklamat pada Minuman Ringan dengan Kromatografi Cair Kinerja Tinggi. Indonesian Journal of Halal Science, 001(01).

Nuraida, L., Syamsir, E., & Herawati, D. (2014). Keamanan Pangan (3rd ed.). Banten: Universitas Terbuka.

Nurlailah, N., Alma, N. A., & Oktiyani, N. (2017). Analisis Kadar Siklamat pada Es Krim di Kota Banjarbaru. Medical Laboratory Technology Journal, 3(1). https://doi.org/10.31964/mltj.v3i1.148

Qamariah, N., & Rahmadhani, E. A. (2017). Analisis Kualitatif dan Kuantitatif Pemanis Buatan Siklamat pada Sirup Merah dalam Es Campur yang Dijual di Kelurahan Kalampangan Kota Palangka Raya. Jurnal Surya Medika, 2(2). https://doi.org/10.33084/jsm.v2i2.357

Rochanah, S., Serahli, U. F., Farmasi, P. S., & Peradaban, U. (2022). Identifikasi Senyawa Siklamat pada Minuman Kemasan dan Olahan yang Beredar di Pasar Wilayah Kecamatan Bumiayu. Pharmacy Peradaban Journal, 2(2), 53–58. Retrieved from http://journal.peradaban.ac.id/index.php/ppj/article/view/789/771

Sargaço, B., Serra, C., & Vasco, E. (2017). Validation of an HPLC-DAD/UV method for the quantification of cyclamate in tabletop sweeteners: risk of exceeding the acceptable daily intake. Food Additives and Contaminants - Part A Chemistry, Analysis, Control, Exposure and Risk Assessment, 34(6), 883–890. https://doi.org/10.1080/19440049.2017.1306756

Snyder, L. R., Kirkland, J. J., & Dolan, J. W. (2010). Introduction to Modern Liquid Chromatography. Introduction to Modern Liquid Chromatography. https://doi.org/10.1002/9780470508183

Sutanto, S, Y. M. N., & Fatimah, A. (2009). Validasi Metode Analisis Penetapan Kadar Senyawa Siklamat Dalam Minuman Ringan. Prosiding PPI Standardisasi 2009, (November).

Wisnowardhani, A. A. (2021). Kajian Analisis Sakarin Dan Siklamat Pada Minuman Jajanan Yang Dijual Di Pasar Induk Cikurubuk Kota Tasikmalaya. Universitas Pasundan. Retrieved from http://repository.unpas.ac.id/56235/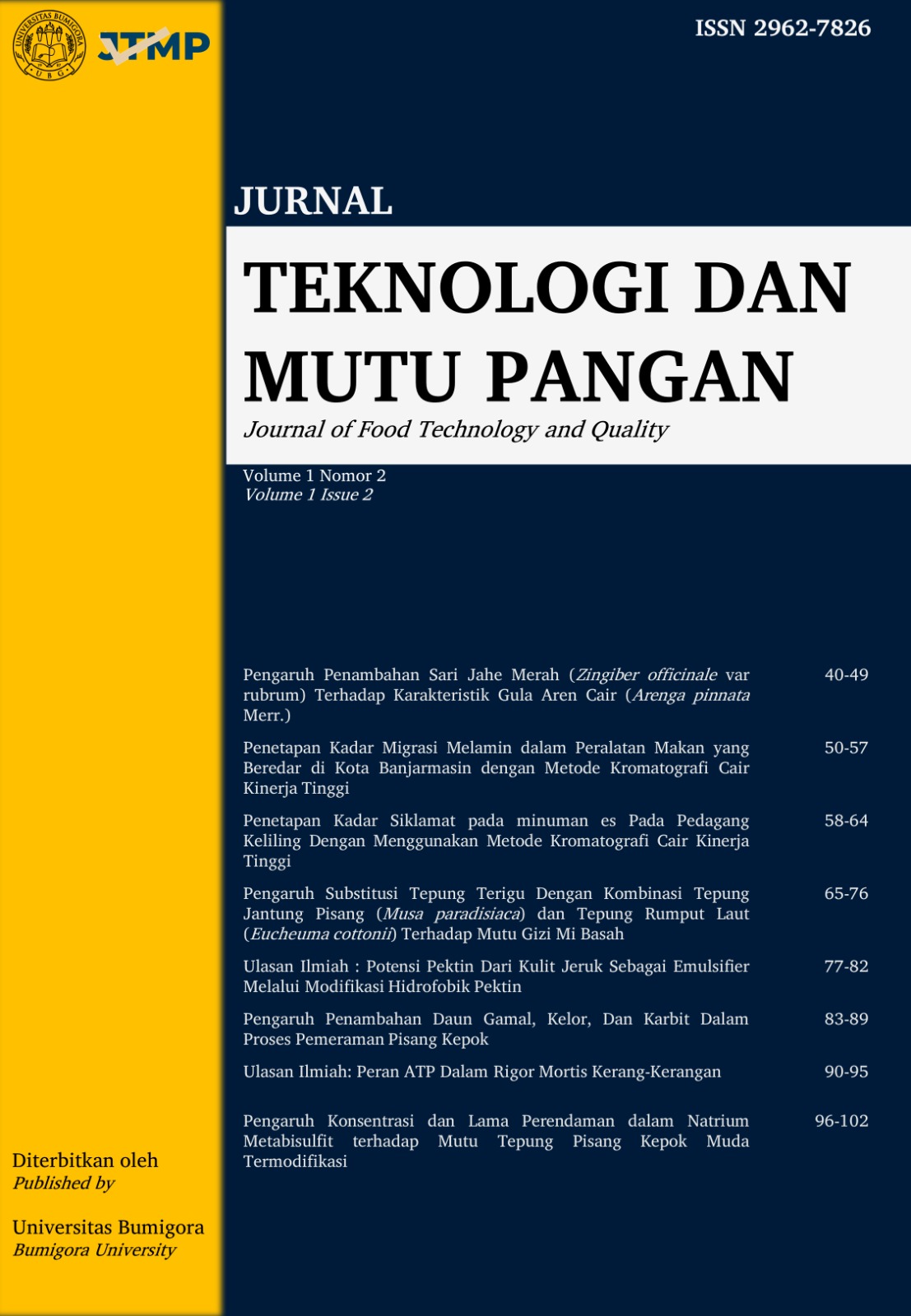 How to Cite
Watung, F., & Utama, Q. (2023). Penetapan Kadar Siklamat Pada Minuman Es Pada Pedagang Keliling Di Sekolah Dasar Kota Palu Menggunakan Metode Kromatografi Cair Kinerja Tinggi. Jurnal Teknologi Dan Mutu Pangan, 1(2), 58-64. https://doi.org/https://doi.org/10.30812/jtmp.v1i2.2546
This work is licensed under a Creative Commons Attribution 4.0 International License.