Network Rancang Bangun Jaringan Komputer LAN Berdasarkan Perbandingan Kinerja Routing Protokol EIGRP dan Routing Protokol OSPF
Lalu Zazuli Azhar Mardedi

Universitas Bumigora

Khairan Marzuki

Universitas Bumigora
Keywords:
EIGRP, OSPF, simulator, performance, Packet Tracer
Abstract
Nowadays computer networks are growing rapidly and internet usage is increasing everyday. The need to design an internet network cannot be separated from the routing protocol which functions to integrate all computers with the highest flexibility. Routing is one part that provides effective performance in the network. In comparing the performance of EIGRP and OSPF routing protocols, the implementation of EIGRP and OSPF must be implemented when building a network, so administrators easily know the difference in the performance values of the two routing protocols. The discussion in this study is to compare the performance of the EIGRP routing protocol and OSPF routing protocol that is on the network using the hybird topology. Overcoming problems with high-scale network access, we will analyze and compare performance between EIGRP routing protocol and OSPF routing protocol. In obtaining the value and to verify the results of the implementation, the simulation software uses a Packet Tracer simulator.
Downloads
Download data is not yet available.
References
[1] A. Setiawan and N. Sevani, "PERBANDINGAN QUALITY OF SERVICE ANTARA ROUTING INFORMATION PROTOCOL ( RIP ) DENGAN OPEN SHORTEST PATH FIRST ( OSPF )," pp. 196–207.
[2] E. Menggunakan, S. Jaringan, and O. Modeler, "SIMULASI KINERJA ROUTING PROTOKOL OPEN SHORTEST PATH FIRST (OSPF) DAN ENHANCED INTERIOR GATEWAY ROUTING PROTOCOL (EIGRP) MENGGUNAKAN SIMULATOR JARINGAN OPNET MODELER v. 14.5," pp. 1–6.
[3] Azhar, R. (2015). ANALISA PERBANDINGAN PENERAPAN PBR DAN NON PBR PADA PROTOCOL OSPF UNTUK KONEKSI INTERNET. MATRIK : Jurnal Manajemen, Teknik Informatika Dan Rekayasa Komputer, 15(1), 29-34. [4] "Pengembangan Jaringan Komputer Universitas Surakarta Berdasarkan Perbandingan Protokol Routing Information Protokol (RIP) Dan Protokol Open Shortest Path First (OSPF) Prawido Utomo, Bambang Eka Purnama ABSTRAKSI," vol. 1, no. November, pp. 8–25, 2012.
[5] "DESAIN IMPLEMENTASI ROUTING JARINGAN KOMPUTER," vol. 3, no. 1, 2009.
[6] B. A. Y. Tampi, M. E. I. Najoan, A. A. E. Sinsuw, A. S. M. Lumenta, and A. P. J. Komputer, "Implementasi Routing Pada IP Camera Untuk Monitoring Ruang di Universitas Sam Ratulangi," pp. 1–8, 2013.
[7] Wiji Suhardjo, Bambang Eka Purnama (2013), Pemanfaatan Local Area Network Dan Program Netop School Sebagai Media Pembelajaran Interaktif Pada Jurusan Teknik Komputer Jaringan Smk N 1 Klaten, IJNS – Indonesian Journal on Networking and Security, Vol 2 No 3 – Juli 2013, ijns.org, ISSN: 2302-5700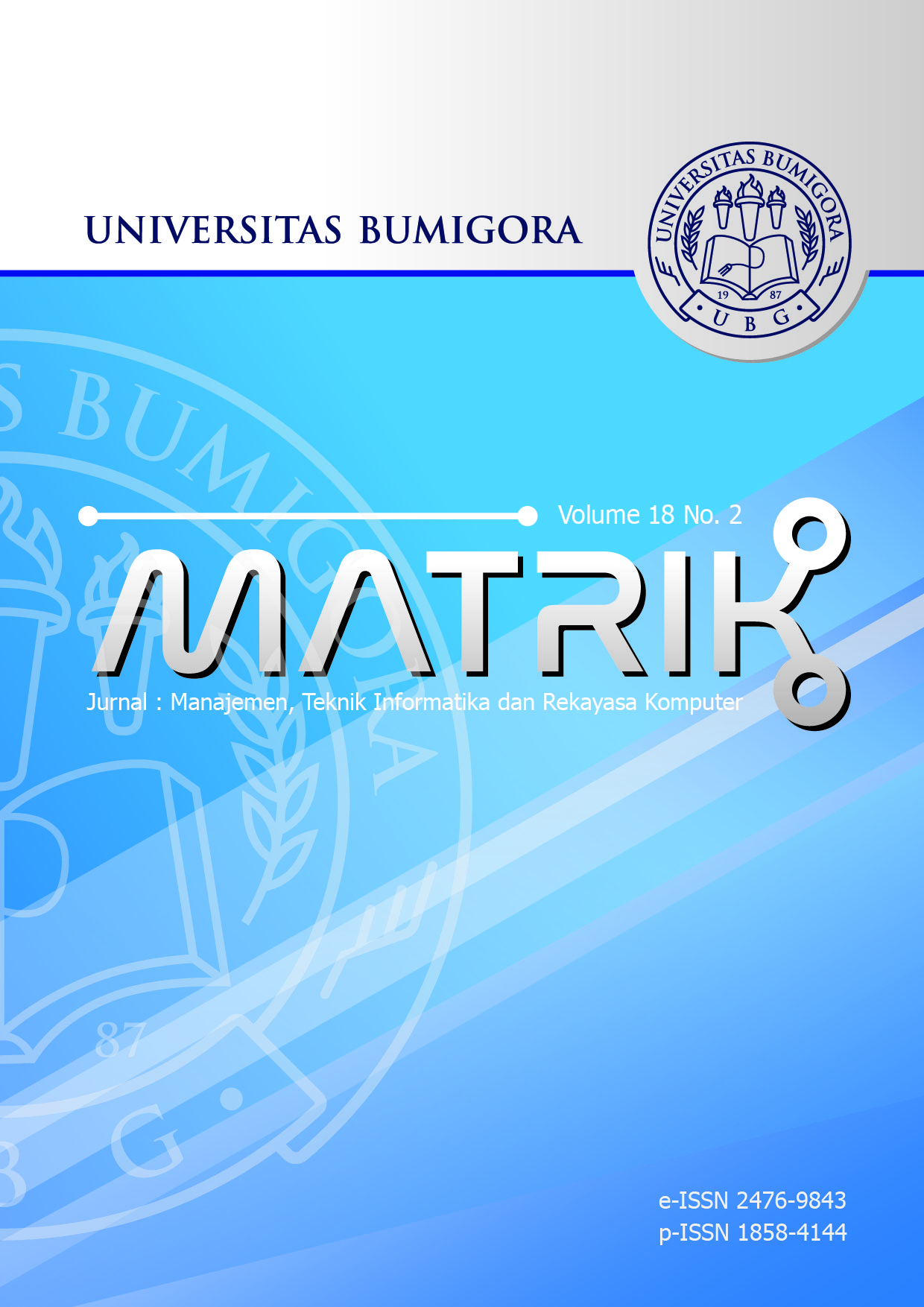 How to Cite
Mardedi, L. Z., & Marzuki, K. (2019). Network Rancang Bangun Jaringan Komputer LAN Berdasarkan Perbandingan Kinerja Routing Protokol EIGRP dan Routing Protokol OSPF. MATRIK : Jurnal Manajemen, Teknik Informatika Dan Rekayasa Komputer, 18(2), 202-210. https://doi.org/https://doi.org/10.30812/matrik.v18i2.372