Rancang Bangun Aplikasi Smart Touring Berbasis Android
Majid Rahardi

Universitas Amikom Yogyakarta

Afrig Aminuddin

Universitas AMIKOM Yogyakarta
Keywords:
aplikasi touring, android, contextual awareness
Abstract
Perkembangan teknologi saat ini begitu cepat. Teknologi membuat perubahan pada peradaban manusia. Telah banyak kegiatan manusia yang didukung oleh kemajuan teknologi. Tak terkecuali kegiatan touring yang dilakukan bersama-sama. Touring adalah kegiatan berkendara dari suatu tempat ke tempat lain secara bersama-sama. Saat ini komunitas touring terus meningkat, namun masih memiliki beberapa permasalahan saat melakukan aktifitasnya. Saat ini salah satu permasalahan yang ada pada aktifitas touring adalah pengendara satu dengan yang lainnya tidak bisa mengetahui lokasi semua teman touring mereka. Oleh karena itu sangat dimungkinkan ada anggota touring mereka yang tertinggal jauh atau salah jalur. Dengan teknologi smartphone yang sangat pesat, dimungkinkan dibangun sebuah sistem yang dapat mendukung kegiatan touring tersebut. Pada penelitian ini telah berhasil dibangun sistem yang dapat mendukung kelancaran aktifitas touring. Fokus penelitian ini adalah membangun sistem touring yang dapat mendeteksi keberadaan semua member touring ketika sedang melakukan kegiatan touring. Sistem yang dibangun adalah berbasis contextual awareness, yaitu sistem yang mampu memberikan informasi kepada pengguna dengan data yang didapat dari lingkungannya. Dalam hal ini adalah memberikan informasi ketika ada member touring yang berjauhan dengan member touring lainnya.
Downloads
Download data is not yet available.
References
[1] Y. Saito, J. Okuzumi, and N. Suzuki, "GPS-TonoHime: An android application for explaining ancient tomb information," 2019 IEEE 8th Glob. Conf. Consum. Electron. GCCE 2019, pp. 635–639, 2019.
[2] M. K. Anam and R. Anwar, "Penerapan Aplikasi Pendukung Touring Pada Komunitas Motor Berbasis Android," J. Pendidik. Inform., 2020.
[3] M. Rahardi, L. E. Nugroho, and R. Ferdiana, "Perancangan Aplikasi Pendukung Touring Berbasis Contextual Awareness," Semin. Nas. Teknol. Inf. dan Multimed. STMIK AMIKOM Yogyakarta, pp. 6–7, 2016.
[4] S. Alfeno and R. E. C. Devi, "Implementasi Global Positioning System ( GPS ) dan Location Based Service ( LSB ) pada Sistem Informasi Kereta Api untuk Wilayah Jabodetabek," Sisfotek Glob., vol. 7, no. 2, pp. 27–33, 2017.
[5] C. Li, "Calm Sensing Design: A Contextual Notification Mechanism to Support Older User's Health Awareness," 1st IEEE Int. Conf. Knowl. Innov. Invent. ICKII 2018, pp. 70–73, 2018.
[6] H. S. Lim, J. Lee, and Y. J. Kwon, "Mobile Users' Context Awareness Model Based on a Novelty Contextual-Soundscape Information," Proc. - Int. Conf. Intell. Syst. Model. Simulation, ISMS, vol. 0, pp. 48–54, 2016.
[7] I. Riadi, S. Winiarti, and H. Yuliansyah, "Development and evaluation of android based notification system to determine patient's medicine for pharmaceutical clinic," Int. Conf. Electr. Eng. Comput. Sci. Informatics, vol. 4, no. September, pp. 456–460, 2017.
[8] K. Puangnak, S. Waladit, K. Puangnak, and S. Pukjaroon, "Real-time distance measuring evaluation for accelerometer sensor on smartphone," Proc. 16th Int. Conf. Electr. Eng. Comput. Telecommun. Inf. Technol. ECTI-CON 2019, pp. 919–922, 2019.
[9] M. Kadibagil, "Position Detection and Tracking System," IRACST -International J. Comput. Sci. Inf. Technol. Secur., 2014.
[10] A. M. Siriteanu and A. Iftene, "MeetYou - Social networking on Android," in Proceedings - RoEduNet IEEE International Conference, 2013.
[11] N. Kumar, "Where are you? A location awareness system," in 4th International Conference on Advanced Computing, ICoAC 2012, 2012.
[12] L. Liu, Y. Jing, Z. Chi, J. Chen, and C. Ma, "Design and implementation of Android phone based group communication and navigation system," in 2012 2nd International Conference on Consumer Electronics, Communications and Networks, CECNet 2012 - Proceedings, 2012.
[13] A. H. Lashkari, B. Parhizkar, and H. Rahman, "Widget based position system (WBPS) an innovative mobile application," in ICCET 2010 - 2010 International Conference on Computer Engineering and Technology, Proceedings, 2010.
[14] S. Hansen, "Investigasi Teknik Wawancara dalam Penelitian Kualitatif Manajemen Konstruksi," J. Tek. Sipil, vol. 27, no. 3, p. 283, 2020.
[15] M. Kramer, "Best Practices in Systems Development Lifecycle: An Analyses Based on the Waterfall Model," Rev. Bus. Financ. Stud., vol. 9, no. 1, pp. 77–84, 2018.
[16] O. O. Mwambe and I. Echizen, "Security oriented malicious activity diagrams to support information systems security," Proc. - 31st IEEE Int. Conf. Adv. Inf. Netw. Appl. Work. WAINA 2017, pp. 74–81, 2017.
[17] P. G. T. H. Kashmira and S. Sumathipala, "Generating Entity Relationship Diagram from Requirement Specification based on NLP," 2018 3rd Int. Conf. Inf. Technol. Res. ICITR 2018, pp. 1–4, 2018.
[18] Z. Kaprocki, V. Pekovic, and G. Velikic, "Combined testing approach: Increased efficiency of black box testing," 2015 IEEE 1st Int. Work. Consum. Electron. - Novi Sad, CE WS 2015, pp. 76–78, 2017.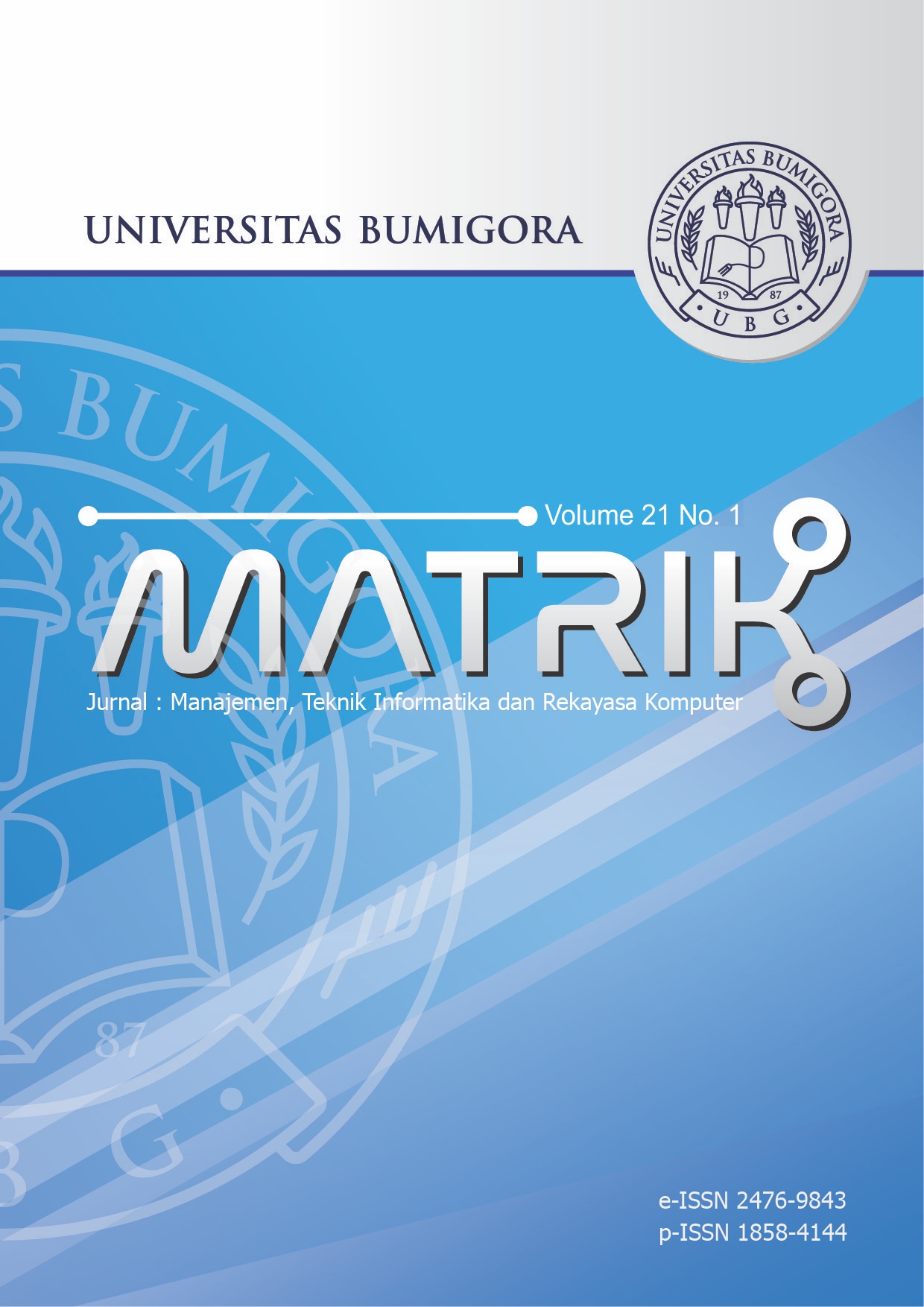 How to Cite
Rahardi, M., & Aminuddin, A. (2021). Rancang Bangun Aplikasi Smart Touring Berbasis Android. MATRIK : Jurnal Manajemen, Teknik Informatika Dan Rekayasa Komputer, 21(1), 159-168. https://doi.org/https://doi.org/10.30812/matrik.v21i1.1185
This work is licensed under a Creative Commons Attribution-ShareAlike 4.0 International License.