Perancangan Aplikasi Konsultasi Ibu Hamil Berbasis Cloud Computing
Argo Wibowo

Universitas Kristen Duta Wacana
Keywords:
Informasi, Kehamilan, Aplikasi
Abstract
Pada saat ini banyak sekali informasi yang bisa kita dapatkan di internet, termasuk informasi seputar kehamilan. Namun dengan banyaknya informasi tersebut, tidak semua informasi bisa dipertanggungjawabkan kebenarannya. Perlu adanya pihak lain yang melakukan validasi. Kehamilan merupakan momen istimewa bagi seorang ibu, untuk itu diperlukan informasi yang tepat untuk kehamilan sang ibu. Melihat masalah tersebut, muncullah gagasan ide untuk merancang suatu aplikasi yang dapat menghubungkan antara ibu yang sedang mengandung, dengan pihak dokter  yang spesialis di bidang kandungan. Tidak hanya dokter, para ibu juga bisa saling berbagi kisah kehamilannya dengan para ibu hamil lainnya. Aplikasi ini dirancang untuk menghubungkan para ibu dan dokter sehingga dapat memperoleh informasi yang lebih terpercaya secara langsung. Perancangan aplikasi berbasis cloud, dengan antarmuka yang sederhana sehingga memudahkan ibu dalam menggunakan aplikasi ini.
Downloads
Download data is not yet available.
References
[1] F. N. Isdiaty dan T. Ungsianik, "Pengetahuan Tanda Bahaya Kehamilan dan Perilaku Perawatan Kehamilan pada Ibu Hamil Trimester III," Jurnal Keperawatan Indonesia, vol. 16, no. 1, pp. 18-24, 2013.
[2] Y. Evayanti, "Hubungan Pengetahuan Ibu dan Dukungan Suami pada Ibu Hamil Terhadap Keteraturan Kunjungan Antenatal Care (ANC) di Puskesmas Wates Lampung Tengah Tahun 2014," Jurnal Kebidanan, vol. 1, no. 2, pp. 81-90, 2015.
[3] P. M. Ogedebe dan B. P. Jacob, "Software Prototyping A Strategy to use WHen User Lacks Data Processing Experience," ARPN Journal os Systems and Software, vol. 2, no. 6, p. 219, 2012.
[4] R. G. Sabale dan A. Dani, "Comparative Study of Prototype Model For Software Engineering With System Development Life Cycle," IOSR Journal of Engineering (IOSRJEN), vol. 2, no. 7, p. 21, 2012.
[5] S. Kosasi, "Penerapan Rapid Application Development Dalam Sistem Perniagaan Elektronik Furniture," Citec Journal, vol. 2, no. 4, p. 265, 2015.
[6] P. "Analisis dan Perancangan Sistem Informasi Penjualan Buku Dengan Konsinyasi Berbasis Client Server," Jurnal Informatika, vol. 12, no. 2, p. 118, 2012.
[7] K. Kwon, H. Park, S. Jung dan J. Lee, "Dynamic Scheduling Method for Cooperative Resource Sharing in Mobile Cloud Computing Environments," KSII TRANSACTIONS ON INTERNET AND INFORMATION SYSTEMS, vol. 10, no. 2, pp. 484-503, 2016.
[8] B. N. Rupa, G. K. Mohan, J. S. Babu dan T.-H. Kim, "Test Report Generation Using JSON," International Journal of Software Engineering and Its Applications, vol. 9, no. 6, p. 63, 2015.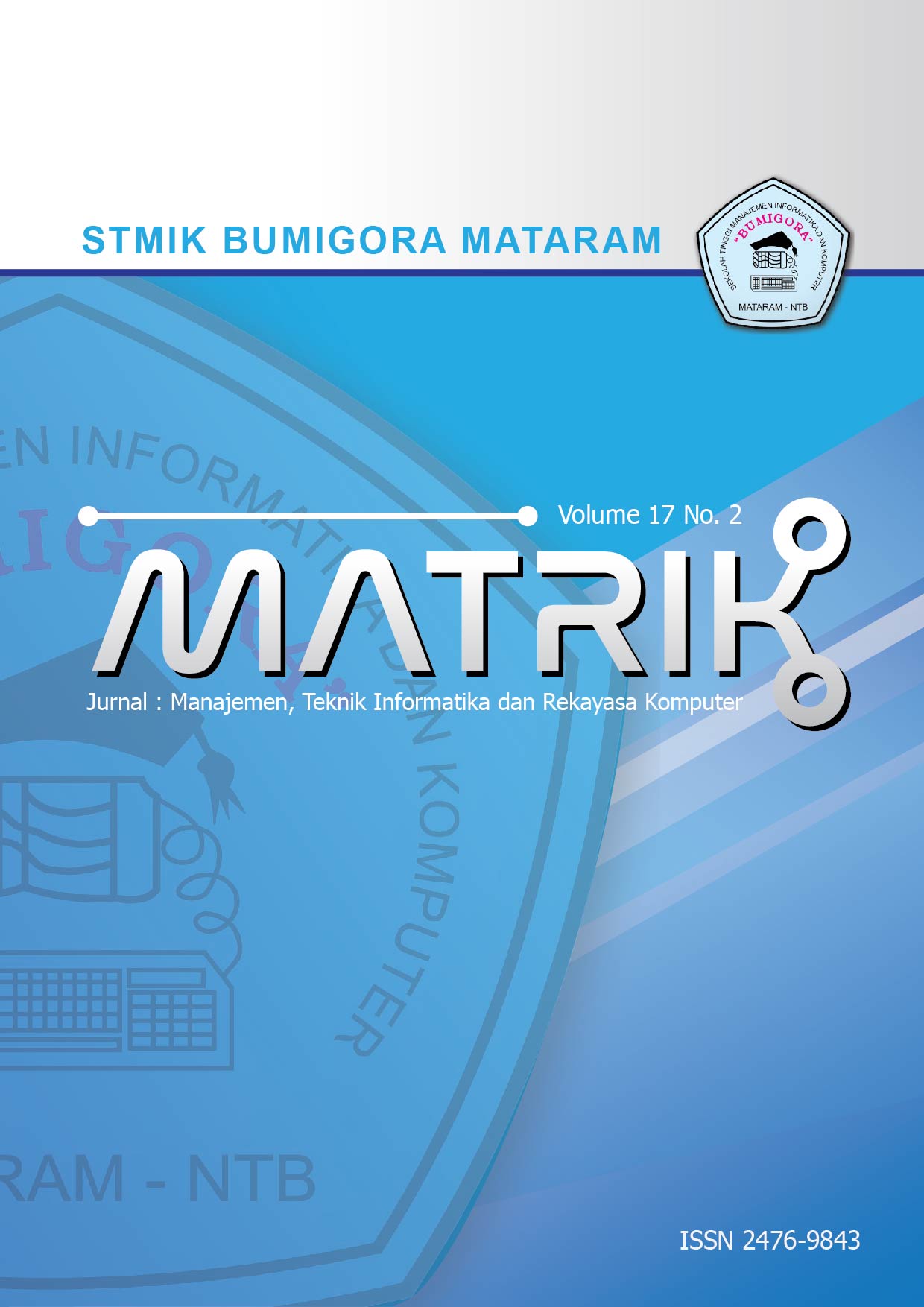 How to Cite
Wibowo, A. (2018). Perancangan Aplikasi Konsultasi Ibu Hamil Berbasis Cloud Computing. MATRIK : Jurnal Manajemen, Teknik Informatika Dan Rekayasa Komputer, 17(2), 68-79. https://doi.org/https://doi.org/10.30812/matrik.v17i2.83