Pengembangan Sistem Informasi Pemantauan Harga Beras dan Gabah dengan Short Message Gateway
Mayadi Mayadi

Universitas Bumigora

Anthony Anggrawan

Universitas Bumigora
Keywords:
Beras, Gabah, Gateway, sistem informasi, short massage
Abstract
Dinas Perindustrian dan Perdagangan Kabupaten Lombok Timur merupakan instansi yang menjalankan fungsinya dalam memantau harga komoditas khususnya beras dan harga gabah. Laporan harga beras dan gabah yang berlansung selama ini masih dijalankan secara manual dengan periode pelaporan dua kali tiap bulan. Sementara itu, harga beras dan gabah di pasaran tidak stabil sehingga menimbulkan masalah dalam menentukan dan menginformasikan harga beras dan beras dengan tepat. Oleh karena itu, tujuan dari penelitian ini adalah membangun sistem informasi memantau harga beras dan gabah dengan short message (SMS) gateway. Implikasi dengan dibangunnya sistem informasi SMS gateway ini adalah meningkatkan pelayanan yang lebih memudahkan pengguna dan administrator dalam proses pemantauan harga beras dan gabah. Metode yang digunakan adalah Rapid Application Development (RAD) dengan tahapan perencanaan, analisis dan desain, hasil desain prototipe, dan pengujian akhir. Hasil yang diperoleh dari penelitian ini menyimpulkan bahwa sistem informasi aplikasi SMS gateway yang dibangun memberikan solusi mengatasi permasalahan (kendala) yang selama ini dihadapi oleh Dinas Perindustrian dan Perdagangan dalam memantau harga komoditas beras dan gabah, dan juga meningkatkan pelayanan yang lebih baik kepada masyarakat dalam menyediakan  informasi harga beras dan gabah.
Downloads
Download data is not yet available.
References
[1] S. Rahayu et al., "Perancangan Sistem Informasi Hasil Pertanian Berbasis Web dengan Unified Approach," Jurnal Algoritma, 2019.
[2] S. A. A. Rajon, A. K. Bairagi, and M. M. Rahman, "ICT based market information system: An effective approach for market price monitoring and supervision in developing countries," in 2014 17th International Conference on Computer and Information Technology, ICCIT 2014, 2003, pp. 257–262, doi: 10.1109/ICCITechn.2014.7073136.
[3] F. Galtier, H. David-Benz, J. Subervie, and J. Egg, "Agricultural market information systems in developing countries: New models, new impacts," Cahiers Agricultures, vol. 23, no. 4–5, pp. 232–244, 2014, doi: 10.1684/agr.2014.0716.
[4] R. Trogo, J. B. Ebardaloza, D. J. Sabido, G. Bagtasa, E. Tongson, and O. Balderama, "SMS-based Smarter Agriculture decision support system for yellow corn farmers in Isabela," in 2015 IEEE Canada International Humanitarian Technology Conference, IHTC 2015, 2015, no. April 2017, doi: 10.1109/IHTC.2015.7238049.
[5] N. P. Vidanapathirana, "Agricultural Information Systems and their Applications for Development of Agriculture and Rural Community, a Review Study," in The 35th Information Systems Research Seminar in Scandinavia-IRIS, 2019, no. October, pp. 1–14.
[6] C. G. Mclaren, R. M. Bruskiewich, and A. B. Cosico, "The International Rice Information System . A Platform for Meta-Analysis of The International Rice Information System . A Platform for Meta-Analysis of Rice Crop Data," Plant Physiology, vol. November, no. November 2005, pp. 636–642, 2020, doi: 10.1104/pp.105.063438.
[7] P. Sutopo, D. Cahyadi, and Z. Arifin, "Sistem Informasi Eksekutif Sebaran Penjualan Kendaraan Bermotor Roda 2 di Kalimantan Timur Berbasis Web," Jurnal Informatika Mulawarman, vol. 11, no. 1, 2016.
[8] A. G. Kinlin, A. B. Cahyono, and B. Suranto, "Penerapan Metode Rapid Application Development pada Pengembangan Sistem Monitoring dan Manajemen Pemasaran," in Seminar Nasional Teknologi Informasi dan Aplikasinya (SENTIA) 2018, 2018, vol. 10, no. 1, pp. 1–4.
[9] M. Amelia, "Sistem Monitoring Pengumpulan Getah Karet Berbasis SMS Gatwey pada Petani Karet di Desa Surya Adi Kabupaten Oki Provensi Sumtra Selatan," vol. 7, no. 1, pp. 31–36, 2016.
[10] C. Eko, J. Eka, and F. E. Gunawan, "Perancangan Sistem Informasi Penggajian Terintegrasi Berbasis Web ( Studi Kasus di Rumah Sakit St . Elisabeth )," Jurnal Nasional Teknologi dan Sistem Informasi, vol. 3, no. 2, pp. 225–232, 2017.
[11] E. Prasetyo, "Rancang Bangun Sistem Informasi Sekolah Tinggi Ilmu Ekonomi Rahmanyah Kabupaten Musi Banyuasin Berbasis Website," Jurnal Akuntanika-Adminika-Informanika, vol. 1, no. 2, pp. 19–30, 2015.
[12] J. Erickson and K. Siau, "Unified Modeling Language : The Teen Years and Growing Pains Unified Modeling Language : The Teen Years and Growing Pains," in The 15th international conference on Human Interface and the Management of Information: information and interaction design - Volume Part I, 2018, no. July 2013, doi: 10.1007/978-3-642-39209-2.
[13] A. Hadi, "Pengembangan Sistem Informasi Panduan Mitigasi Bencana Alam Provinsi Sumatera Barat Berbasis Android," Jurnal Teknologi Informatika & Pendidikan, vol. 11, no. 1, pp. 27–42, 2018.
[14] R. Klimek and P. Szwed, "Formal Analysis Of Use Case Diagrams," Computer Science, vol. 11, no. January, pp. 115–132, 2010, doi: 10.7494/csci.2010.11.0.115.
[15] W. Nurlia, R. N. Hay's, and Harsiti, "Penerapan SMS Gateway pada Sistem Monitoring Absensi Siswa Berbasis Web di SMK Setia Budhi Rangkasbitung," no. November, pp. 149–154, 2018.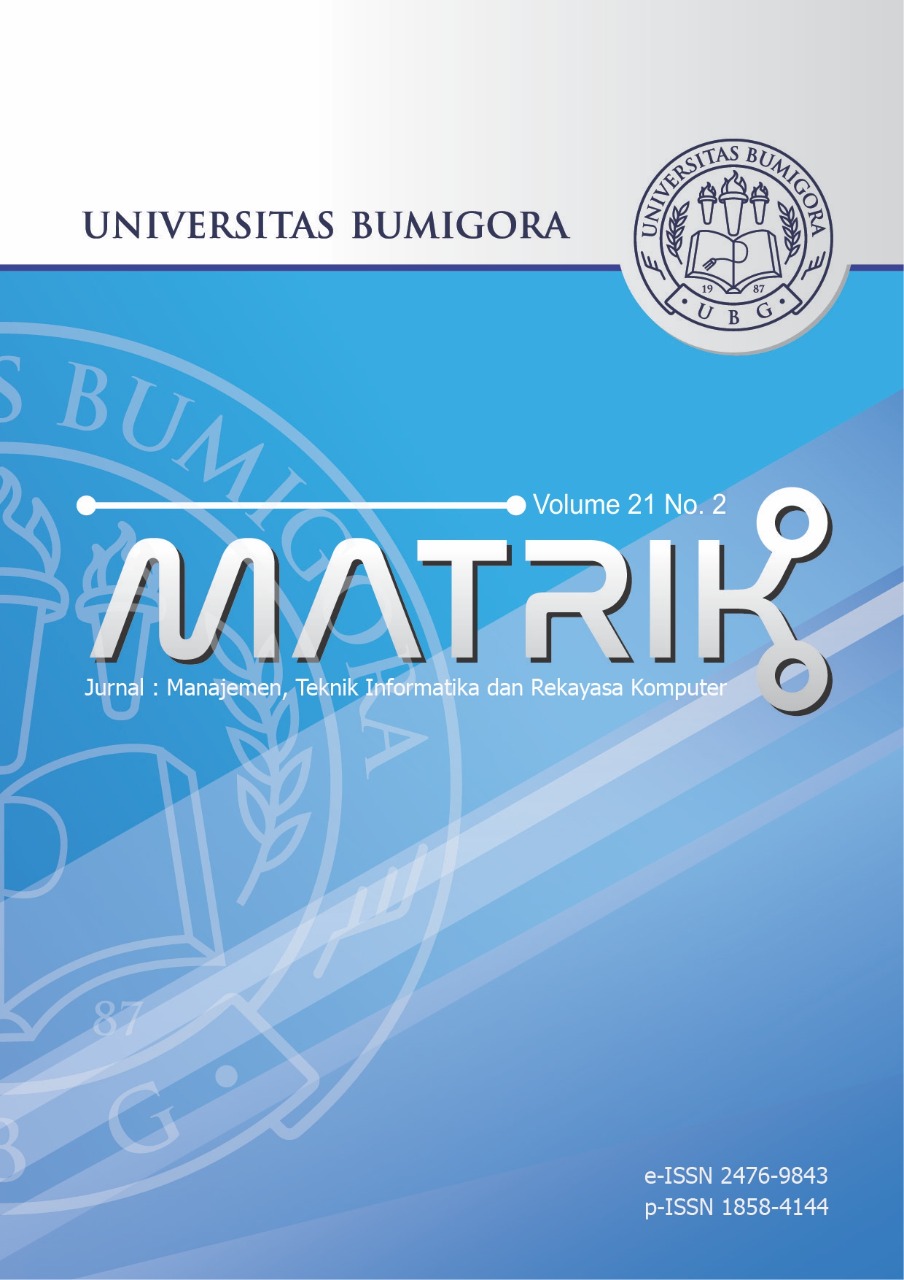 How to Cite
Mayadi, M., & Anggrawan, A. (2022). Pengembangan Sistem Informasi Pemantauan Harga Beras dan Gabah dengan Short Message Gateway. MATRIK : Jurnal Manajemen, Teknik Informatika Dan Rekayasa Komputer, 21(2), 237-248. https://doi.org/https://doi.org/10.30812/matrik.v21i2.1546
This work is licensed under a Creative Commons Attribution-ShareAlike 4.0 International License.