ANALYSIS PROXIMITY MENENTUKAN LOKASI PERKEBUNAN DI LOMBOK BARAT
Ahmat Adil

STMIK Bumigora Mataram
Keywords:
spatial analysis, proximity, West Lombok
Abstract
Spatial analysis is a technique or process that involves a number of counts and evaluation logic (mathematical) were performed in order to seek or fnd potential relationships or patterns (probably) are among the elements of geographical contained in the digital data with limits certain study areas. One of spatial analysis to build support layer around the layer within a certain range is the proximity analysis. Proximity analysis is an analysis based on the geographical distance between layers. In GIS proximity analysis uses a process called buffering to determine the proximity relationship between the nature of the existing sections. Buffer allows to make a certain area limitation of the desired object. West Lombok district is one of the districts with the potential for tourism and a large plantation in the province of West Nusa Tenggara besides Central Lombok and Lombok to the east. Community or inverstor have many options to choose according kriteia gardening location they want. The results of spatial operations conducted as buffers, unions and the query will help to determine the required location. Spatial analysis is helpful to get the location in accordance with defned criteria, such as the distance from roads and settlements, and its land area as needed. Based on the analysis that has been done, a spatial map of plantation land in accordance with the criteria of very petrifed decision makers.
Downloads
Download data is not yet available.
References
[1]. Bappeda Lombok barat 2013 http://bappeda.lombokbaratkab.go.id/index.php?pilih=hal&id=40&jud ul=Perkebunan
[2]. Budiyanto,Eko. 2002. Sistem Informasi Geografs menggunakan ArcView GIS. Penerbit Andi. Yogyakarta.
[3]. Puntodewo, atie, dkk, "Sistem Informasi geografs untuk pengelolaan sumber daya Alam", CIFOR, 2003
[4]. Prahasta, Eddy. Konsep-konsep Dasar Sistem Informasi Geografs. Bandung: Informatika, 2001.
[5]. Environmental Systems Research Institute (ESRI), Inc. ESRI.Com. 2006. www.esri.com (accessed March 12, 2007).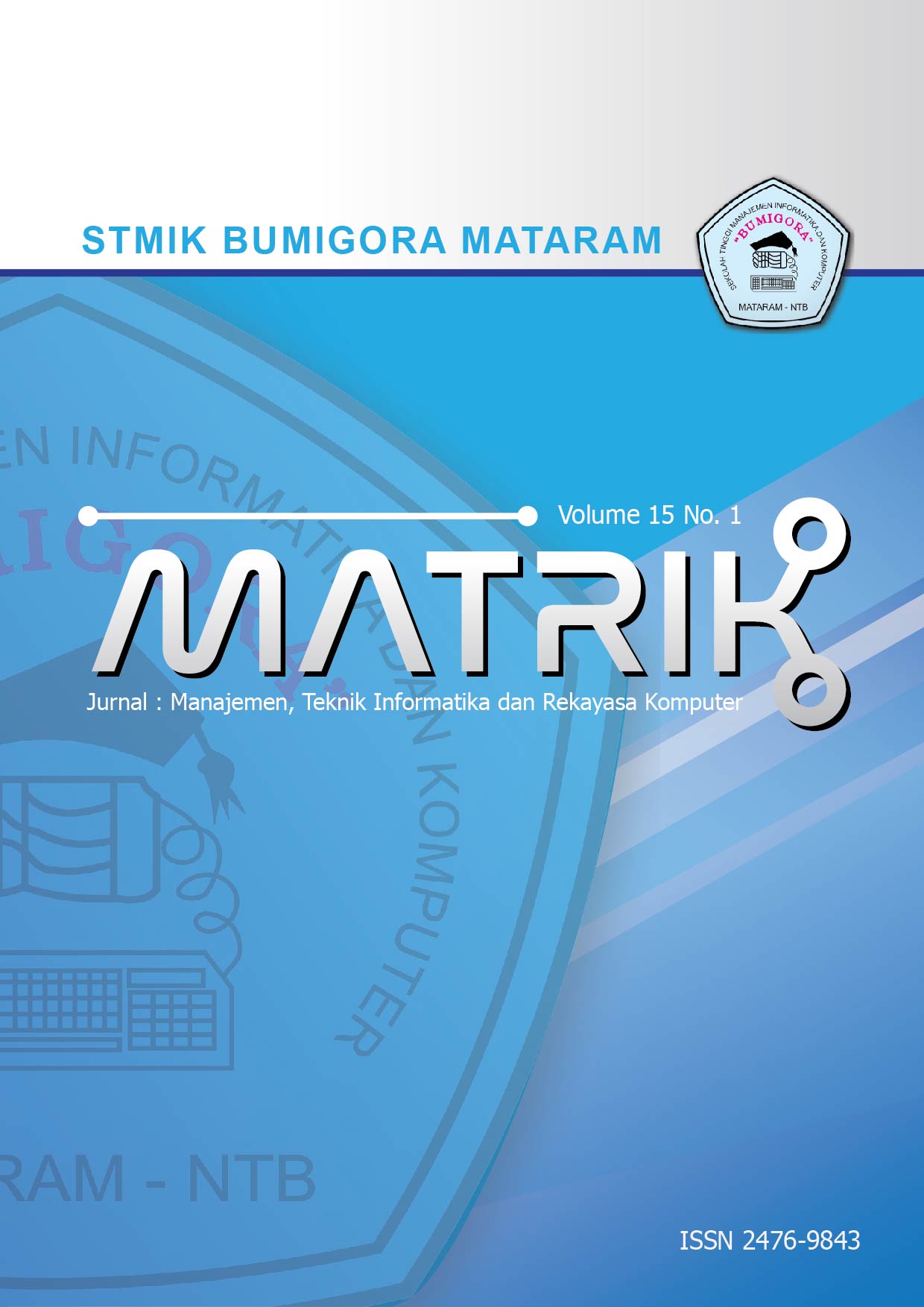 How to Cite
Adil, A. (2015). ANALYSIS PROXIMITY MENENTUKAN LOKASI PERKEBUNAN DI LOMBOK BARAT. MATRIK : Jurnal Manajemen, Teknik Informatika Dan Rekayasa Komputer, 15(1), 7-12. https://doi.org/https://doi.org/10.30812/matrik.v15i1.27