Ekstraksi Pengetahuan pada Penurunan Minat Mahasiswa Mengikuti Bursa Kerja Menggunakan Soft System Methodology
Arny Lattu

Universitas Kristen Satya Wacana

Danny Manongga

Universitas Kristen Satya Wacana, Indonesia

Ade Iriani

Universitas Kristen Satya Wacana
Keywords:
Pengetahuan, Soft System Methodology, Minat, Bursa Kerja, Model Konseptual
Abstract
Mendapatkan pekerjaan sesuai dengan bakat dan minat adalah goal yang ingin dicapai oleh mahasiswa Fakultas Teknologi Informasi di Universitas X setelah lulus. Namun ternyata hal ini bukanlah mudah karena lapangan pekerjaan yang tersedia tidak sebanding dengan jumlah mahasiswa yang ingin segera bekerja setelah lulus. Mengatasi hal ini, Unit Pengembangan Karir dan Alumi Universitas X melakukan kegiatan bursa kerja yang dilakukan sebanyak 3 kali mengikuti periode wisuda di Univeritas X. Tujuan dari kegiatan ini adalah mempercepat mahasiswa mendapatkan pekerjaan sesuai bakat dan minatnya. Dengan adanya pelaksanaan kegiatan bursa kerja yang terorganisir dengan baik tentu menarik minat dari mahasiswa untuk turut serta dalam kegiatan ini. Masalah yang muncul ketika terjadinya penurunan minat mahasiswa dalam mengikuti bursa kerja yang disebabkan oleh faktor-faktor yang belum dapat diidentifikasi. Untuk itu, perlu diterapkan sebuah metode yang dapat mengekstraksi faktor-faktor dibalik terjadinya penurunan tersebut yaitu Soft System Methodology. Penelitian ini menggunakan SSM untuk mendeskripsikan masalah penyebab penurunan minat mahasiswa yang belum terdefenisi dengan baik. Fokus penelitian ini adalah mahasiswa Fakultas Teknologi Informasi Universitas X. Pengumpulan data dilakukan dengan observasi dan teknik wawancara. Setelah mendapatkan pengetahuan tersebut, hasil dari penelitian ini adalah sebuah model konseptual yang berisi elemen-elemen yang diperlukan dalam mengurangi penurunan minat dan tindakan perbaikan terhadap situasi permasalahan yang dihadapi bursa kerja serta model sistem informasi Evaluasi Bursa Kerja
Downloads
Download data is not yet available.
References
[1] A. Setyono and K. Ingsih, "Pemantapan Peran dan Fungsi Pusat Karir di Universitas Dian Nuswantoro Semarang," in Proceeding Indonesian Carrier Center Network (ICCN) Summit 2019, vol. 1, no. 1, pp. 31–36,2019.
[2] R. Amalia, "Bursa Kerja , Alumni dan Peluang Pekerjaan :," in Proceeding Indonesia Career Center Network Summit IV, pp. 17–18, 2020.
[3] Firnawati, Muhammadiah, and A. Mone, "Peran Pemerintah Dalam Penanggulangan Pengangguran Di Kota Makassar," Kolaborasi Jurnal Administrasi Publik, vol. 2, no. 3, pp. 238–251, 2016.
[4] J. Karay, D. Manongga, and H. Dwi, "Penerapan Soft System Methodology dalam Ekstraksi Pengetahuan Tentang Akreditasi Universitas XYZ," JSINBIS:Jurnal Sistem Informasi Bisnis, vol. 10, no. 2, pp. 180–187, 2020.
[5] A. Iriani and D. Manongga, "Using soft systems methodology as an approach to evaluate cheating in the national examination," JATIT:Journal of Theoretical and Applied Technology, vol. 96, no. 11, pp. 3344–3355, 2018.
[6] Munifah, A. Iriani, and S. Y. J. Prasetyo, "Penerapan Ekstraksi Pengetahuan Dalam Pembayaran Perkuliahan Menggunakan Soft System Methodology (Studi Kasus: Perguruan Tinggi X)," Transformatika, vol. 16, no. 2, pp. 144–152, 2019.
[7] H. Waqar and P. James, "The Impact of Medical Careers Fairs on the Career Aspirations of Medical Students," MedEdPublish, vol. 8, no. 1, pp. 1–14, 2019.
[8] G. Krogh, K. Ichijo, and I. Nonaka, Enabling Knowledge Creation. New York: Oxford University Press, 2010.
[9] L. Wulantika, "Knowledge Management Dalam Meningkatkan Kreasi dan Inovasi Perusahaan," Majalah Ilmiah UNIKOM, vol. 10, no. 2, pp. 263–270, 2017.
[10] M. R. Mehregan, M. Hosseinzadeh, and A. Kazemi, "An application of Soft System Methodology," in Internastional Conference on Leadership, Technology and Innovation Management, vol. 41, pp. 426–433,2012.
[11] P. Papilo, M. Marimin, E. Hambali, and I. S. Sitanggang, "Institutional Analysis on Palm Oil-based Bioenergy for Rural Community Electricity Development in Indonesia: A Hybrid of Soft System and Hard System Approach," in Periodica Polytechnica Social and Management Sciences, vol. 29, no. 1, pp. 40–63, 2020.
[12] C. E. Van Rooyen and F. Labuschagne, "Soft Systems Methodology As a Potential Approach To Understanding Non-Motorised Transport Users in South Africa," in Proceedings of the 35th Southern African Transport Conference (SATC 2016), pp. 64–4, 2016.
[13] C. H. Antunes, L. Dias, G. Dantas, J. Mathias, and L. Zamboni, "An Application of Soft Systems Methodology in the Evaluation of Policies and Incentive Actions to Promote Technological Innovations in the Electricity Sector," in First Economics Iberian Conference, EEIC, vol. 106, pp. 258–278, 2016.
[14] E. Sgourou, P. Katsakiori, I. Papaioannou, S. Goutsos, and E. Adamides, "Using soft systems methodology as a systemic approach to safety performance evaluation," in International Sysmposium on Safety Science and Technology, vol. 45, pp. 185–193, 2012.
[15] Y. Suharyat, "Sikap dan Perilaku," J. Reg., vol. 1, no. 3, p. Psikologi Komunikasi, 2009.
[16] P. Checkland and J. Scholes, Soft System Methodology in Action. England: John Wiley & Sons Ltd, 1990.
[17] J. X. Guterres, A. Iriani, and H. Dwi, "Ekstraksi Knowledge Pada Penurunan Jumlah Mahasiswa Menggunakan Teknik Explore, Elaborate, dan Execute," Khazanah Informatika, vol. 6, no. 2, 2019.
[18] K. Marzuki, A. Apriani, and N. G. A. Dasriani, "Pemberdayaan Pengrajin Perak Melalui Market Place sebagai Media Penjualan Online di Desa Ungga,Kabupaten Lombok Tengah," ADMA Jurnal Pengabdian dan Pemberdayaan Masyarakat, vol. 1, no. 2, pp. 107–114, 2021.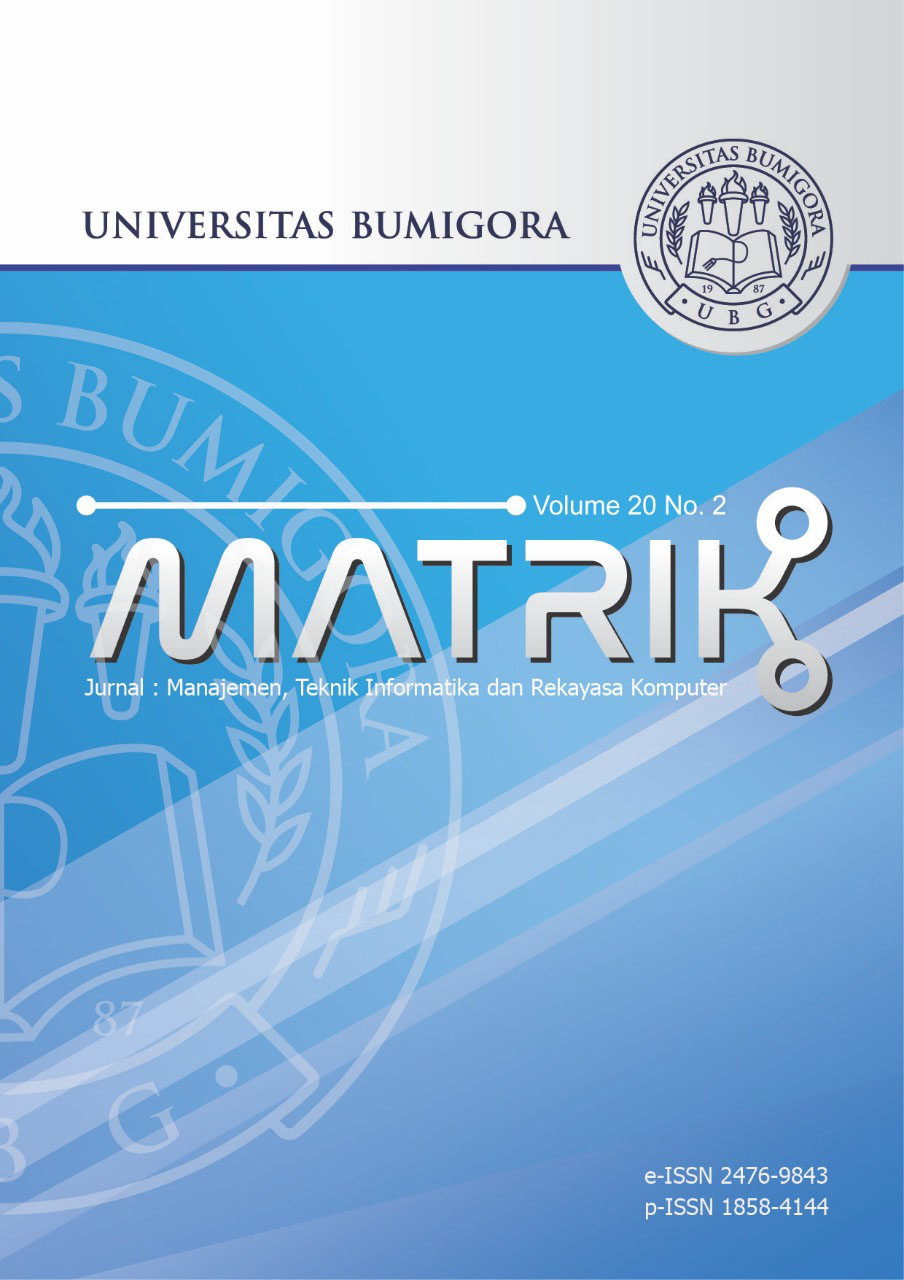 How to Cite
Lattu, A., Manongga, D., & Iriani, A. (2021). Ekstraksi Pengetahuan pada Penurunan Minat Mahasiswa Mengikuti Bursa Kerja Menggunakan Soft System Methodology. MATRIK : Jurnal Manajemen, Teknik Informatika Dan Rekayasa Komputer, 20(2), 305-316. https://doi.org/https://doi.org/10.30812/matrik.v20i2.1157
This work is licensed under a Creative Commons Attribution-ShareAlike 4.0 International License.