Matrik : Jurnal Manajemen, Teknik Informatika, dan Rekayasa Komputer
| | |
| --- | --- |
| Journal title | Matrik : Jurnal Manajemen, Teknik Informatika, dan Rekayasa Komputer |
| Frequency | 2 issues per year (May and November) |
| DOI | Prefix 10.30812 by Crossref |
| Print ISSN | |
| Online ISSN | |
| Publisher | |
| Accreditation | |
Matrik : Jurnal Manajemen, Teknik Informatika, dan Rekayasa Komputer is peer-reviewed journal dedicated to interchange for the results of high quality research in all aspect of science, engineering and information technology. The journal publishes state-of-art papers in fundamental theory, experiments and simulation, as well as applications, with a systematic proposed method, sufficient review on previous works, expanded discussion and concise conclusion. Matrik follows the open access policy that allows the published articles freely available online without any subscription.
Current Issue
Volume 20 No 2 Tahun 2021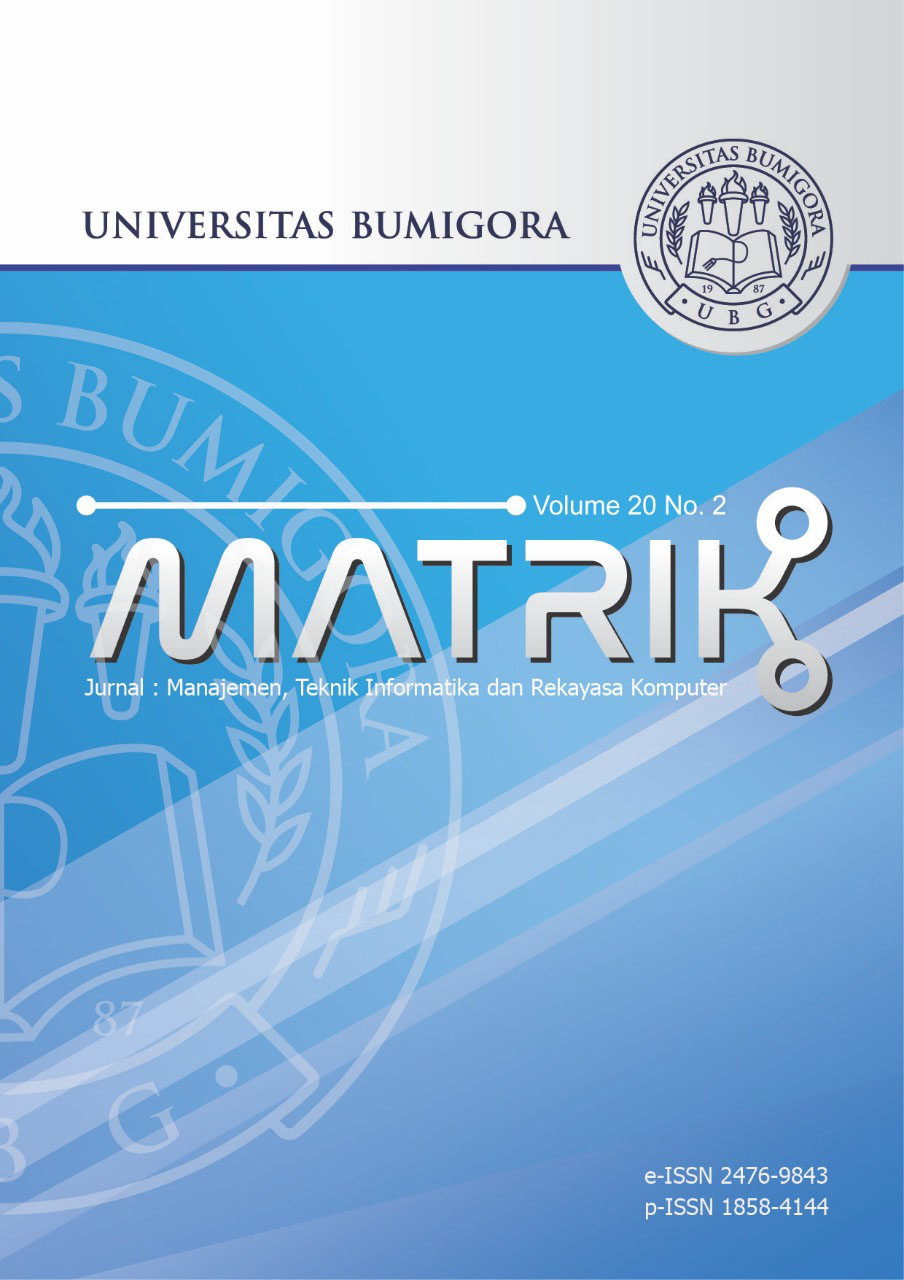 This is to inform you that Volume 20, Issue 2 of Matrik:  Jurnal Manajemen, Teknik Informatika dan Rekayasa Komputer is published now. There are 49 authors from 25 institutions and 2 government institutions involve in this issue, namely STMIK STIKOM Indonesia, Universitas Ibrahimy, Universitas Teknologi Sumbawa, Akademi Manajemen Informatika dan Komputer PGRI Kebumen, Sekolah Tinggi Teknologi Bontang,Universitas Maarif Nahdatul Ulama Kebumen, Universitas Muhammadiyah Surakarta, Universitas AMIKOM Purwokerto, Universitas Bumigora,Sekolah Tinggi Manajemen Informatika dan Komputer Nusa Mandiri, Universitas Bina Sarana, Universitas Ahmad Dahlan, Universitas Gadjah Mada,Universitas Kristen Wacana, STMIK AMIR Riau, Universitas Putra IndonesianYPTK, STMIK Pelita Nusantara,STMIK AKBA, Politeknik Siber dan Sandi Negara,Universitas Hasanudin, Universitas Catur Insan Cendikia, IAIN Syekh Nurjati Cirebon, Sekolah Tinggi Pagalaran, Universitas Pendidikan Mandalika, Universitas AMIKOM Yogyakarta, Badan Pusat Statistik Provinsi Bali, Badan Pusat statistik Jakarta dan BKKBN Jakarta.
Full Issue
View All Issues