Implementasi Algoritma Long Short-Term Memory (LSTM) Untuk Mendeteksi Ujaran Kebencian (Hate Speech) Pada Kasus Pilpres 2019
Aini Suri Talita

Universitas Gunadarma

Aristiawan Wiguna

Universitas Gunadarma
Keywords:
Deep Learning, Long Short Term Memory, Hate Speech, RNN
Abstract
Researches involving Artificial Neural Network (ANN) or its derivative have been published all around the world, spesifically to solve data mining problem, classification, clusterinf, or detection problems. Recurrent Neural Network is a class of ANN with Long Short Term Memory (LSTM) as its one of the architecture that commonly used in deep learning problems. On this paper, we use LSTM to detect hate speech on social media related with Indonesia President Election on 2019. There are several steps on this research, we start with literature study, data collection, data preprocessing, training step, and testing step.  The dataset consist of 950 sentences, while the testing data consist of 190 comments on Facebook. The best model performance was reached with recall value 0.7021, which menas that from the whole relevant instances on the testing data, 70.21% were categorized as relevant, on this case as hate speech (HS). The other performance parameter value as in accuracy and precision still quite low due to the testing data that comes directly from social media which highly possible consist of inconsistent choises of words, informal words, or contains grammatically error sentences.
Downloads
Download data is not yet available.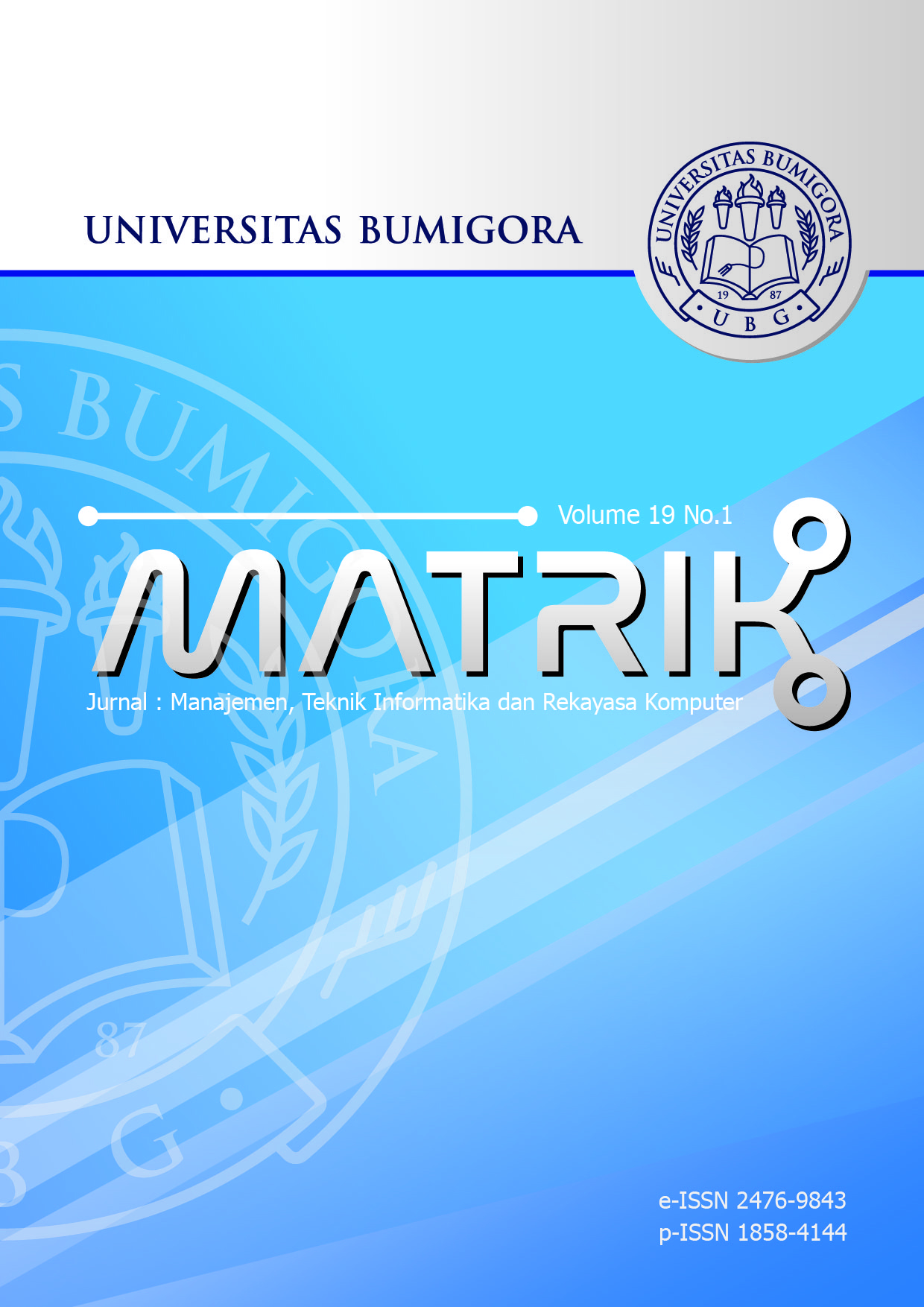 How to Cite
Talita, A., & Wiguna, A. (2019). Implementasi Algoritma Long Short-Term Memory (LSTM) Untuk Mendeteksi Ujaran Kebencian (Hate Speech) Pada Kasus Pilpres 2019. MATRIK : Jurnal Manajemen, Teknik Informatika Dan Rekayasa Komputer, 19(1), 37-44. https://doi.org/https://doi.org/10.30812/matrik.v19i1.495