PERENCANAAN STRATEGIS SI/TI PADA PERGURUAN TINGGI (STUDI KASUS: STMIK BUMIGORA MATARAM)
Adam Bachtiar

STMIK Bumigora Mataram

Uswatun Hasanah

STMIK Bumigora Mataram
Keywords:
Information System, SI/TI Strategic Plan, Ward and Peppard
Abstract
In process of implementation information technology and communication, every organization are demanded to produce information technology and communication product that aligned with the perpose of organization. Therefor every organization not only arrange plan of business strategic, but then every organization must arrange plan of IS/IT strategic that appropriate with plan of business strategic organization. This research aims to arrange plan of IS/IT strategic for STMIK Bumigora Mataram. Methods are used in this study is the method of Ward & Peppard. The resulted of this research are strategic plan of IT/IS of STMIK Bumigora Mataram that aligned with its strategic plan. In addition, this research also provides the policy of strategic management IT/SI and the schedule of implementation the IS/IT strategic plan for STMIK Bumigora Mataram.
Downloads
Download data is not yet available.
References
[1] Wedhasmara, Ari, (2009), Langkahlangkah Perencanaan Strategis Sistem Informasi dengan Menggunakan Metode Ward and Peppard, Palembang : Universitas Sriwijaya
[2] Ward, John & Peppard, Joe. (2002). Strategic Planning for Information Systems (3rd ed). West Sussex, England: John Wiley & Sons Ltd
[3] Kerzner Harold, (2001). Project Management: A System to Planning, Scheduling and Controlling, (7th Edition , John Wiley & Sons), hal. 3
[4] Renstra STMIK Bumigora Mataram Periode 2013-2018. [5] Murray, Ruth. 2010 "Management Of Risk: Guidance for Practitioners. Third Editon" The Stationery Office.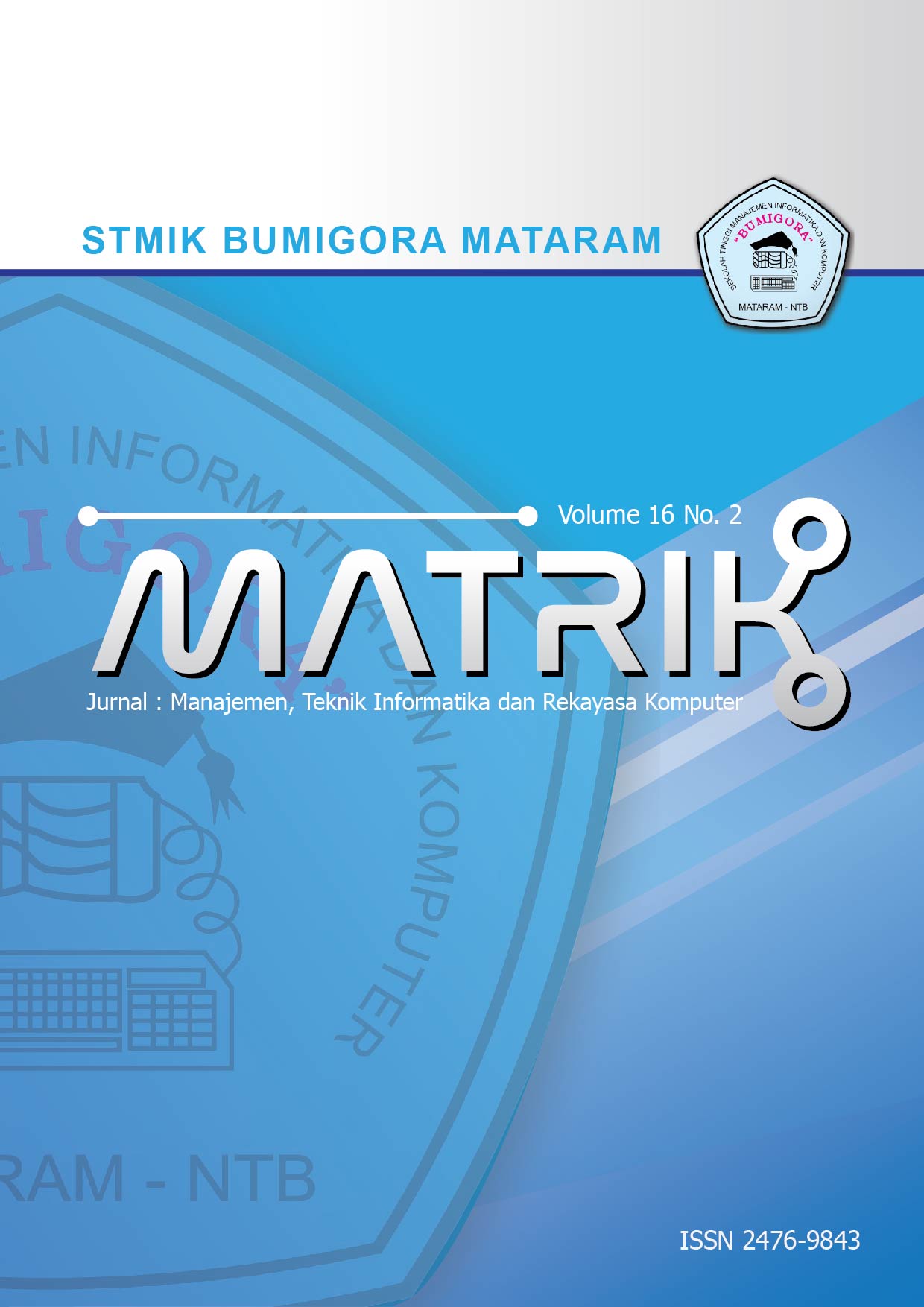 How to Cite
Bachtiar, A., & Hasanah, U. (2017). PERENCANAAN STRATEGIS SI/TI PADA PERGURUAN TINGGI (STUDI KASUS: STMIK BUMIGORA MATARAM). MATRIK : Jurnal Manajemen, Teknik Informatika Dan Rekayasa Komputer, 16(2), 45-54. https://doi.org/https://doi.org/10.30812/matrik.v16i2.2