Strategi Recovery Plan Teknologi Informasi di Perguruan Tinggi Menggunakan Framework NIST SP 800-34
Didit Suhartono

Universitas Amikom Purwokerto

Khairunnisak Nur Isnaini

Universitas Amikom Purwokerto
Keywords:
Disaster_recovery_plan, Nist sp 800-34, Risk_ assesment, Recovery_strategy
Abstract
Suatu organisasi memerlukan sumber daya yang memadai dan mendukung, seperti informasi yang harus dijaga serta dilindungi dari berbagai macam bencana maupun ancaman. Ancaman yang menyerang suatu sistem pun masih banyak terjadi khususnya pada sistem yang krusial. Risiko-risiko yang dapat terjadi adalah kerusakan fisik dari server maupun gangguan jaringan sehingga membutuhkan rancangan penanganan bencana menggunakan DRP. Perencanaan pemulihan risiko atau disebut sebagai Disaster Recovery Planning (DRP) merupakan mekanisme atau sebuah perencanaan yang dilakukan sebagai pemulihan dari bencana yang terjadi. Strategi Recovery Plan dibuat berdasarkan kerangka kerja NIST (National Institute of Standard and Technology) SP 800-34 terdiri dari Risk Assesment, Business Impact Analysis (BIA), Recovery Strategy, Testing, dan Plan Documentation. Hasil yang diperoleh dari penelitian ini menunjukan dokumen Disaster Recovery Plan dapat membantu memulihkan sistem informasi apabila terjadi suatu bencana berdasarkan tingkat prioritas risiko dampak yang terjadi. Urutan tingkat prioritasnya antara lain Website Student dengan nilai 100% dan masing-masing 67% untuk E-Learning; Absensi Perkuliahan; dan Smart Dosen.
Downloads
Download data is not yet available.
References
[1] J. J. Kassema, "Information Technology (IT) Contingency Plan as part of the Business Continuity Plan: Case of IT Services Delivery Industry," Rochester, New York, 2019.
[2] J. S. Patel and K. V, "Disaster Recovery in Business Continuity Management," International Journal of Trend in Scientific Research and Development., vol. 3, no. 4, pp. 319–322, 2019.
[3] M. L. Sartwell, "Strategies for the Development of IT Disaster Recovery Plans in the Manufacturing Industry Walden University," 2020.
[4] A. Srinivas, Y. S. Ramayya, and B. Venkatesh, "A Study on Cloud Computing Disaster Recovery," International Journal of Innovative Research in Computer and Communication Engineering, vol. 1, no. 6, pp. 1380–1389, 2013.
[5] L. Nurtanzila, "Penerapan Disaster Recovery and Contigency Planning pada Perlindungan Arsip Vital di BPN DIY," Diplomatika: Jurnal Kearsipan Terapan, vol. 1, no. 2, pp. 82–92, 2018.
[6] F. K. L. E. N. S. S. Kusumawardani, "Risk Assessment dan Business Impact Analysis BPK RI dalam Pengembangan DRP BPK RI dengan Standar NIST 800-30 Rev 1.," in Seminar Nasional Teknik Industri 2017 Universitas Gadjah Mada, 2017.
[7] B. Yuliadi and A. Nugroho, "Rancangan Disaster Recovery Pada Instansi Pendidikan Studi Kasus Universitas Mercu Buana," Jurnal Teknik Informatika, vol. 9, no. 1, pp. 30–39, 2016.
[8] Yulhendri, "Penerapan Business Continuity Plan / Disaster Recovery Plan ( BCP / DRP ) Pada BUMN Dalam Rangka Sustainability : Studi Kasus Pada Pt . X Wilayah Jakarta Raya," Jurnal Ilmu Komputer., vol. 12, no. 1, pp. 65–78, 2016.
[9] A. Arief and I. H. A. Wahab, "Information Technology Audit For Management Evaluation Using COBIT and IT Security," 2016 3rd International Journal of Scientific & Engineering Research, pp. 388–392, 2016.
[10] G. Budi and S. Dhimas, "Disaster Recovery Plan dalam Kantor Samisami," Seminar Nasioanal Cendekiawan Ke-3, pp. 63–70, 2017.
[11] Isa, Indra Griha Tofik "Implementasi Pendekatan Kerangka Kerja NIST 800-34 dalam Perancangan Disaster Recovery Plan pada Sistem Informasi Akademik Universitas Implementasi Pendekatan Kerangka Kerja NIST 800-34 dalam Perancangan Disaster Recovery Plan pada Sistem Informasi Akadem," Jurnal Informatika Mulawarman : Jurnal Ilmiah Ilmu Komputer, vol. 15, no. 2, pp. 103–113, 2020.
[12] W. A. Prabowo dan M. E. Saputri, "Pemetaan Resiko Teknologi Informasi dengan Integrasi IT Balanced Scorecard dan NIST SP 800-," Jurnal Edukasi dan Penelitian Informatika., vol. 6, no. 3, pp. 370–378, 2020.
[13] Agung, Muhammad Zakuan "Perancangan Disaster Recovery Plan Sistem Informasi Akademik dengan Pendekatan Kerangka Kerja NIST 800-34," JTERA (Jurnal Teknologi Rekayasa), vol. 4, no. 2, p. 157, 2019.
[14] S. Anitha, "The Importance of Disaster Recovery Planning," IJARIIE, vol. 6, no. 4, pp. 193–196, 2020.
[15] A. Supriyanto, I. Aknuranda, W. Hayuhardhika, and N. Putra, "Penyusunan Disaster Recovery Plan ( DRP ) berdasarkan Framework NIST SP 800-34 ( Studi Kasus : Departemen Teknologi Informasi PT Pupuk Kalimantan Timur )," Jurnal Pengembangan Teknologi Informasi dan Ilmu Komputer, vol. 3, no. 8, pp. 8212–8219, 2019.
[16] H. N. Prasetyo, N. Supriatna, A. P. Raharjo, and W. Wikusna, "Information Technology Disaster Recovery Plan (IT-DRP) Model-Based on NIST Framework in Indonesia," IJAIT (International Journal of Applied Information Technology), vol. 3, no. 1, pp. 34–45, 2020.
[17] W. A. Prabowo and R. D. Ramadhani, "Perancangan Contingency Planning Disaster Recovery Unit Teknologi Informasi Perguruan Tinggi menggunakan," Techno.COM, vol. 20, no. 1, pp. 38–49, 2021.
[18] Kemendikbud, Peraturan Menteri Pendidikan Nasional Republik Indonesia Nomor 38 Tahun 2008 tentang Pengelolaan Teknologi Informasi Dan Komunikasi di Lingkungan Departemen Pendidikan Nasional. Jakarta: Kementerian Pendidikan, 2008.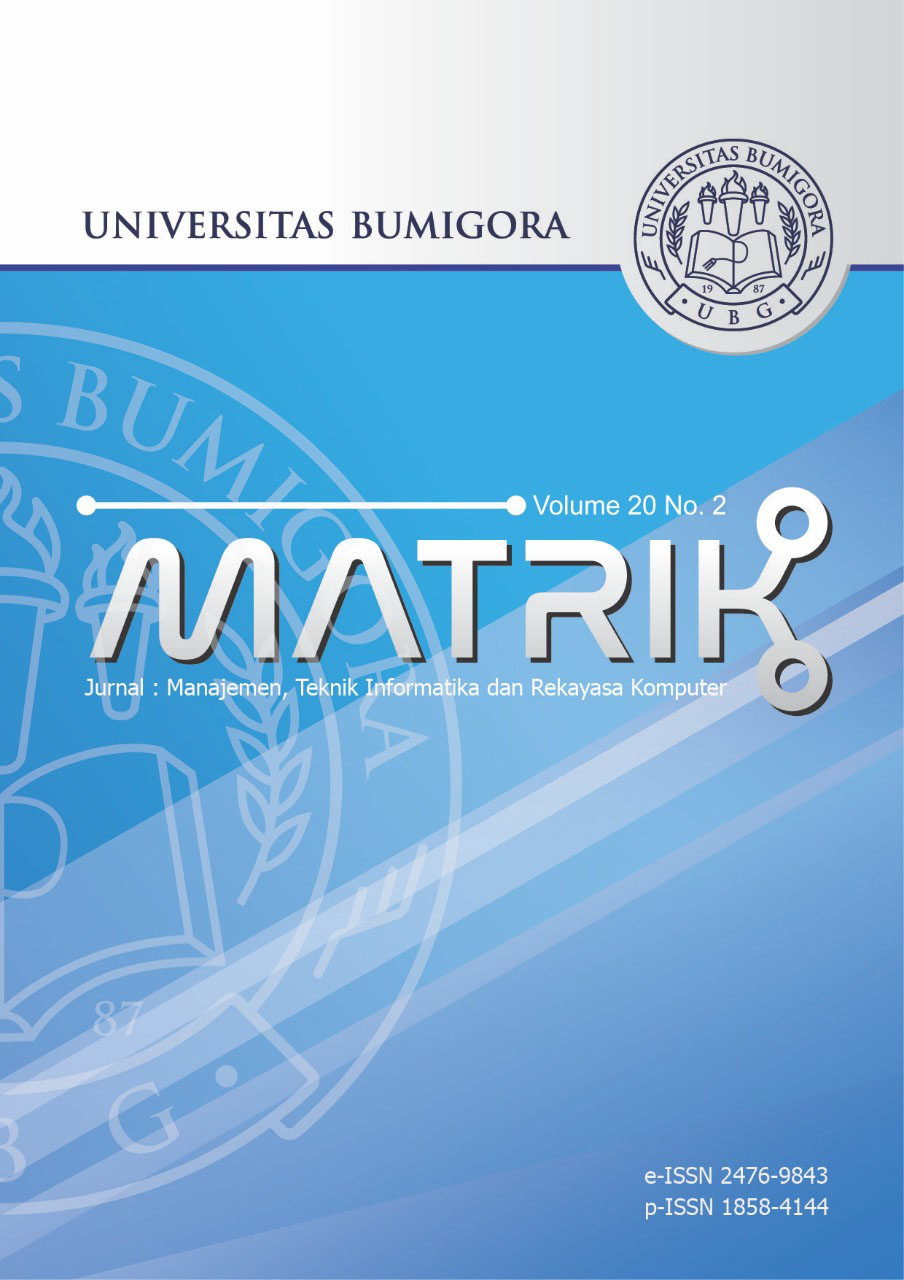 How to Cite
Suhartono, D., & Isnaini, K. (2021). Strategi Recovery Plan Teknologi Informasi di Perguruan Tinggi Menggunakan Framework NIST SP 800-34. MATRIK : Jurnal Manajemen, Teknik Informatika Dan Rekayasa Komputer, 20(2), 261-272. https://doi.org/https://doi.org/10.30812/matrik.v20i2.1097
This work is licensed under a Creative Commons Attribution-ShareAlike 4.0 International License.