Manajemen Risiko Sistem Informasi Menggunakan ISO 31000 dan Standar Pengendalian ISO/EIC 27001 di Tripio Purwokerto
Ito Setiawan

Universitas AMIKOM Purwokerto

Aldistya Riesta Sekarini

Universitas AMIKOM Purwokerto

Retno Waluyo

Universitas AMIKOM Purwokerto

Fiby Nur Afiana

Universitas AMIKOM Purwokerto
Keywords:
Manajemen Risiko, Sistem Informasi, ISO 31000:2018, ISO 27001:2013, Tripio Purwokerto
Abstract
Bertambahnya ketergantungan organisasi terhadap penggunaan sistem informasi dalam rutinan sejalan dengan ancaman dan risiko yang timbul dari penggunaan sistem informasi tersebut. Permasalahan penggunaan sistem informasi juga dialami oleh Tripio Purwokerto. Tripio merupakan perusahaan yang bergerak di bidang teknologi di Purwokerto. Tripio memiliki dua sistem informasi untuk menunjang proses bisnisnya yaitu website dan Point of Sales (POS) systems. Dalam penggunaan sistem informasi mengalami permasalahan seperti server mengalami error, jaringan yang bermasalah, data yang rusak karena terkena virus dan human error. Tujuan penelitian adalah mengetahui risiko dan juga dampak dari penggunaan sistem informasi di Tripio Purwokerto. Metode yang digunakan adalah International Organization for Standardization (ISO) 3100:2018 dan standar pengendalian menggunakan International Organization for Standardization (ISO) 27001:2013. Dari hasil penelitian yang telah dilakukan dapat ditarik kesimpulan bahwa terdapat 15 risiko yang terdiri dari 6 risiko dengan tingkat risiko high, 7 risiko dengan tingkat risiko medium, dan 2 risiko dengan tingkat risiko low. Rekomendasi kontrol yang digunakan mengacu pada ISO 27001:2013 bagian human recource security, access control, physical and environmental security, operations security, protection from malware, communications security, system acquisition, development and maintenance.
Downloads
Download data is not yet available.
References
[1] A. Rahmawati and A. F. Wijaya, "Analisis Risiko Teknologi Informasi Menggunakan ISO 31000 Pada Aplikasi ITOP," J. SITECH : Sistem Informasi dan Teknologi., vol. 2, no. 1, pp. 13–20, 2019.
[2] E. G. Monica and P. Pangeran, "The Integration of Balanced Scorecard and ISO 31 . 000 Based Enterprise Risk Management Process to Mitigate Supply Chain Risk : Case Study at PT Anugerah Bintang Meditama," International Journal of Multicultural and and Multireligious Understanding (IJMMU)., vol. 7, no. 10, pp. 616–628, 2020.
[3] I. Sulistyowati and R. V. H. Ginardi, "Information Security Risk Management with Octave Method and ISO/EIC 27001: 2013 (Case Study: Airlangga University)," in IPTEK Journal of Proceedings Series, 2019, vol. 1, pp. 32–38.
[4] Z. Putra, S. Chan, and M. IHA, "Design of Risk Management Based on ISO 31000 in PDAM Tirta Meulaboh," J. AFEBI Management and Business Review., vol. 2, no. 1, p. 21, 2017.
[5] Y. E. Patabang, S. Suprayitno, E. Sahiri, and I. M. J. A, "Operational Risk Management of Surabaya Main Naval Base V Repair and Maintenance Facility Based on ISO 31000 Framework," International Journal of ASRO, vol. 10, no. 03, pp. 111–123, 2019.
[6] C. Kuntoro, "Implementasi Manajemen Risiko Kebakaran Berdasarkan (IS) ISO 31000 PT Apac Inti Corpora," Higeia Journal of Public Health Research and Development (HIGEIA)., vol. 1, no. 4, pp. 109–119, 2017.
[7] I. Setiawan, R. Waluyo, and W. A. Pambudi, "Perancangan Business Continuity Plan dan Disaster Recovery Plan Teknologi dan Sistem Informasi Menggunakan ISO 22301," J. RESTI (Rekayasa Sistem. dan Teknologi. Informasi), vol. 3, no. 2, pp. 148–155, 2019.
[8] J. S. Suroso and M. A. Fakhrozi, "Assessment of Information System Risk Management with Octave Allegro at Education Institution," in 3rd International Conference on Computer Science and Computational Intelligence 2018, 2018, vol. 135, no. March, pp. 202–213.
[9] D. S. Valena, R. Prabowo, anie rose Irawati, and A. Aristoteles, "Analisis Manajemen Risiko Sistem Informasi Perpustakaan Universitas Lampung Menggunakan Metode Nist Sp 800-30," J. Komputasi, vol. 7, no. 1, 2019.
[10] A. Syihabuddin, Y. Suryanto, and M. Salman, "Risk Management in Data Centers Using ISO 31000 Case Study : XYZ Agency," In The 1st STEEEM 2019, 2019, vol. 1, no. 1, pp. 341–352.
[11] W. S. Prabowo, . W., N. A Setiawan, M. H. Muslim, and Y. S. Utama, "Manajemen Risiko Infrastruktur Cloud Pemerintah Menggunakan Nist Framework Studi Kasus Lembaga Ilmu Pengetahuan Indonesia (LIPI)," J. Penelitian Pos dan Informatika., vol. 7, no. 1, p. 17, 2017.
[12] F. I. S. Yudha and R. E. Gunadhi, "Risk Assessment Pada Manajemen Resiko Keamanan Informasi Mengacu Pada British Standard ISO/IEC 27005 Risk Management," J. Algoritma., vol. 13, no. 1, pp. 1689–1699, 2016.
[13] A. Y. Wicaksono, "Applying ISO:31000:2018 as Risk Management Strategy on Heavy Machinery Vehicle Division," International Journal of Science, Engineering and Information Technology., vol. 4, no. 2, pp. 198–202, 2020.
[14] K. B. Mahardika, A. F. Wijaya, and A. D. Cahyono, "Manajemen Risiko Teknologi Informasi Menggunakan ISO 31000 : 2018 (Studi Kasus: Cv. XY)," J. Sebatik, vol. 23, no. 1, pp. 277–284, 2019.
[15] H. T. I. Driantami, Suprapto, and A. R. Perdanakusuma, "Analisis Risiko Teknologi Informasi Menggunakan ISO 31000 ( Studi kasus : Sistem Penjualan PT Matahari Department Store Cabang Malang Town Square )," J. Pengembangan Teknologi Informasi dan Ilmu Komputer., vol. 2, no. 11, pp. 4991–4998, 2018.
[16] I. Setiawan, M. Sutopo, and A. Azis, "Manajamen Risiko SIMRS Menggunakan Metode OCTAVE-S dan Standar Pengendalian ISO / EIC 27001," J. Teknik Informatika dan Sistem Informasi., vol. 7, no. 3, pp. 1–8, 2020.
[17] A. Fathurohman and R. W. Witjaksono, "Analysis and Design of Information Security Management System Based on ISO 27001: 2013 Using ANNEX Control (Case Study: District of Government of Bandung City)," Bulletin of Computer Science and Electrical Engineering., vol. 1, no. 1, pp. 1–11, 2020.
[18] R. R. Wijayanti, "Implementasi Octave-S dan Standar Pengendalian ISO 27001:2013 Pada Manajemen Risiko Sistem Informasi Perguruan Tinggi," J. Pengkajian dan Penerapan Teknik Informatika (PETIR)., vol. 11, no. 2, pp. 221–233, 2018.
[19] P. Februari and F. Fitria, "Audit Sistem Keamanan Informasi Menggunakan ISO 27001 Pada SMKN 1 Pugung, Lampung," POSITIF J. POSITIF : Jurnal Sistem dan Teknologi Informasi., vol. 5, no. 2, p. 97, 2019.
[20] R. Tatiara, A. N. Fajar, B. Siregar, and W. Gunawan, "Analysis of factors that inhibiting implementation of Information Security Management System (ISMS) based on ISO 27001," in Journal of Physics: Conference Series, 2018, vol. 978, no. 1, pp. 12–39.
[21] D. L. Ramadhan, R. Febriansyah, and R. S. Dewi, "Analisis Manajemen Risiko Menggunakan ISO 31000 Pada Smart Canteen SMA XYZ," J. JURIKOM : Jurnal Riset Komputer, vol. 7, no. 1, p. 91, 2020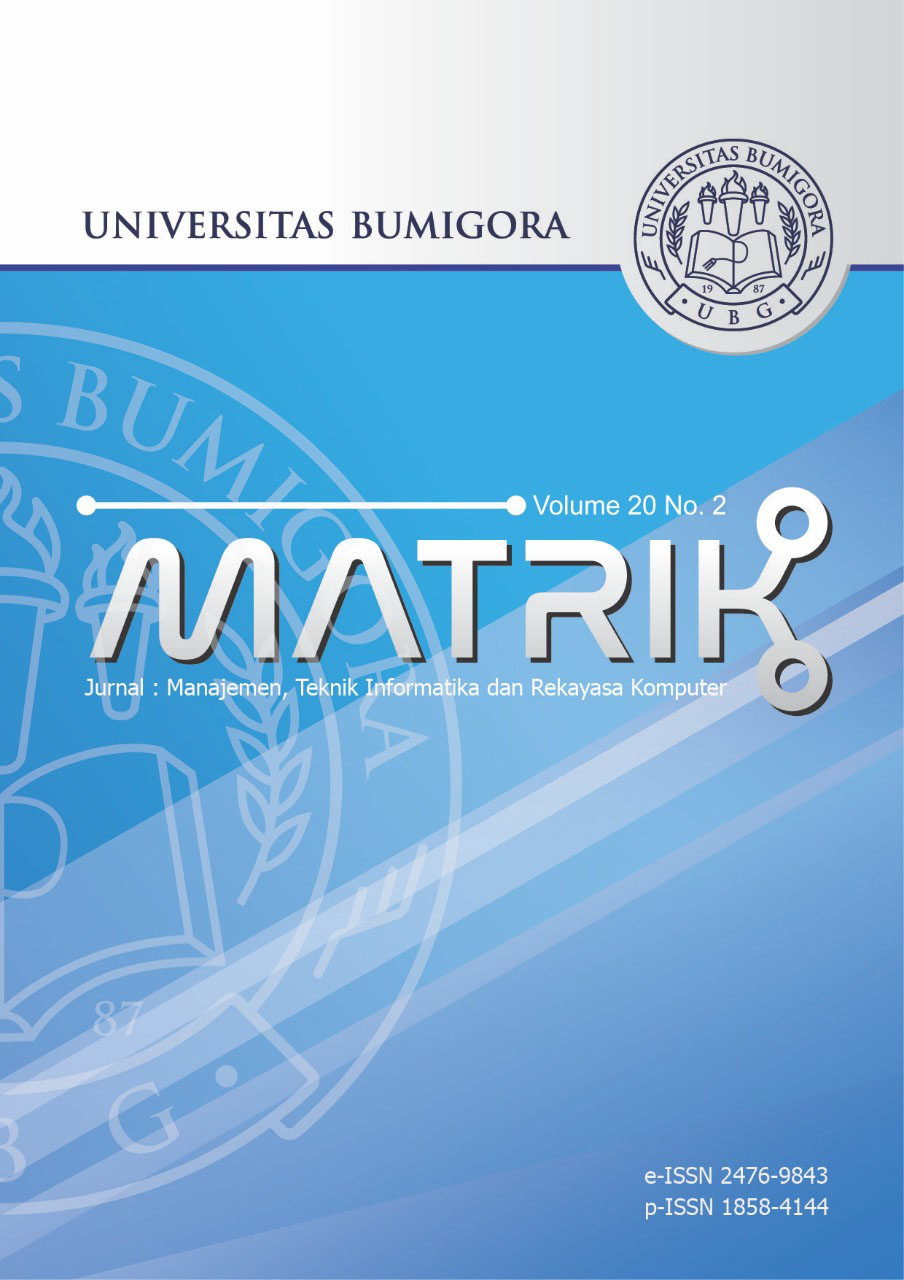 How to Cite
Setiawan, I., Sekarini, A., Waluyo, R., & Afiana, F. (2021). Manajemen Risiko Sistem Informasi Menggunakan ISO 31000 dan Standar Pengendalian ISO/EIC 27001 di Tripio Purwokerto. MATRIK : Jurnal Manajemen, Teknik Informatika Dan Rekayasa Komputer, 20(2), 389-396. https://doi.org/https://doi.org/10.30812/matrik.v20i2.1093
This work is licensed under a Creative Commons Attribution-ShareAlike 4.0 International License.