Perspektif Baru Enterprise Architecture Pemerintahan Kota Mataram Berbasis TOGAF ADM
Husain Husain

STMIK Bumigora Mataram

Pulung Nurtantio Andono

Universitas Dian Nuswantoro

M. Arif Soeleman

Universitas Dian Nuswantoro
Keywords:
Enterprise Architecture TOGAF ADM, Master Plan TIK, Diskominfo
Abstract
TIK salah satu penentu keberhasilan sebuah organisasi dalam mencapai visi dan misinya. Terpilihnya pemimpin yang baru, terbentuknya SKPD baru dengan visi misi baru sehingga master plan yang lama di anggap sudah tidak relevan lagi, sehingga persoalan yang muncul diselesaikan dengan cara reaktif dan memungkinkan persoalan yang sama akan muncul kembali pada masa yang akan datang. Arsitektur enterprise adalah cara untuk membangun arsitektur TIK dari sebuah organisasi yang berfokus pada arsitektur bisnis, arsitektur data, arsitektur aplikasi dan arsitektur teknologi. Penelitian ini merupakan penelitian deskriptif kualitatif dengan pendekatan studi kasus. Metodologi yang digunakan adalah Enterprise Architecture TOGAF ADM sebagai kerangka acuan untuk perencanaan strategis TIK Pemerintahan Kota Mataram. Subyek pada penelitian ini adalah responden yang memiliki kewenangan dalam pengambilan keputusan terkait TIK dan pengguna TIK di Dinas Komunikasi dan Informatika (DISKOMINFO). Kebutuhan bisnis yang terdiri dari Arsitektur Data, Aplikasi dan Teknologi diidentifikasi dan diusulkan untuk mendukung aktivitas bisnis demi pencapaian tujuan organisasi. Hasil dari penelitian ini dengan menganalisa penggunaan penerapan teknologi informasi dan komunikasi(TIK) Seperti Sumber daya Manusia yang terlibat, kebutuhan aplikasi dan infrastruktur jaringan komputer dalam untuk mendukung proses bisnis dalam pelaksanaan roda pemerintahan Kota Mataram, dengan menggunakan metode scorecard uji kelayakan dengan rata-rata perolehan 76%.
Downloads
Download data is not yet available.
References
[1] N. Dastranj Mamaghani, F. Mousavi Madani, and A. Sharifi, "Customer oriented enterprise IT architecture framework," Telemat. Informatics, vol. 29, no. 2, pp. 219–232, 2012.
[2] A. M. Muhammad Tajuddin, Endang Siti Astuti, Hamdani Husnan, "Membangun Master Paln Teknologi Informasi Berbasis Needs Assessment," Pros. SNST ke-7 Tahun 2016 Fak. Univ. Wahid Hasyim Semarang 1, pp. 1–6, 2016.
[3] H. Panetto, M. Zdravkovic, R. Jardim-Goncalves, D. Romero, J. Cecil, and I. Mezgar, "New perspectives for the future interoperable enterprise systems," Comput. Ind., vol. 79, pp. 47–63, 2016.
[4] L. Urbaczewski and S. Mrdalj, "A comparison of enterprise architecture frameworks," Issues Inf. Syst., vol. 7, no. 2, pp. 18–23, 2006.
[5] "Undang-Undang Republik Indonesia Nomor 32 Tahun 2004 Tentang Pemerintahan Daerah," pp. 1–294, 2004.
[6] "Instruksi Presiden Republik Indonesia Nomor 3 Tahun 2003 Tentang Kebijakan Dan Strategi Nasional Pengembangan E-Government," pp. 1– 25, 2003.
[7] "Peraturan Pemerintah Republik Indonesia Nomor 41 Tahun 2008," 2008.
[8] "Peraturan Pemerintah Republik Indonesia Nomor 18 Tahun 2016," vol. 1, 2015.
[9] B. D. Rouhani, M. N. Mahrin, F. Nikpay, R. B. Ahmad, and P. Nikfard, "A systematic literature review on enterprise architecture implementation methodologies," Inf. Softw. Technol., vol. 62, pp. 1–20, 2015.
[10] N. Sugianti, "Pengembangan rencana strategis teknologi informasi dan komunikasi dinas kesehatan kota yogyakarta dengan pendekatan enterprise architecture planning," Universitas Gadjah Mada, 2016.
[11] G. L. Geerts and D. E. O'Leary, "A note on an architecture for integrating cloud computing and enterprise systems using REA," Int. J. Account. Inf. Syst., vol. 19, pp. 59–67, 2015.
[12] S. Buckl, A. M. Ernst, F. Matthes, R. Ramacher, and C. M. Schweda, "Using enterprise architecture management patterns to complement TOGAF," Proc. - 13th IEEE Int. Enterp. Distrib. Object Comput. Conf. EDOC 2009, pp. 34–41, 2009.
[13] J. Lapalme, A. Gerber, A. Van Der Merwe, J. Zachman, M. De Vries, and K. Hinkelmann, "Exploring the future of enterprise architecture: A Zachman perspective," Comput. Ind., vol. 79, pp.103–113, 2016.
[14] R. Yunis and K. Surendro, "Perancangan Model Enterprise Architecture Dengan TOGAF," ResearchGate, vol. 2009, no. Snati 2009, pp. 25–31, 2009.
[15] I. P. Karunia, "Perancangan Enterprise Architecture Develoment Method Dinas Tata Kota Bangunan Dan Pemukiman Tangerang Selatan," 2015.
[16] T. Roni Yunis, "Penerapan Enterprise Architecture Framework Untuk Pemodelan Sistem Informasi," JSM STMIK Mikroskil, vol. 13, no. 2, pp. 159–168, 2012.
[17] A. D. B. Ardhyansyah Mualo, "Perencanaan strategis sistem informasi menggunakan TOGAF (studi kasus : universitas satria makassar)," SRTI, pp. 294–304, 2016. [18] V. Agievich and K. Skripkin, "Enterprise Architecture migration planning using the Matrix of Change," Procedia Comput. Sci., vol. 31, no. Itqm, pp. 231–235, 2014. [19] G. Osvalds and A. Junction, "Definition of Enterprise Architecturecentric," Present. INCOSE 2001 Elev. Annu. Int. Symp. Int. Counc. Syst. Eng. Melbourne, Victoria, Aust. 1 - 5 July 2001, no. July, pp. 1–7, 2001.
[20] R. Weisman, "An Overview of TOGAF Version 9.1," Publ. by Open Gr., p. 43, 2011.
[21] T. Friesner, "SWOT Analysis," Tim Friesner, 2016. [Online]. Available: http://www.marketingteacher.com/swot -analysis/. [Accessed: 20-Dec-2016].
[22] M. Christianti and R. V. Imbar, "Pemodelan Enterprise Architecture Zachman Framework pada Sistem Informasi Fakultas Teknologi Informasi Universitas Kristen Maranatha Bandung," J. Sist. Inf., vol. 2, no. 2, pp. 113–135, 2007.
[23] E. Asril, F. Wiza, and Y. Yunefri, "Analisis Data Lulusan dengan Data Mining untuk Mendukung Strategi Promosi Universitas Lancang Kuning," J. Teknol. Inf. Komun. Digit. Zo., vol. 6, no. 2, pp. 24–32, 2015.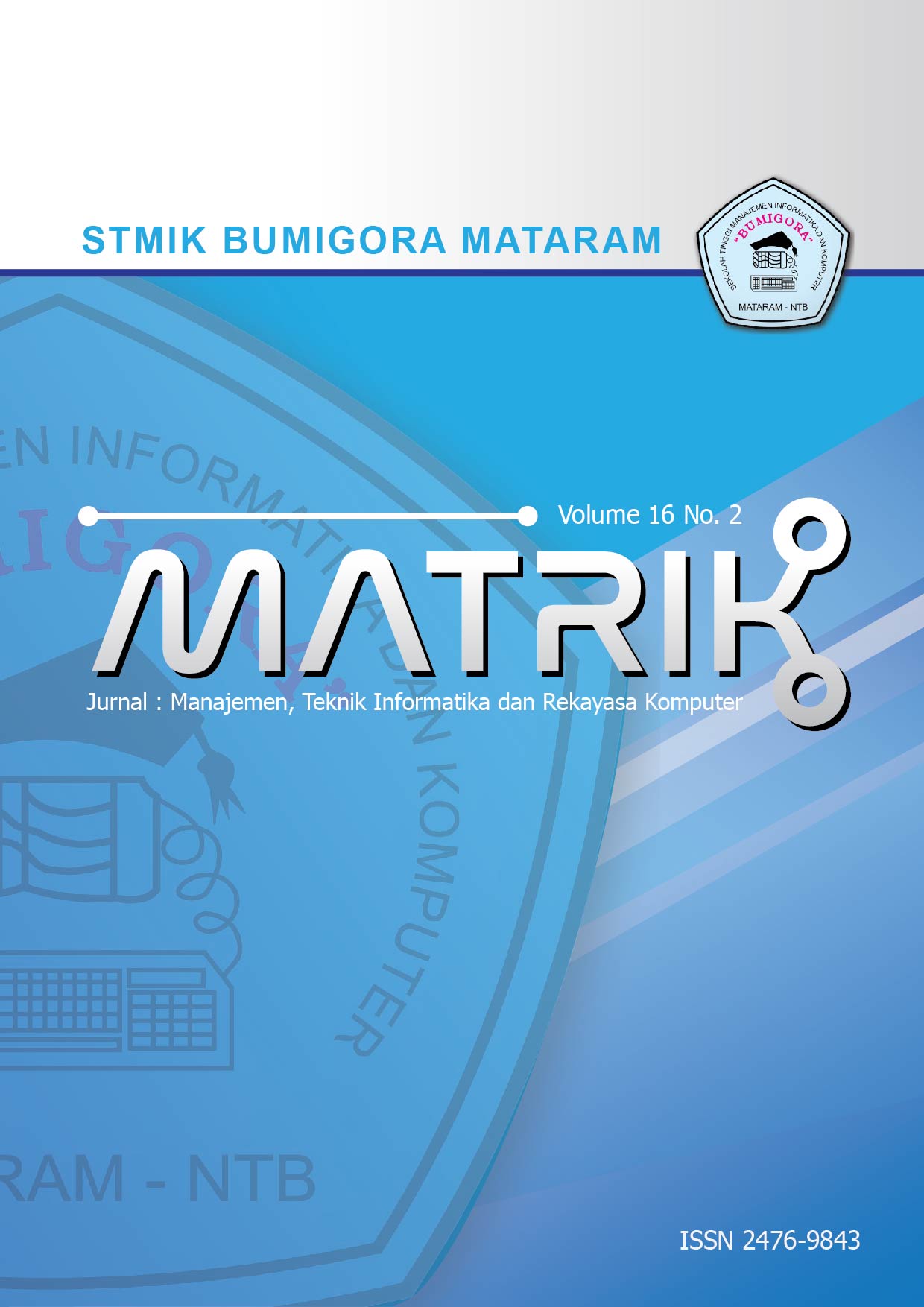 How to Cite
Husain, H., Andono, P., & Soeleman, M. A. (2017). Perspektif Baru Enterprise Architecture Pemerintahan Kota Mataram Berbasis TOGAF ADM. MATRIK : Jurnal Manajemen, Teknik Informatika Dan Rekayasa Komputer, 16(2), 76-85. https://doi.org/https://doi.org/10.30812/matrik.v16i2.6