Penerapan User-Based Collaborative Filtering Algorithm
Arfiani Nur Khusna

Universitas Ahmad Dahlan

Krisvan Patra Delasano

Universitas Ahmad Dahlan

Dimas Chaerul Ekty Saputra

Universitas Gadjah Mada
Keywords:
Use Based Collaborativ Filtering, Sistem Rekomendasi, Euclidean Distance, Root Mean Square Error, User Acceptance Test
Abstract
Sistem online memanfaatkan website sebagai media pemasaran. Namun dengan perkembangan teknologi, pemasaran dilakukan dengan online terdapat kendala yaitu banyaknya produk yang tersedia dalam pemilihan produk. Sistem rekomendasi adalah sistem yang menyarankan informasi berguna atau menduga yang akan dilakukan user untuk mencapai tujuannya, seperti mencari teknik yang terbaik dalam memberikan rekomendasi bagi user. Menurut hasil survey yang telah dilakukan terhadap 17 orang pemakai website pemasaran produk Gadget Shield didapatkan 88,20% mengharapkan adanya penilaian user terhadap produk. Penelitian ini akan melakukan pengembangan sistem rekomendasi produk Gadget Shield pada toko Jackskins menggunakan metode User-Based Collaborative Filtering serta menggunakan Euclidean Distance untuk mengukur jarak kemiripan antar User dan Weighted Sum digunakan untuk mencari rekomendasi produk. Diharapkan dengan adanya sistem dapat memudahkan User dalam pencarian produk Gadget Shield terbaik. Guna menghasilkan produk rekomendasi,hasil nilai kemiripaan dilakukan perhitungan dengan algoritma Weighted Sum. Sistem rekomendasi Collaborative Filtering telah diuji menggunakan metode pengujian akurasi Root Mean Square Error (RMSE) dan pengujian User Acceptance Test (UAT). Hasil uji RMSE menunjukkan nilai 0,496 atau akurasinya 90,08%. Hasil pengujian UAT didapatkan 86,86% diterima. Informasi dari proses tersebutlah yang nantinya diharapkan akan bermanfaat sebagai dasar sumber rekomendasi yang akurat. 
Downloads
Download data is not yet available.
References
[1] "Statistik Pengguna Digital dan Internet Indonesia 2019," www.boc.web.id, 2019. .
[2] Burhannudin, Komunikasi Bisnis. Yogyakarta, Indonesia: Pustaka Pelajar, 2015.
[3] S. Sari and A. P. Sary, "Sistem Rekomendasi Personal Pada Toko Buku Online Menggunakan Pendekatan Collaborative Filtering dan Algoritma Slope One," in Seminar Nasional Teknologi Informasi san Multimedia, 2017, pp. 13–18.
[4] M. Gunawan, "Rancang Bangun Sistem Rekomendasi E-Commerce Pada Distro IT Menggunakan Item-Based Collaborative Filtering."
[5] F. Ricci, L. Rokach, and B. Shapira, Reccomender Systems Handbook. Springer, Boston, MA, 2015.
[6] Y. Yang, F. Xue, Y. Cai, and Z. Ning, "Spark-based Parallel Collaborative Filtering Recommendation Algorithm," vol. 74, no. Iccia, 2017, pp. 987–990.
[7] S. Uyun, I. Fahrurrozi, and A. Mulyanto, "Item Collaborative Filtering untuk Rekomendasi Pembelian Buku secara Online," Jusi, vol. 1, no. 1, pp. 63–70, 2011.
[8] N. Pentreath, Machine Learning with Spark. Packt Publishing Ltd, 2015.
[9] S. Sari and D. Tri Hendra, "Aplikasi Rekomendasi Film menggunakan Pendekatan Collaborative Filtering dan Euclidean Distance sebagai ukuran kemiripan rating," Seminar Nasional Teknologi Informasi dan Komunikasi Terapan, p. 2015, 2015.
[10] M. Nishom, "Perbandingan Akurasi Euclidean Distance, Minkowski Distance, dan Manhattan Distance pada Algoritma K-Means Clustering berbasis Chi-Square," Jurnal Informatika Pengembangan IT, vol. 4, no. 1, pp. 20–24, 2019.
[11] A. Handrico, "Sistem Rekomendasi Buku Perpustakaan Fakultas Sains dan Teknologi dengan Metode Collaborative Filtering," Universitas Islam Negeri Sultan Syarif Kasim Riau, 2012.
[12] S. Nurjanah, H. B. Santoso, and Z. A. Hasibuan, "The user acceptance test of an 'iCT adoption for education' framework," in ACM International Conference Proceeding Series, 2018, pp. 129–133.
[13] T. Mutiara, Achmad Benny, Muslim, A, Oswari, "Testing Implementasi Website Rekam Medis Elektronik," in Prosiding Seminar Ilmiah Nasional Komputer dan Sistem Intelijen, 2014, vol. 8, pp. 1–7.
[14] M. Nilashi, K. Bagherifard, O. Ibrahim, H. Alizadeh, L. A. Nojeem, and N. Roozegar, "Collaborative filtering recommender systems," Research Journal of Applied Sciences, Engineering and Technology, vol. 5, no. 16, pp. 4168–4182, 2013.
[15] W. Wang and Y. Lu, "Analysis of the Mean Absolute Error (MAE) and the Root Mean Square Error (RMSE) in Assessing Rounding Model," IOP Conference Series: Materials Science and Engineering, vol. 324, no. 1, pp. 1–10, 2018.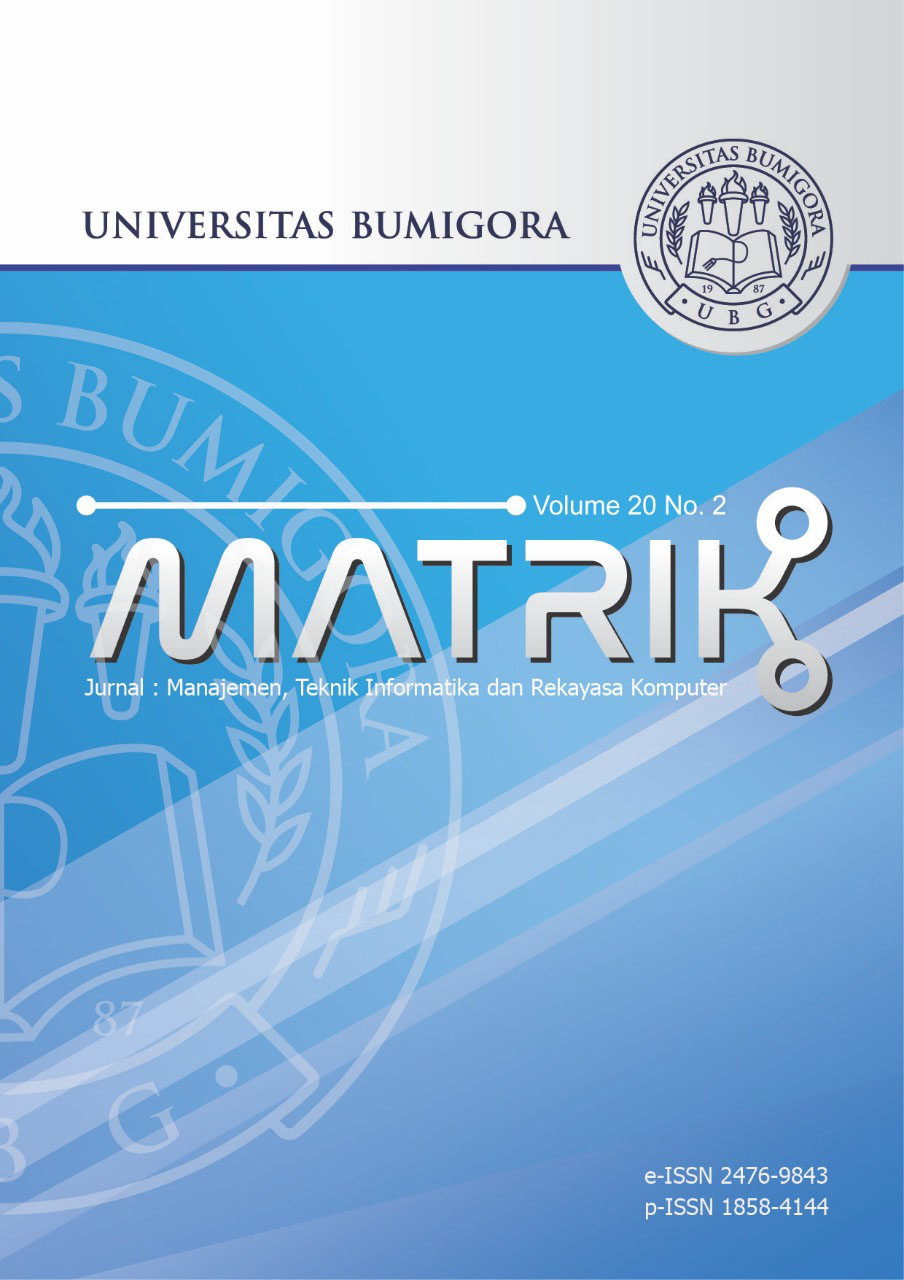 How to Cite
Khusna, A. N., Delasano, K. P., & Saputra, D. C. E. (2021). Penerapan User-Based Collaborative Filtering Algorithm. MATRIK : Jurnal Manajemen, Teknik Informatika Dan Rekayasa Komputer, 20(2), 293-304. https://doi.org/https://doi.org/10.30812/matrik.v20i2.1124
This work is licensed under a Creative Commons Attribution-ShareAlike 4.0 International License.