Sistem Informasi Pelayanan Administrasi Kependudukan Berbasis Website Kelurahan Banaran
Muhammad Vicky Al Hasri

Program Studi Informatika, Universitas Muhammadiyah Surakarta

Endah Sudarmilah

Program Studi Informatika, Universitas Muhammadiyah Surakarta
Keywords:
Sistem Informasi, Website, Pelayanan, Administrasi, Kelurahan
Abstract
Sistem informasi berbasis website berkembang pesat pada saat ini. Salah satu penerapan dalam instansi pemerintah yang dekat dengan masyarakat mengenai pengurusan administrasi ialah lingkup kelurahan. Sistem dibangun guna melayani kemudahan dalam hal administrasi kependudukan. Sistem ini dibuat untuk memberikan kemudahan kepada masyarakat dalam pengajuan pelayanan dan pengelolaan administrasi oleh petugas. Pengembangan sistem menggunakan metode waterfall yang meliputi perencanaan, analisis, perancangan, implementasi, dan pemeliharan sistem. Penelitian ini dalam pengujian blackbox sistem menunjukkan seluruh fitur yang ada dapat bejalan dan berfungsi dengan baik dan dalam pengujian melalui System Usability Scale (SUS) diperoleh nilai rata-rata 74.9 yang masuk kedalam kategori baik dan dapat diterima oleh masyarakat.
Downloads
Download data is not yet available.
References
[1] R. S. Muharam, "Inovasi Pelayanan Publik Dalam Menghadapi Era Revolusi Industri 4.0 Di Kota Bandung," Decision: Jurnal Administrasi Publik, vol. 1, no. 01, pp. 39–47, 2019.
[2] B. Muhammad and A. Bahar, "Model Aplikasi Sistem Pelayanan Terpadu Pada Kantor Kelurahan," Teknik Informatika, vol. 5, no. 1, pp. 877–1021, 2016.
[3] Munawir, Zulfan, Y. Yanti, and Erdiwansyah, "Perancangan Sistem Manajemen Administrasi Gampong Berbasis Aplikasi Desktop," Jurnal Serambi Engineering, vol. 2, no. 4, pp. 182–187, 2017.
[4] F. Simangunsong and A. Djaga, "Program Implementation of E-Government-Based Village Administration and Information System in West Sumba Regency," Asian Journal of Management Sciences & Education, vol. 7, no. 10, pp. 71–82, 2018.
[5] M. I. Mustofa and Z. Mustofa, "Web-based village information system," International Research Journal of Engineering and Technology (IRJET), pp. 595–600, 2018.
[6] N. Riawati, "Village Innovation Through Village Information Administration System (Said) in Bondowoso District East Java Province," The International Seminar Series on Regional Dynamics, vol. 1, no. 1, pp. 277–288, 2019.
[7] A. D. Rahmawati and A. Fatmawati, "Sistem Administrasi Desa Mendiro Kecamatan Ngrambe Kabupaten Ngawi Berbasis Web," Emitor: Jurnal Teknik Elektro, vol. 18, no. 01, pp. 1–7, 2020.
[8] Soegiarto, E. C. Kirana, and Bahar, "Model aplikasi sistem pelayanan administrasi penduduk berbasis web pada kantor kelurahan," Jurnal Teknologi Informasi dan Komunikasi, vol. 9, no. 2, pp. 9–18, 2018.
[9] I. M. Wahyu Hidayat Ibrahim, "Sistem Informasi Pelayanan Publikberbasis Web Pada Dinas Pekerjaan Umum Kabupaten Kampar," Jurnal Ilmiah Rekayasa dan Manajemen Sistem Informasi, vol. 3, no. 2, pp. 17–22, 2017.
[10] M. Huda, S. Wiyono, M. F. Hidayatullah, and S. Bahri, "Studi Kasus: Sistem Informasi dan Pelayanan Administrasi Kependudukan," Komputika : Jurnal Sistem Komputer, vol. 9, no. 1, pp. 59–65, 2020.
[11] A. Ahmadi and H. Juliansa, "Rancang Bangun Sistem Informasi Digital Layanan Administrasi Publik Desa Berbasis WEB Responsive," Jurnal Ilmiah Informatika Global, vol. 10, no. 1, 2019.
[12] E. M. Rini, F. Panduardi, and F. Romansah, "Rancang Bangun Sistem Informasi Pelayanan Desa Tamansari Kecamatan Licin Banyuwangi Berbasis Web," Seminar Nasional Teknologi Informasi dan Multimedia 2016 STMIK AMIKOM Yogyakarta, pp. 145–150, 2016.
[13] C. Tristianto, "Waterfalls," Gooseberry, vol. 12, no. 01, pp. 41–56, 2018.
[14] D. Handayani and A. Noeman, "Sistem Informasi E-Administrasi ( KTP , KK , Surat Pengantar Nikah , Surat Kelahiran dan Surat Kematian ) Berbasis Web," vol. 4, no. 1, pp. 65–74, 2019.
[15] R. Ritnawati, R. Suppa, and M. Muhallim, "Sistem Informasi Pelayanan Masyarakat Berbasis Android Pada Kantor Desa Kaliba Mamase," SPEKTA (Jurnal Pengabdian Kepada Masyarakat : Teknologi dan Aplikasi), vol. 1, no. 2, pp. 95–100, 2020.
[16] A. Hendini, "Pemodelan Uml Sistem Informasi Monitoring Penjualan Dan Stok Barang (Studi Kasus: Distro Zhezha Pontianak)," Crop Science, vol. 4, no. 2, pp. 201–205, 2016.
[17] A. Gunanto and E. Sudarmilah, "Pengembangan Website E-Arsip di Kantor Kelurahan Pabelan," Emitor: Jurnal Teknik Elektro, vol. 20, no. 02, pp. 104–110, 2020.
[18] Suendri, "Implementasi Diagram UML (Unified Modelling Language) Pada Perancangan Sistem Informasi Remunerasi Dosen Dengan Database Oracle (Studi Kasus: UIN Sumatera Utara Medan)," Jurnal Ilmu Komputer dan Informatika, vol. 3, no. 1, pp. 1–9, 2018.
[19] A. Syukron, "Perancangan Sistem Informasi Administrasi Kependudukan Desa Berbasis Website Pada Desa Winong," Bianglala Informatika, vol. 7, no. 1, pp. 16–21, 2019.
[20] K. Hidayat, "Modeling Information System for Agroindustry of Jamu Madura," Teknika: Engineering and Sains Journal, vol. 2, no. 1, pp. 47–52, 2018.
[21] M. Larrea, "Black-Box Testing Technique for Information Visualization. Sequencing Constraints with Low-Level Interactions," Journal of Computer Science and Technology, vol. 17, no. 1, pp. 37–48, 2017.
[22] B. Said and F. Prasetyo E.P., "Layanan e-Surat Berbasis Mobile Application di Desa Waru Barat Pamekasan," InfoTekJar (Jurnal Nasional Informatika dan Teknologi Jaringan), vol. 4, no. 1, pp. 111–115, 2019.
[23] Rasmila, "Evaluasi Website Dengan Menggunakan System Usability Scale (SUS) Pada Perguruan Tinggi Swasta Di Palembang," JUSIFO : Jurnal Sistem Informasi, vol. 2, no. 1, pp. 108–121, 2018.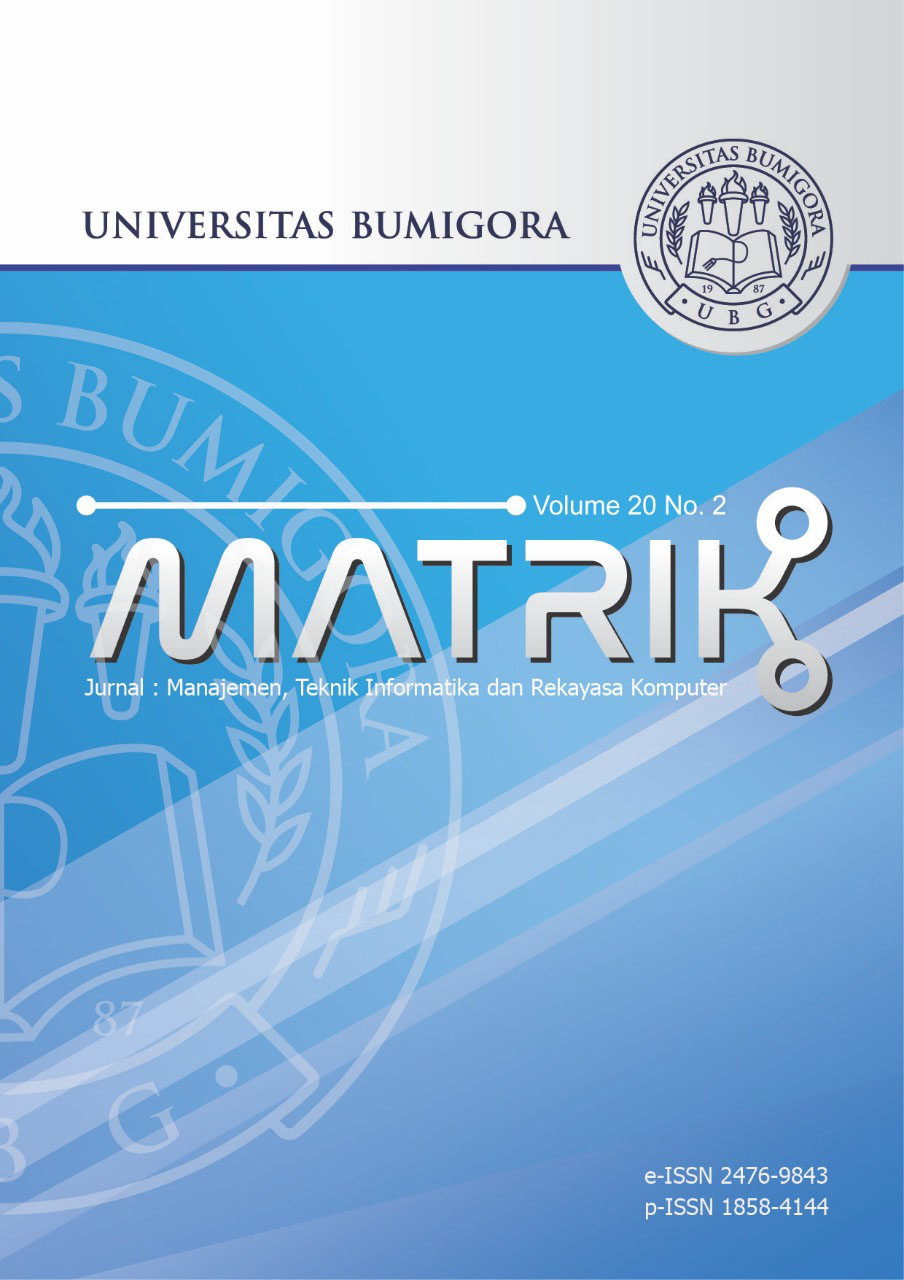 How to Cite
Al Hasri, M., & Sudarmilah, E. (2021). Sistem Informasi Pelayanan Administrasi Kependudukan Berbasis Website Kelurahan Banaran. MATRIK : Jurnal Manajemen, Teknik Informatika Dan Rekayasa Komputer, 20(2), 249-260. https://doi.org/https://doi.org/10.30812/matrik.v20i2.1056
This work is licensed under a Creative Commons Attribution-ShareAlike 4.0 International License.