Sistem Peramalan Persediaan Sparepart Menggunakan Metode Weight Moving Average dan Reorder Point
Cindy Ameilia Suhendra

universitas catur insan cendekia

Marsani Asfi

universitas catur insan cendekia

Widya Jati Lestari

universitas catur insan cendekia

Ilwan Syafrinal

universitas catur insan cendekia
Keywords:
Forecasting, Weight Moving Average, Reorder point, WMA, ROP
Abstract
SM Teknik is a trading business that sells motorbike spare parts, engineering tools, timber tools and provides repair services for woodworking machines and lathe corers. SM Teknik has a great opportunity to expand its market share. Efforts are made, namely by providing what consumers need in the right spare part stock. Therefore, in this study, forecasting inventory uses the Weight Moving Average (WMA) and the Reorder Point (ROP) method to determine the safe limit of inventory. The data used is sales data during 2018. Forecasting results obtained a value of 11 using the Weight Moving Average method and a value of 11 for the calculation of ROP. The system application is further developed so that it can be used to predict future sales value to increase revenue. The system will be built with the PHP programming language. The test results show that the system can be used.
Downloads
Download data is not yet available.
References
[1] E. Herjanto, Manajemen Operasi Edisi ke-3. Jakarta: Grasindo, 2008.
[2] V. Firlisia and M. Asfi, "Aplikasi Sistem Perhitungan HArga Pokok Produksi atas Pemakaian Bahan Baku menggunakan Metode Moving Average," Jurnal Digit, vol. 9, no. 1, pp. 110–121, 2019.
[3] T. Feviyanti and M. Asfi, "Aplikasi Penentuan Harga Pokok Persediaan Barang Dagang dengan Metode Pencatatan FIFO di Perusahanan Dagang Kun Giok Cirebon," Jurnal Digit, vol. 4, no. 2, pp. 191–200, 2014.
[4] T. Hendriani, M. Yamin, and A. P. Dewi, "Sistem Peramalan Persediaan Obat Dengan Metode Weight Moving Average Dan Reorder Point (Studi Kasus: Puskesmas Soropia)," semanTIK, vol. 2, no. 2, pp. 207–214, 2017.
[5] Z. Silvya, A. Zakir, and D. Irwan, "Penerapan Metode Weighted Moving Average Untuk Peramalan Persediaan Produk Farmasi," JITEKH (Jurnal Ilmiah Teknologi Harapan), vol. 8, no. 2, pp. 69–74, 2020.
[6] Suwandi, F. Wicaksono, and T. Ramadani, "Sistem Akuntansi Pencatatan Persediaan Bahan Baku Dengan Metode Rata-Rata Bergerak," Jurnal Ilmiah MEA (Manajemen, Ekonomi, & Akuntansi), vol. 3, no. 2, pp. 58–72, 2019.
[7] R. Y. Hayuningtyas, "Peramalan Persediaan Barang Menggunakan Metode Weighted Moving Average Dan Metode Double Exponential," pilar, vol. 13, no. 2, pp. 217–222, 2017.
[8] R. Rachman, "Penerapan Metode Moving Average Dan Exponential Smoothing Pada Peramalan Produksi Industri Garment," Jurnal Informatika, vol. 5, no. 2, pp. 211–220, Sep. 2018.
[9] M. Sahli and N. Susanti, "Penerapan Metode Exponential Smoothing Dalam Sistem Informasi Pengendalian Persediaan Bahan Baku (Studi Kasus Toko Tirta Harum)," Jurnal SIMETRIS, vol. 3, no. 1, pp. 59–70, 2013.
[10] S. P. Roger, Software engineering: a practitioner's approach. McGraw-Hill Education, 2005.
[11] B. Riyanto, Dasar-dasar Pembelanjaan Perusahaan, 4th ed. Yogyakarta: BPFE Yogyakarta, 2001.
[12] W. Wulandari, "Implementasi Sistem Peramalan Persediaan Barang Menggunakan Metode Moving Average," Jurnal Media Informatika Budidarma, vol. 4, no. 3, p. 707, Jul. 2020.
[13] D. P. Y. Ardiana and L. H. Loekito, "Sistem Informasi Peramalan Persediaan Barang Menggunakan Metode Weighted Moving Average," Jurnal Teknologi Informasi dan Komputer, vol. 4, no. 1, Sep. 2018.
[14] C. Baktiar, A. Wibowo, and R. Adipranata, "Pembuatan Sistem Peramalan Penjualan Dengan Metode Weighted Moving Average dan Double Exponential Smoothing Pada UD Y," Jurnal Ilmiah, vol. 7, no. global, pp. 1–5, 2013.
[15] L. A. Herlambang and W. Sugianto, "Analisis Peramalan Penjualan Sepeda dan Motor Listrik di PT XYZ," Jurnal Comasie, vol. 1, no. 1, pp. 130–138, 2021.
[16] S. Sudiman, "Peramalan Untuk Perencanaan Produksi Stop Valve Tipe Tx277s Menggunakan Metode Peramalan Deret Waktu (Time Series) di PT. XYZ," JITMI (Jurnal Ilmiah Teknik dan Manajemen Industri), vol. 3, no. 1, p. 7, Mar. 2020.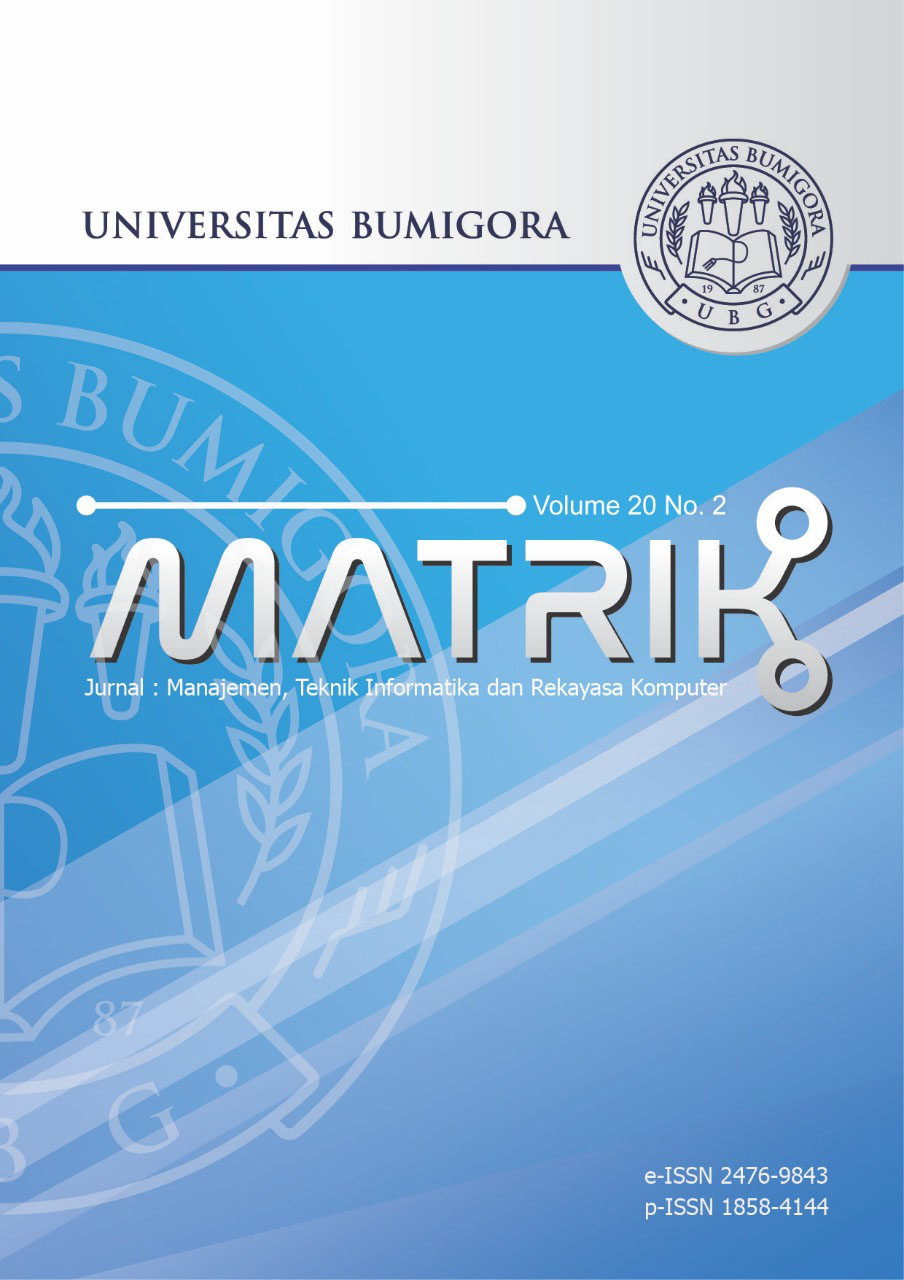 How to Cite
Suhendra, C., Asfi, M., Lestari, W., & Syafrinal, I. (2021). Sistem Peramalan Persediaan Sparepart Menggunakan Metode Weight Moving Average dan Reorder Point. MATRIK : Jurnal Manajemen, Teknik Informatika Dan Rekayasa Komputer, 20(2), 343-354. https://doi.org/https://doi.org/10.30812/matrik.v20i2.1052
This work is licensed under a Creative Commons Attribution-ShareAlike 4.0 International License.