Analisis Strategi Pedagang Kaki Lima dalam Mempertahankan Usaha pada Masa Pandemi Covid-19 di Kecamatan Sekarbela
Jakranah Jakranah

Universitas Mataram

Titi Yuniarti

Universitas Mataram

I Gusti Ayu Arini

Universitas Mataram
Keywords:
covid-19 pandemic, strategy, street vendor
Abstract
This study aims to determine and analyze the strategy of street vendors in maintaining business during the covid-19 pandemic in Sekarbela district. The research method used is a qualitative research method with data collection techniques of observation, interviews and documentation. The results of this study indicate that during the Covid-19 pandemic, street vendors felt the impact of a decrease in sales turnover compared to the period before the pandemic, it is known that the implementation of health protocols, one of which is wearing a mask, is applied by several street vendors when serving consumers in addition to personal hygiene and hygiene. place of business is maintained. Street Vendors do not have a specific strategy, but several ways are used to survive against the turmoil of the Covid-19 pandemic, namely by promoting through social media accounts such as WhatsApp, Instagram, and Facebook. In addition, they implement sales through E-Commerce such as Go-Food and Grab-Food. Street vendors who do not understand the use of social media choose to continue selling with the traditional system. Street vendors provide a variety or variety of flavors in their sales to attract consumers. In terms of manpower, street vendors do not require a lot of manpower because street vendors are small businesses. The technology used by street vendors, they only use simple technology that is directly related to business production processes, such as milling tools for sugar cane, juicers for oranges, glass cup presses and gas stoves.
References
Ali Hasan. (2010). Marketing Bank Syariah. 29.
Astuti, Puji. Qalyubi, I. (2021). STRATEGI MEMPERTAHANKAN KEBERLANJUTAN USAHA PEDAGANG KAKI LIMA (PKL) DI MASA PANDEMI COVID – 19 DI PALANGKA RAYA Strategies. 1, 254–291.
FEBRIYANI, S. (2021). RESILIENSI PEDAGANG KAKI LIMA DI TENGAH PANDEMI (Studi Kasus pada Pedagang Kaki Lima di sekitar IAIN Purwokerto). 34–35.
Hariyani, T. (2021). Strategi Pedagang Kaki Lima Dalam Mempertahankan Usaha Di Tengah Pandemi Covid-19 Covid-19. 19.
Lestari, R. A. (2020). Upaya Mempertahankan Usaha Di tengah Pandemi Covid-19.
Noeng Muhadjir, Metodologi Penelitian Kualitatif, Yogyakarta.1996
Meleong, Lexy. J. 2016. Metode Penelitian Kualita tif. Bandung : Remaja Rosdakarya
Moriansyah, L. (2015). PEMASARAN MELALUI MEDIA SOSIAL : ANTECEDENTS DAN CONSEQUENCES SOCIAL MEDIA MARKETING : ANTECEDENTS AND CONSEQUENC-. 187–196.
Mubarok, H. (2009). Pengertian Startegi. Manajemen Strategi, STAN Kudus, 10.
Rahmi Utami Zamri. (2017). Strategi adaptasi pedagang pasar tradisional. 26–27.
Saputra, R. B. (2014). PROFIL PEDAGANG KAKI LIMA (PKL) YANG BERJUALAN DI BADAN JALAN (STUDI DI JALAN TERATAI DAN JALAN SEROJA KECAMATAN SENAPELAN). 1(2), 1–15.
Satriyo Suryantoro. (2021). Strategi adaptasi pedagang kaki lima dalam menghadapi pandemi covid-19. 19.
Sugiyono. 2013. Metode Penelitian Kuantitatif, Kualitatif dan R&D ALFABETA. Bandung.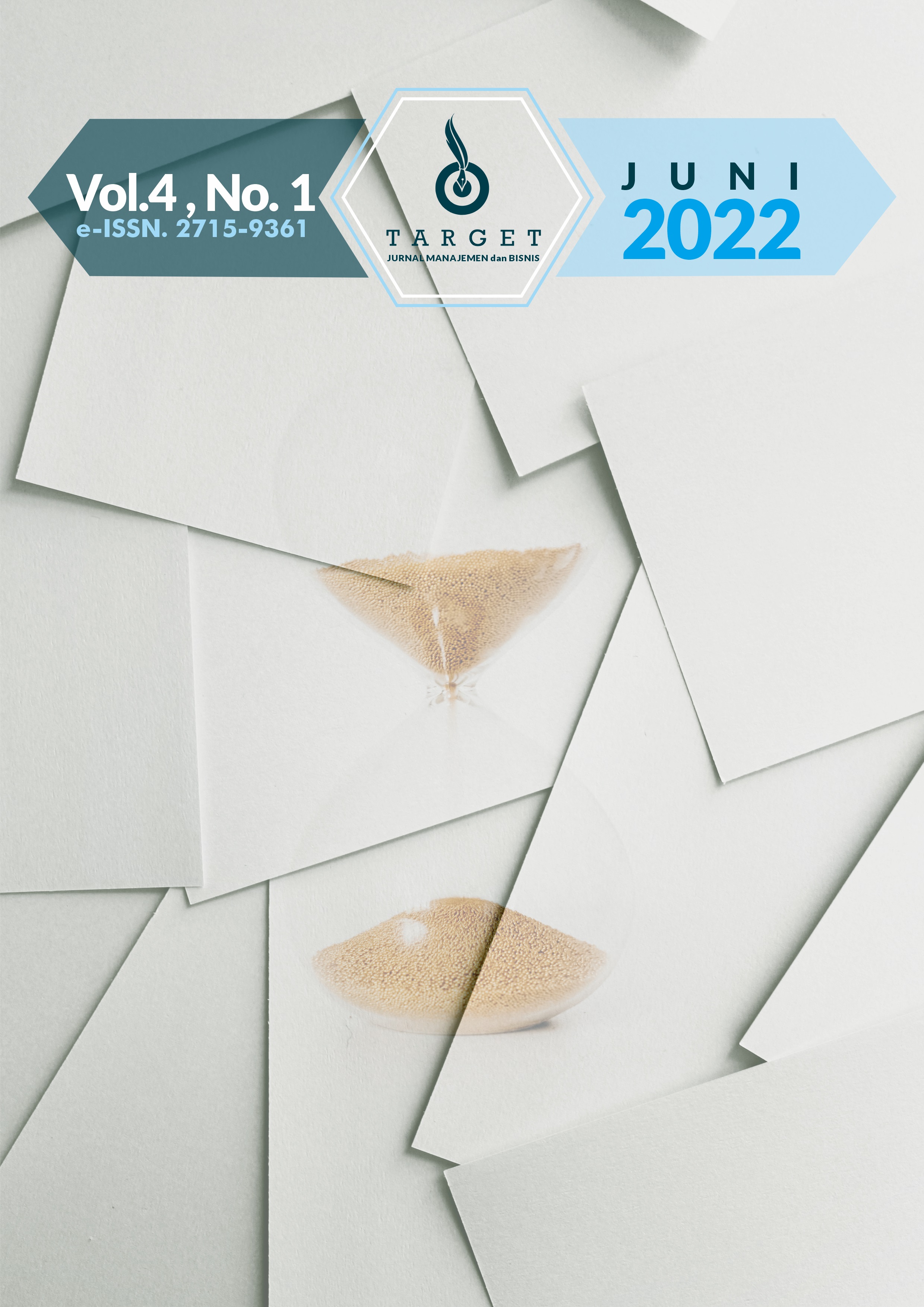 This work is licensed under a Creative Commons Attribution 4.0 International License.