Simple Interactive Contents Based English Materials Development for Non-English Departments
Wahyu Kamil Syarifaturrahman

Universitas Bumigora

Dedi Aprianto

Universitas Bumigora

Zainuddin Abdussamad

Universitas Bumigora

Sutarman Sutarman

Universitas Bumigora
Keywords:
Simple-interactive contents, English textbook, curriculum design
Abstract
The efforts of curriculum development led by the learners' needs and necessities. English curriculum design in the tertiary education must be dynamic by following the learning patterns and learning styles of students as active participants in ELT. Another perspective in improving English Language Learning through an English textbook design by developing simple-interactive contents in purpose of better English learning outcomes. This study aims at developing a model of English textbook based on the interactive-simple and meaningful contents and investigating whether the use of such English textbook can increase ELT effectiveness. It was conducted under the perspective and methods of Research and Development (R&D) through; explorative study, curriculum model development study and evaluative study. The data was collected through observation, questionnaires, and test. Eventually the data was statistically analyzed through t-test. This study revealed that the needs-analysis' findings on necessity, wants; the four language skills and components such as interactive Grammar contents, Writing skills; The Organizations of the Paragraph, Reading Skills, Pronunciation (Sound-Structures, and related English. Simple-interactive contents-based English textbook was appropriately-enough used. Moreover the finding was supported by test through T-test showing that the effect is not too significant between the participants using the developed textbook (81.10) with those are not using one (77.26). This developed textbook is rather appropriate to use in the non-English departments in tertiary education. It can further be developed by designing the appropriate contents and assessment models. One significant fact found in this study is that the designed materials would have made non-English students engage in positive classroom activities; English exposure and active participation.
References
A. Gani, S., Fajrina, D., & Hanifa, R. (2015). Students' Learning Strategies for Developing Speaking Ability. Studies in English Language and Education, 2(1), 16. https://doi.org/10.24815/siele.v2i1.2232
Arjulayana, A., & Tangerang, U. M. (2021). Non-English learners ' needs in learning English as a foreign language Judul : Non-English Learners ' Needs in Learning English as a Foreign Language Identitas karya tulis : The Asian EFL Journal Volume 20 nomer 4 tahun 2018 . URL https://www.asian-efl-jo. August.
Bailey, A. (2018). Handbook of Research on Program Development and Assessment Methodologies in K-20 Education. January. https://doi.org/10.4018/978-1-5225-3132-6.ch005
DEVELOPING ENGLISH LEARNING MATERIAL FOR SPEAKING SKILL. (n.d.). 1, 29–41.
Fauzan, U. (2014). Developing EFL Speaking Materials for the Second Semester Students of STAIN Samarinda. Proceedings of 61th TEFLIN International Conference., July, 861–864.
Fitriah and Muna. H. (2019). Foreign Language Speaking Anxiety: A Case Study At English FOREIGN LANGUAGE SPEAKING ANXIETY: A CASE STUDY AT ENGLISH DEPARTMENT STUDENTS OF IAIN LHOKSEUMAWE AND AL MUSLIM UNIVERSITY. Jurnal Ilmiah DIDAKTIKA, 19(2), 140-158
Gao, J., & Huang, J. (2010). On Communicative Competence in Curriculum Design : A Comparison of the College English Curriculum Requirements and the English Curriculum Standards. Polyglossia, 18, 73–86.
Improvement, T. T. (2017). Received : 18 th April 2017 ; Revised : 25 th May 2017 ; Accepted : 20 th June 2017. 4, 49–62. https://doi.org/10.15408/ijee.v4i1.5341.IJEE
Madya, S. (n.d.). SEARCHING FOR AN APPROPRIATE EFL CURRICULUM DESIGN FOR THE INDONESIAN. 196–221.
Pinelopi, P. (2015). English for Specific Purposes : How to teach English for Tourism. International Journals of English Literature and Culture, 3(August), 235–238. https://doi.org/10.14662/IJELC2015.069
Poedjiastutie, D., Akhyar, F., Hidayati, D., & Nurul Gasmi, F. (2018). Does Curriculum Help Students to Develop Their English Competence? A Case in Indonesia. Arab World English Journal, 9(2), 175–185. https://doi.org/10.24093/awej/vol9no2.12
Richards, J. C. (2013). Curriculum approaches in language teaching: Forward, central, and backward design. RELC Journal, 44(1), 5–33. https://doi.org/10.1177/0033688212473293
Sabrina, A. (2020). The Implementation of Communicative Language Teaching in English Practice. NOTION: Journal of Linguistics, Literature, and Culture, 2(1), 17. https://doi.org/10.12928/notion.v2i1.1750
Shawer, S., Gilmore, D., & Banks-Joseph, S. (2009). Learner-Driven EFL Curriculum Development at the Classroom Level. International Journal of Teaching and Learning in Higher Education, 20(2), 125–143. http://search.ebscohost.com/login.aspx?direct=true&profile=ehost&scope=site&authtype=crawler&jrnl=18129129&AN=44784997&h=h0E7nlDLYF0PDYN6FkDZWMJEwRdPVgC28PtYA00MEOurCRHVpm1d/O5I3lODPChu2GXVj5eE5YcVduR/pEaPcA==&crl=c
Susi Fitria. (2013). Speaking Activities in Young Learners Classroom: the Implementation of Project-Based Learning Approach. Journal of English and Education, 1(2), 90–102.
Thiruvengadam, P. and N. R. (2015). International Journal of Advanced Multidisciplinary Research ( IJAMR ) Research Article Importance of needs analysis in ELT Curriculum. 2(10), 98–100.
Toro, V., Camacho-Minuche, G., Pinza-Tapia, E., & Paredes, F. (2018). The Use of the Communicative Language Teaching Approach to Improve Students' Oral Skills. English Language Teaching, 12(1), 110. https://doi.org/10.5539/elt.v12n1p110
Wulandari, D., Sundari, W., & Ellysafni, C. A. P. (2020). Integrating Local Wisdom into ELT Materials for Secondary Schools in Semarang Based on Need Analysis. PAROLE: Journal of Linguistics and Education, 10(1), 14–21. https://ejournal.undip.ac.id/index.php/parole/article/view/28799 on April 29, 2021
Xie, Q., & Chen, J. (2019). The English Communication and Learning Needs of Master of Business Administration Students and Curriculum Development at a Chinese University. SAGE Open, 9(1). https://doi.org/10.1177/2158244019835951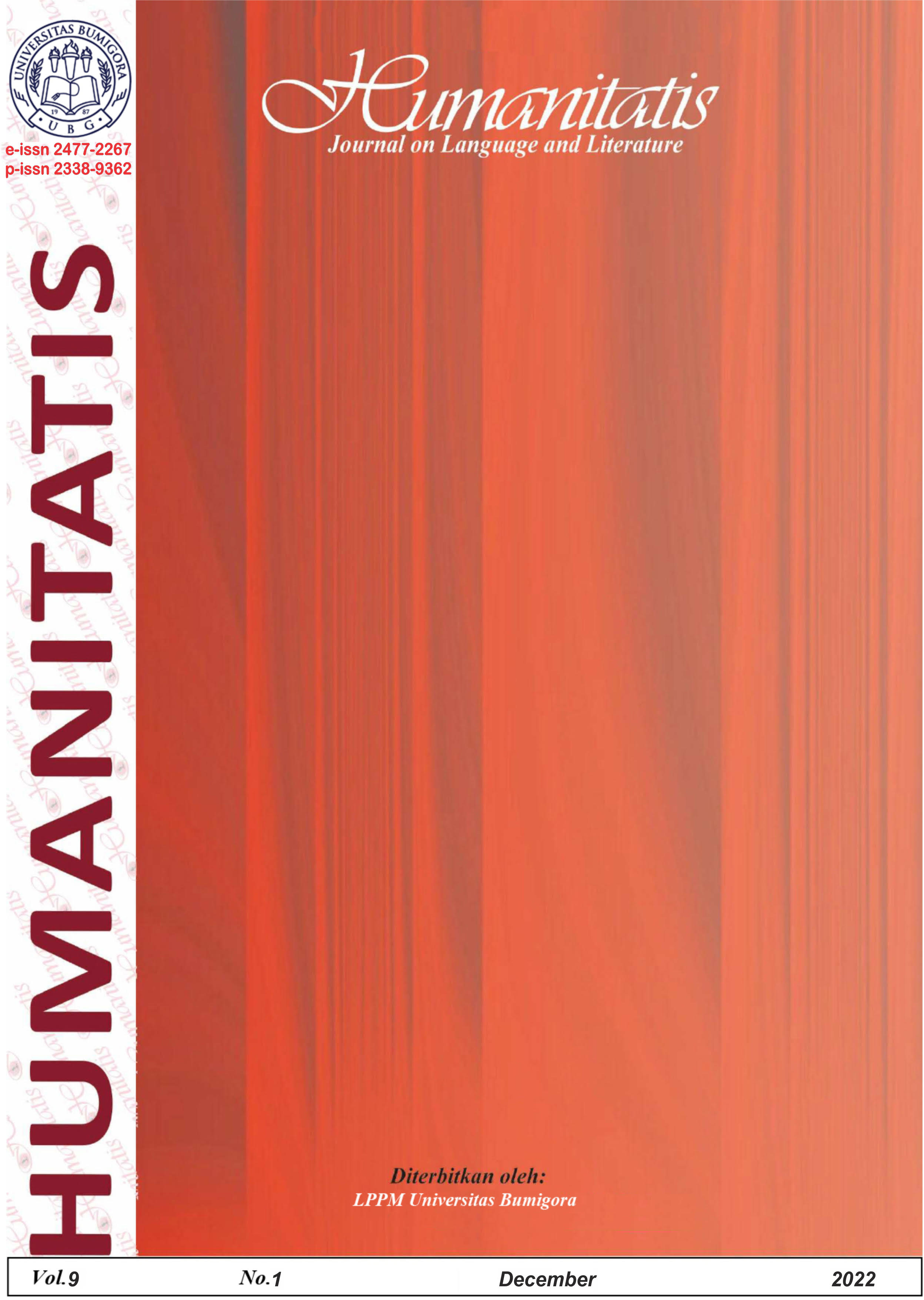 This work is licensed under a Creative Commons Attribution 4.0 International License.