Register Variation of PKK RT 03 Kendung Rejo Surabaya
Erika Alisia

Universitas Airlangga
Keywords:
Register, sociolinguistics, PKK, community
Abstract
This study proposes to find the various and the meaning of registers, and the kinds of social classes in the community. The register is defined as the language variation that is used by the community in their communication. The community was the PKK community in RT 003 RW 008 Kendung Rejo. Member of PKK community as subjects to analyse. This study is a qualitative ethnography that focuses on the community within its natural context and the participants' beliefs, behaviour, value etc. It was performed by conversation and chats. The data was collected offline gathering at RT's building and through online Whatsapp group chats. As a result, the frequency of registers obtained offline is 13 registers, and online is 12 registers. In offline, 13 registers are Mars PKK, KSK, Akta, Pendataan, KTP, Lotre, Doorprize, Dawis, Bumantik, Buku Ijo, Buku Ungu, Jentik, and Abate. While, online mentioned 12 register sent by member in Whatsapp group such as Virus PMK, Ngelapak, MBR, Sapling, Sensus, Infak, Ta'mir, Imunisasi, Balita, Timbang, KB IUD, and Implan. Mostly in social class, the information was delivered by the head of RT 03 and the head of Dasawisma. Different members' social classes showed different registers and how important the information conveyed.
References
Brand, M. H., Budiarta, I. W., & Susanthi, I. G. A. A. D. (2022). The Principles of Language Politeness in Putri Untuk Pangeran Soap Opera. RETORIKA: Jurnal Ilmu Bahasa, 8(1), 90–98. https://doi.org/10.55637/jr.8.1.4886.90-98
Darwis, M., & Syahrin, A. (2022). Kesantunan Berbahasa Pedagang Kota Juang Ditinjau Teori Leech (Maksim). Deiksis: Jurnal Pendidikan Bahasa Dan Sastra Indonesia, 9(1), 1–12. https://doi.org/10.33603/deiksis.v9i1.6052
Duranti, A. (1997). Linguistic Anthropology. Cambridge University Press.
Heryono, H., Lestari, V. Y., Nur Amanah, O. S., Mellinia, S. A., Sangkan, T. P., & Vina. (2022). FORMAL AND CASUAL REGISTER IN CRAZY RICH ASIANS MOVIE: SOCIOLINGUISTICS STUDY. 23(1), 12–21.
Jaelani, A. J., Praramdana, G. K., & Kautsar, T. (2021). Language Register Around Debt Collectors at Ilegal Fintech Lending Companies (Online Loans) Against Defaulting Debtors That Impact Legal Products Forensic Lingustic Review. UNISET, 1–7. https://doi.org/10.4108/eai.2-12-2021.2320339
Nasri, D. S., Duerawee, A., & Ermanto. (2022). The Comparison of Waria Conversion Registered in Padang City and Sungai Penuh City. BAHASTRA, 42(1), 1–16. https://doi.org/dx.doi.org/10.26555/bahastra
Ningsih, T. J., Megah, S. I., & Razali, N. A. (2021). An Analysis of Register of the Football Terms Used in online News of the BOLA Magazine. CAHAYA PENDIDIKAN, 7(1), 63–71. https://doi.org/10.33373/chypend.v7i1.2973
Podesva, R. J., & Sharma, D. (2013). Research Method in Linguistics. Cambridge University Press. https://books.google.co.id/books?hl=id&lr=&id=eeRRAgAAQBAJ&oi=fnd&pg=PR7&dq=podesva+Research+Method+in+Linguistics.&ots=TKk3QdfA_c&sig=YV0__yo-a0PO2KokM0ZXpREpTkM&redir_esc=y#v=onepage&q=podesva%20Research%20Method%20in%20Linguistics.&f=false
Putri, A. A., & Haristiani, N. (2021). Register Analysis on High School Students' Language in Japanese Manga and Anime. Atlantis Press SARL, 595(Proceedings of the Fifth International Conference on Language, Literature, Culture, and Education (ICOLLITE 2021)), 104–111. https://doi.org/10.2991/assehr.k.211119.017
Rose, H., McKinley, J., & Baffoe-Djan, J. B. (2020). Data Collection Research Methods in Applied Linguistics. Bloomsburry Academic.
Rosyidi, A. Z., & Suparlan. (2021). REGISTER BAHASA KOMENTATOR MOBILE LEGENDS DALAM TURNAMEN MPL SEASON 5. NUSRA: Jurnal Penelitian Dan Ilmu Pendidikan, 2(2), 174–182. https://doi.org/10.55681/nusra.v2i2.149
Sari, A. B. P. (2020). WhatsApp-Based Speaking Test in EFL Context. Journal of English Language Studies, 5(2), 175–188. https://doi.org/10.30870/jels.v5i2.8289
Sitorus, M. L., Mono, U., & Setia, E. (2022). Language Politeness on Mata Najwa's Talk Show with Covid-19 Theme: Sociopragmatics. Budapest International Research and Critics Institute-Journal (BIRCI-Journal), 5(1), 3749–3760. https://doi.org/10.33258/birci.v5i1.4059
Sudaryanto, M., Sari, E. D. P., & Rohmadi, M. (2021). Register of Builders Community in Javanese Speaking Communities. Seloka: Jurnal Pendidikan Bahasa Dan Sastra Indonesia, 10(2), 130–140.
Wirawan, S., & Shaunaa, R. (2021). ANALISIS PENGGUNAAN CAMPUR KODE DAN ALIH KODE DALAM VIDEO AKUN YOUTUBE LONDOKAMPUNG. Jurnal Budaya FIB UB(2), 17–22.
Yule, G. (1996). Pragmatics. Oxford University Press. https://books.google.co.id/books? hl=id&lr=&id=E2SA8ao0yMAC&oi=fnd&pg=PR11&dq=Yule+(1996)&ots=q3TIEkDZjE&sig=aEHOpQKHIDmIle1MOmaTTKDLzrw&redir_esc=y#v=onepage&q=Yule%20(1996)&f=false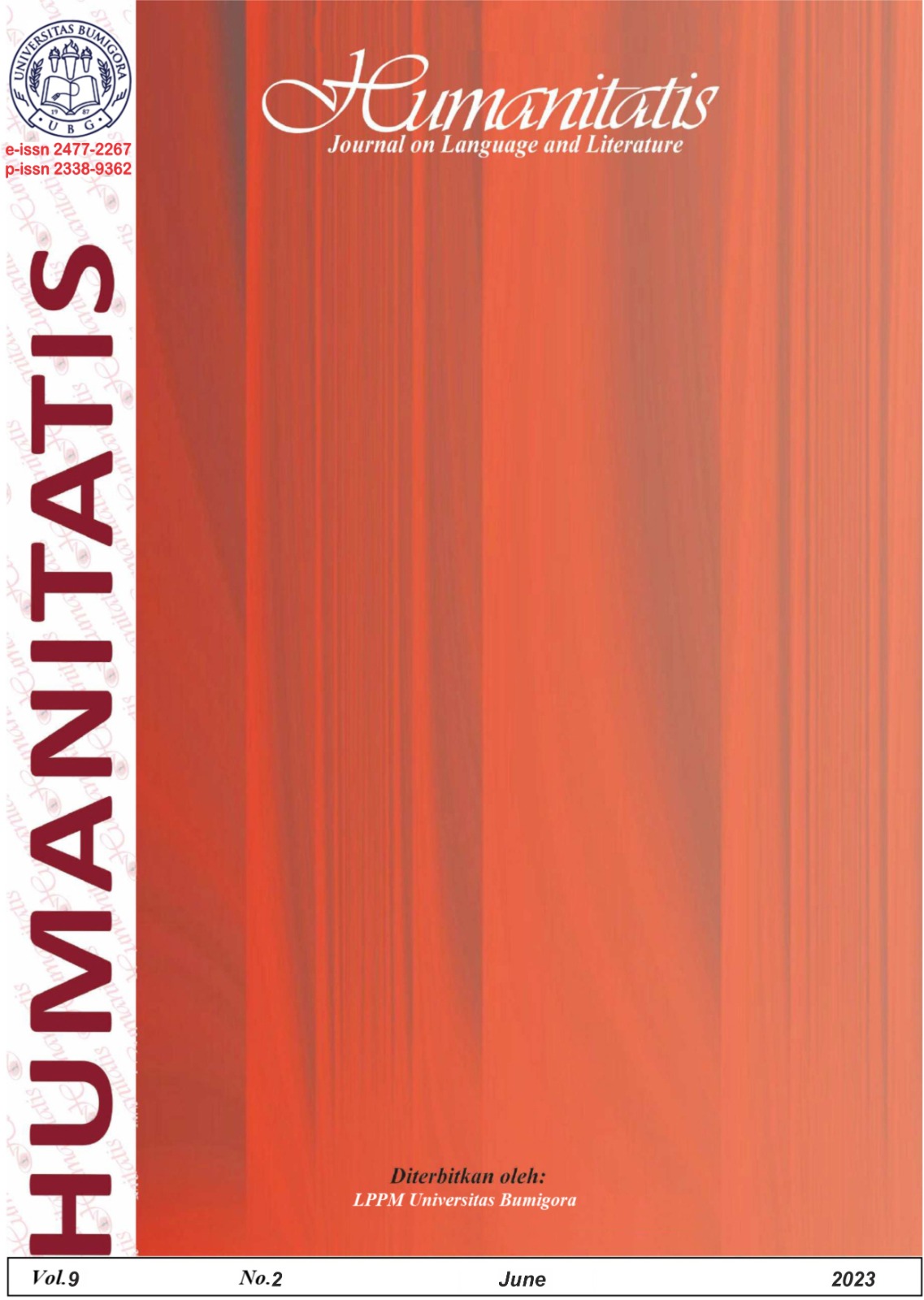 This work is licensed under a Creative Commons Attribution 4.0 International License.