An Analysis of Translation Technique Used in The Fantasy Novel "Overlord"
Gde Wetan Pragena Anggara

Universitas Bumigora

Diah Supatmiwati

Universitas Bumigora

Muhammad Zaki Pahrul Hadi

Universitas Bumigora
Keywords:
Translation, translation technique, fantasy novel
Abstract
This research aim is to know what type of translation technique that is used in translating the fantasy and game term in the fantasy novel "Overlord". Translation is really important when it comes to information, culture, message, etc between two or more different people who use different language. However, the problem arises when it comes to translate a fantasy stories or games because the translation technique is heavily relied on the culture. Meanwhile, the fantasy stories and games are usually not bounded by one specific culture. This is why this research is needed to be conducted, to answer the question regarding which translation technique that the translator used to approach the fantasy term in the fantasy stories or games, so they can avoid any unnatural or awkwardness translation in the target language. The method that is used to collect the data is to determine the analysis unit which is the fantasy novel "Overlord". Then, the unit is divided into smaller part which is the fantasy and game term. This research is qualitative research because it uses qualitative method to collect and analyze the data. The descriptive-qualitative approach is used in this research after the data sample is taken from all chapters in the novel before finally reducing the unnecessary and irrelevant data for this research. In analyzing the data, this research used a method where the data condensation, data display, and verifying and drawing conclusion are conducted. The result of this research shown that there are seven (7) translation techniques used in the Novel (translated version), they are: discursive creation (60), established equivalent (15), borrowing (184), Amplification (9), literal translation (118), modulation (29) and Particularization (4).
References
Bowen, G. A. (2009). Document analysis as a qualitative research method. Qualitative Research Journal, 9(2), 27–40. https://doi.org/10.3316/QRJ0902027
Fitria, T. N. (2018). Translation Techniques Found in English To Indonesian. ELITE Journal, 05(02), 145–160. https://ssrn.com/abstract=3527862
Laksono, P. (2014). Analisis Metode Penerjemahan Dalam Menerjemahkan Novel Revolusi Di Nusa Damai Ke Revolt in Paradise. Analisis Metode Penerjemahan Dalam Menerjemahkan Novel Revolusi Di Nusa Damai Ke Revolt in Paradise, 1(1), 55–60.
LI, H. (2010). Fantasy in Translation: A Study of Two Chinese Versions of The Lord of the Rings. Cross-Cultural Communication, 6(4), 20–27.
Molina, L., & Albir, A. H. (2002). Translation techniques revisited: A dynamic and functionalist approach. Meta, 47(4), 498–512. https://doi.org/10.7202/008033ar
Palupi, M. E. (2021). the Techniques of Trasnslation and Uses the V Diagram System By Newmark. Journal of English Language and Literature (JELL), 6(1), 81–94. https://doi.org/10.37110/jell.v6i1.118
Putrawan, G. E. (2018). Foreignization and Domestication of Indonesian Cultural Terms in the Novel Gadis Pantai Translated into English. Lingua Cultura, 12(3), 309. https://doi.org/10.21512/lc.v12i3.4233
Siregar, R. (2016). Pentingnya Pengetahuan Ideologi Penerjemahan Bagi Penerjemah. Jurnal Penelitian Pendidikan Bahasa Dan Sastra, 1(1), 20–27.
Supatmiwati, D., & Abdussamad, Z. (2020). Equivalence in News Headlinestranslation: English Headlines Rendered Into Bahasa Indonesia in Bbc Web News. Humanitatis : Journal of Language and Literature, 6(2), 251–272. https://doi.org/10.30812/humanitatis.v6i2.800
Van Veeren, E. (2018). Invisibility. In Visual Global Politics. https://doi.org/10.4324/9781315856506
Zaki Pahrul Hadi, Muhammad; Suhendra, E. (2019). Analisis Ideologi dan Teknik Penerjemahan Pada Teks Terjemahan Mahasiswa STIBA Bumigora Tahun Akademik 2017/2018. Humanitatis, 6(1), 65–82.
Zaki Pahrul Hadi, M. et al. (2019). Translation Ideology and Techniques Used in Indonesian Version of Agatha Christie's Endless Night Novel. Humanitatis, 6(1), 65–82.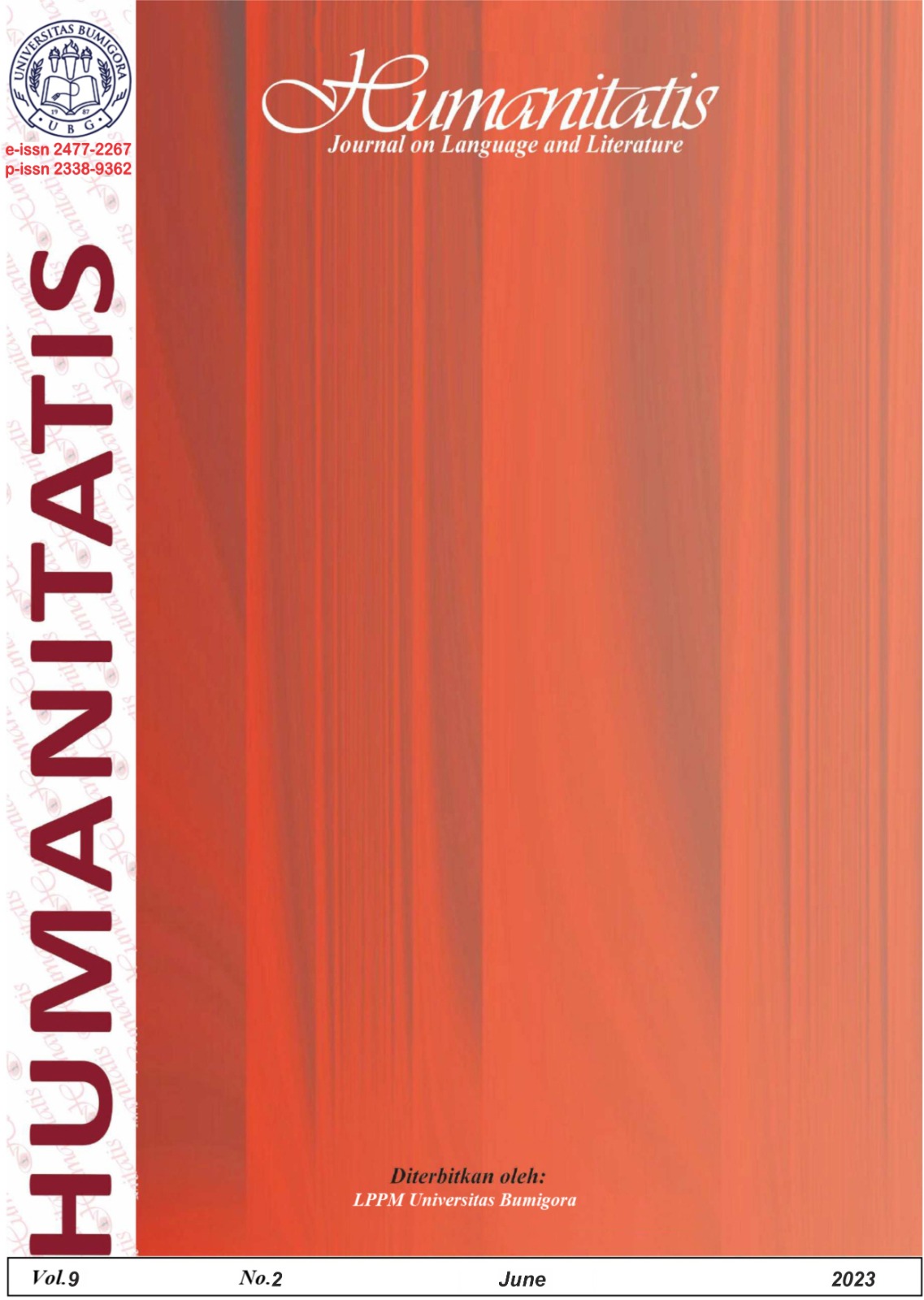 This work is licensed under a Creative Commons Attribution 4.0 International License.