Pengaruh Desain Produk dan Kualitas Produk terhadap Kepuasan Konsumen Honda Scoopy pada Astra Motor
Dita Astriani Hasnun

Sekolah Tinggi Ilmu Ekonomi (STIE) Bima

Muhajirin Muhajirin

Sekolah Tinggi Ilmu Ekonomi Bima
Keywords:
customer satisfaction, product design, product quality
Abstract
Satisfying consumer needs is a dream of any company. It is an important factor for the survival of the company, meeting consumer needs also can increase its superiority in the competition. Consumers who are satisfied with product design and product quality tend to repurchase the product and reuse the product when the same need reappears in the future. This study aims to determine the effect of product design and product quality on consumer satisfaction on Honda Scoopy on Astra Motor. This research uses a quantitative approach with a survey method, while this type of research includes associative research. The populations in this study were consumers who had used Honda Scoopy, the number of samples taken in this study were 100 respondents. The sample used in this research is purposive sampling. The research instrument used a questionnaire with a Likert scale. Data analysis used multiple linear regression, correlation test, determination test, partial test analysis with t test and f test (simultaneous). Test the effect between variables using SPSS (Statistical Service Product Solutions) version 23.00. The results based on the t-test (partial) show that product design affects consumer satisfaction, product quality affects product satisfaction, while product design and product quality jointly affect product satisfaction.
References
Afnina, A., & Hastuti, Y. (2018). Pengaruh Kualitas Produk terhadap Kepuasan Pelanggan. Jurnal Samudra Ekonomi Dan Bisnis, 9(1), 21–30. https://doi.org/10.33059/jseb.v9i1.458
Alma, B. (2011). Manajemen Pemasaran dan Pemasaran Jasa. Bandung: Alfabeta.
Arikunto, S. (2006). Data Penelitian Deskriptif. Management Penelitian Analisis.
Ghozali, I. (2013). Aplikasi Analisis Multivariete. In Badan Penerbit Universitas Dipenegoro.
Ishak, A. (2012). Analisis Kepuasan Pelanggan dalam Belanja Online: Sebuah Studi Tentang Penyebab (Antecedents) dan Konsekuensi (Consequents). Jurnal Siasat Bisnis, 16(2), 141–154. https://doi.org/10.20885/jsb.vol16.iss2.art1
Jannah, A. M. (2019). Pengaruh Promosi, Kualitas Produk Dan Kualitas Pelayanan Terhadap Keputusan Menabung Nasabah Bank Syariah. Journal of Chemical Information and Modeling, 53(9), 1689–1699. Retrieved from file:///C:/Users/win7/Downloads/PENGARUH PROMOSI, KUALITAS PRODUK DAN KUALITAS.pdf
Kotler dan Keller. (2017). Manajemen Pemasaran, Edisi 12, Jilid 1, PT.Indeks,. Jakarta. In e – Jurnal Riset Manajemen.
Rufliansah, F. F., Hermani, A., & Seno, D. (2018). Pengaruh Harga dan Kualitas Produk Terhdap Kepuasan Konsumen ( Studi pada Konsumen Rainbow Creative Semarang ). Jurnal Administrasi Bisnis, IX(Iv), 389–401.
SA, M., & Natsir, K. (2019). Faktor-Faktor Yang Mempengaruhi Kepuasan Konsumen Apartemen Mediterania Garden Residence Di Jakarta Barat. Jurnal Muara Ilmu Ekonomi Dan Bisnis, 2(2), 275. https://doi.org/10.24912/jmieb.v2i2.898
Sangadji, E. M., & Sopiah. (2013). Perilaku Konsumen : Pendekatan Praktis Disertai Himpunan Jurnal Penelitian. Yogyakarta: Penerbit Andi.
Sholeha, L., Djaja, S., & Widodo, J. (2018). Pengaruh Kualitas Pelayanan Terhadap Kepuasan Pelanggan Di Ahass Sumber Jaya Maha Sakti Kecamatan Rogojampi Kabupaten Banyuwangi. JURNAL PENDIDIKAN EKONOMI: Jurnal Ilmiah Ilmu Pendidikan, Ilmu Ekonomi Dan Ilmu Sosial, 12(1), 15. https://doi.org/10.19184/jpe.v12i1.6465
Sidik, R. (2017). Analisis Kualitas Dan Desain Produk Terhadap Kepuasan Konsumen Meubel Sofa Di Gresik. Jurnal UPN, 6(2), 19–28.
Suari, M. T. Y., Telagawathi, N. L. W. S., & Yulianthini, N. N. (2017). Pengaruh Kualitas Produk Dan Desain Produk Terhadap Keputusan Pembelian. Jurnal Jurusan Manajemen, 7(1), 26–33.
Sugiyono. (2012). Metode Penelitian Kuantitatif, Kualitatif dan R & D.Bandung:Alfabeta. Metode Penelitian Kuantitatif, Kualitatif Dan R & D.Bandung:Alfabeta. https://doi.org/10.1017/CBO9781107415324.004
Tjiptono, & Fandy. (2015). Strategi Pemasaran (Edisi 4). Yogyakarta: Penertbit Andi.
Wibisono, A., & , S. (2016). Pengaruh Kualitas Jasa Pelayanan Terhadap Kepuasan Pelanggan. PERFORMANCE " Jurnal Bisnis & Akuntansi," 6(2), 32. https://doi.org/10.24929/feb.v6i2.268
Wibowo, A. (2009). Analisis Pengaruh Kualitas Produk Terhadap Kepuasan Pelanggan (Studi pada Perumahan Sembungharjo Permai Pengembang PT. Sindur Graha Tama). Jurnal Sains Pemasaran Indonesia, VIII(2), 173–186.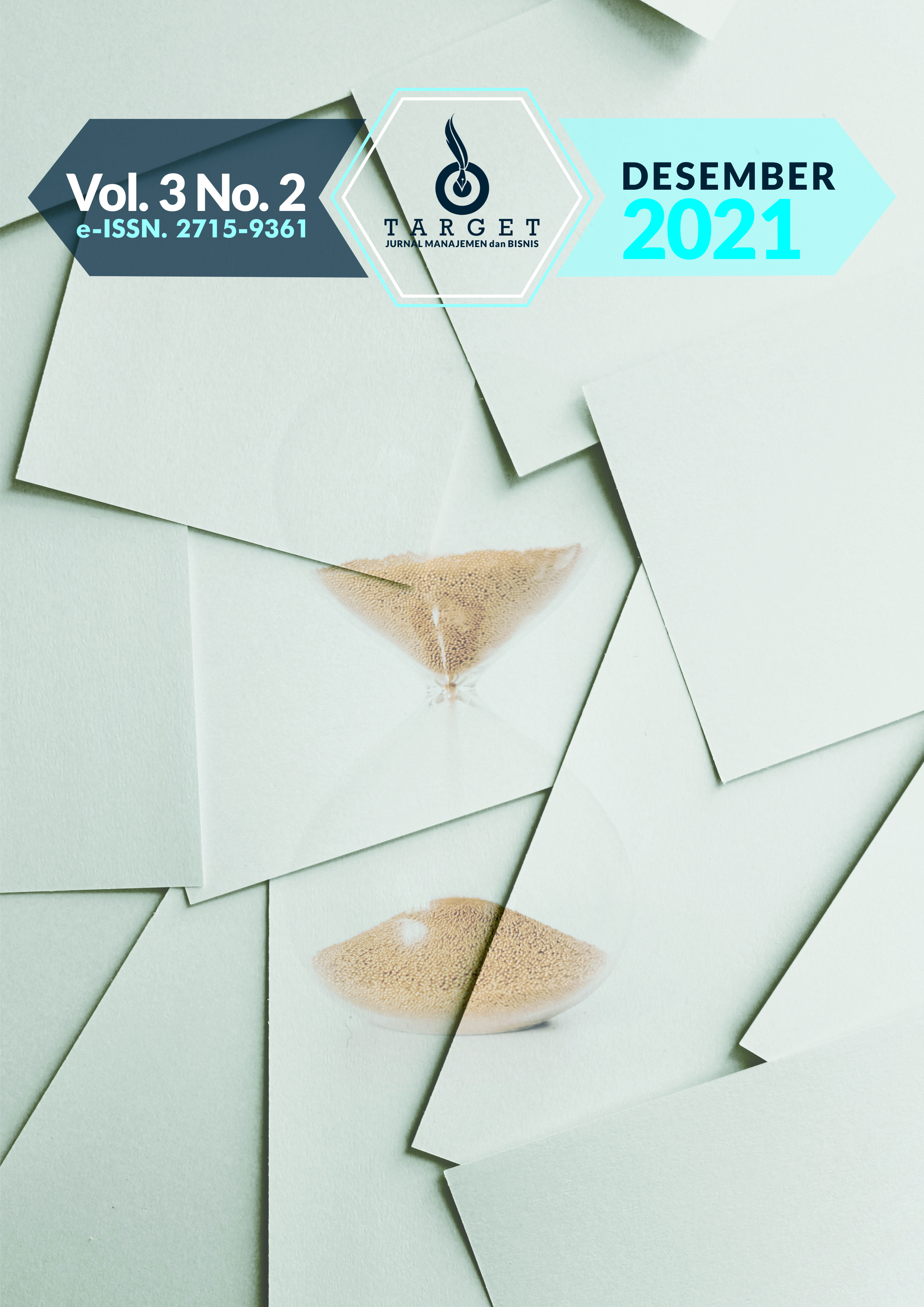 This work is licensed under a Creative Commons Attribution 4.0 International License.