Penyuluhan tentang Manfaat Kurma (Phoenix dactylifera L.) sebagai Upaya Memperlancar Persalinan
Yadul Ulya

STIKES Yarsi Mataram

Siskha Maya Herlina

STIKES Yarsi Mataram

Regina Pricilia Yunika

STIKES Yarsi Mataram
Keywords:
Benefits, childbirth, dates
Abstract
Fluid and nutritional needs are physiological needs that must be properly met by the mother during the birth process. Dates are rich in carbohydrates as a source of energy, influencing the progress of labor, spontaneity in labor and reducing postpartum hemorrhage. Carbohydrates as amplifiers are sugars that are absorbed and used by the body's cells shortly after consumption. Dates also contain B vitamins, minerals, iron, calcium, magnesium, potassium, saturated fatty acids and unsaturated fatty acids. Fatty acids besides providing energy also help provide prostaglandins. Fatty acids can help store energy and strengthen the uterine muscles. Dates also contain hormones that can stretch the uterus when approaching the birth of a baby. Therefore it is necessary to do counseling about the benefits of dates (Phoenix dactylifera L.) as an effort to facilitate labor. The activity of providing counseling about the benefits of dates (Phoenix dactylifera L.) as an effort to facilitate childbirth was carried out in Jempong Baru Village, Sekarbela District, Mataram City and was attended by 20 pregnant women. The results of the pretest and posttest showed an increase in pregnant women's knowledge about the benefits of dates (Phoenix dactylifera L.) as an effort to facilitate labor.
References
Azis, M., Alza, N., Triananinsi, N., Dian Pertiwi, A. Y., & Kamaruddin, M. (2020). EFEKTIVITAS SENAM HAMIL TERHADAP KELANCARAN PERSALINAN KALA II PADA IBU INPARTU DI PUSKESMAS BULUPODDO KABUPATEN SINJAI. Medika Alkhairaat : Jurnal Penelitian Kedokteran Dan Kesehatan. https://doi.org/10.31970/ma.v2i2.54
Begley, C. M., Gyte, G. M. L., Devane, D., & et al. (2019). Active versus expectant management for women in the third stage of labour (Cochrane Review). (Review content assessed as up-to-date: 30 September 2014). The Cochrane Database of Systematic Reviews.
Bobak L, Lowdermilk D, J. M. (2004). Keperawatan Maternitas. Jakarta: EGC.
Fitriyani, nurul isnaini. (2013). Potensi Bioaktivitas Pangan Fungsional dari Edamame ( Glycine max L .) dan Kurma ( Phoenix dactylifera L . ) untuk Peningkatan Kualitas Asupan Gizi Kelompok Rawan Pangan 1000 HPK ( Ibu Hamil , Ibu Menyusui , Anak dibawah 2 Tahun ) di Wilayah Lingkar Kampu. 1–10.
Giugliano, D., Ceriello, A., & Esposito, K. (2008). Glucose metabolism and hyperglycemia. American Journal of Clinical Nutrition. https://doi.org/10.1093/ajcn/87.1.217s
I gusti ayu Adnyawati. (2013). Kacang Hijau terpapar coklat dan madu efektif terhadap kemajuan persalinan. Skala Husada.
Kamaruddin, M., Jusni, & Amalia Sari, N. (2019). Persepsi dan Pengetahuan Mahasiswa Akademi Kebidanan Tahirah Al Baeti Terhadap Gizi Remaja. Medika Alkhairaat : Jurnal Penelitian Kedokteran Dan Kesehatan. https://doi.org/10.31970/ma.v1i3.41
Kordi, M., Aghaei Meybodi, F., Tara, F., Nemati, M., & Taghi Shakeri, M. (2014). The Effect of Late-Pregnancy Consumption of Date Fruit on Cervical Ripening in Nulliparous Women. Journal of Midwifery and Reproductive Health.
Kurniarum, A. (2016). Asuhan Kebidanan Persalinan dan Bayi Baru Lahir. https://eprints.triatmamulya.ac.id/1510/1/Asuhan Kebidanan Persalinan dan BBL Komprehensif.pdf
Kuswati, K., & Handayani, R. (2019). Effect of Dates Consumption On Bleeding, Duration, And Types of Labor. Journal of Midwifery. https://doi.org/10.25077/jom.4.1.85-91.2019
Maharaj, D. (2009). Eating and drinking in labor: Should it be allowed? In European Journal of Obstetrics and Gynecology and Reproductive Biology. https://doi.org/10.1016/j.ejogrb.2009.04.019
Malin, G. L., Bugg, G. J., Thornton, J., Taylor, M. A., Grauwen, N., Devlieger, R., Kardel, K. R., Kubli, M., Tranmer, J. E., & Jones, N. W. (2016). Does oral carbohydrate supplementation improve labour outcome? A systematic review and individual patient data meta-analysis. BJOG: An International Journal of Obstetrics and Gynaecology. https://doi.org/10.1111/1471-0528.13728
Martasari, B. L., Cahyadi, W., Nugraha, G. I., Husin, F., Susiarno, H., Hidayat, Y. M., & Satari, M. H. (2019). The Effect of Mixed-Fruit Juice on Uterine Contractions and Cervical Dilatation During the First Stage of Delivery. Global Medical & Health Communication (GMHC). https://doi.org/10.29313/gmhc.v7i1.2908
Mona Sarigih, E. F., Kumorowulan, S., & Fatmasari, D. (2020). The Effect of Dates Palm (Phoenix Dactylifera) on Uterus Involution among Mother with Postpartum. International Journal of Nursing and Health Services (IJNHS), 3(3), 430–435. https://doi.org/10.35654/ijnhs.v3i3.215
Mubarak, S. (2006). Ilmu Keperawatan Komunitas. Jakarta: Salemba Medika.
Nasiri, M., Gheibi, Z., Miri, A., Rahmani, J., Asadi, M., Sadeghi, O., Maleki, V., & Khodadost, M. (2019). Effects of consuming date fruits (Phoenix dactylifera Linn) on gestation, labor, and delivery: An updated systematic review and meta-analysis of clinical trials. In Complementary Therapies in Medicine. https://doi.org/10.1016/j.ctim.2019.05.017
Notoatmodjo, S. (2007). Promosi Kesehatan Dan Ilmu Perilaku. Jakarta: Rineka Cipta.
Pancawati, N. L. P. S. A., & Santi, D. (2016). Pengaruh Pendidikan Kesehatan Terhadap Pengetahuan Deteksi Dini DM Pada Masyarakat Di Pedukuhan Ngemplak Karang Jati Kelurahan Sinduadi Mlati Sleman Yogyakarta. Jurnal Keperawatan Respati, 3(1), 24–34. http://nursingjurnal.respati.ac.id/index.php/JKRY/article/view/171
Pascawati, R., Shahib, N., & Husin, F. (2019). Pengaruh Pemberian Minuman Mix Juice terhadap Kadar Glukosa Darah dan Kebugaran Ibu Bersalin. Jurnal Kesehatan. https://doi.org/10.26630/jk.v10i1.1181
Rahmani, R., Khakbazan, Z., Yavari, P., Granmayeh, M., & Yavari, L. (2012). Effect of oral carbohydrate intake on labor progress: Randomized controlled trial. Iranian Journal of Public Health.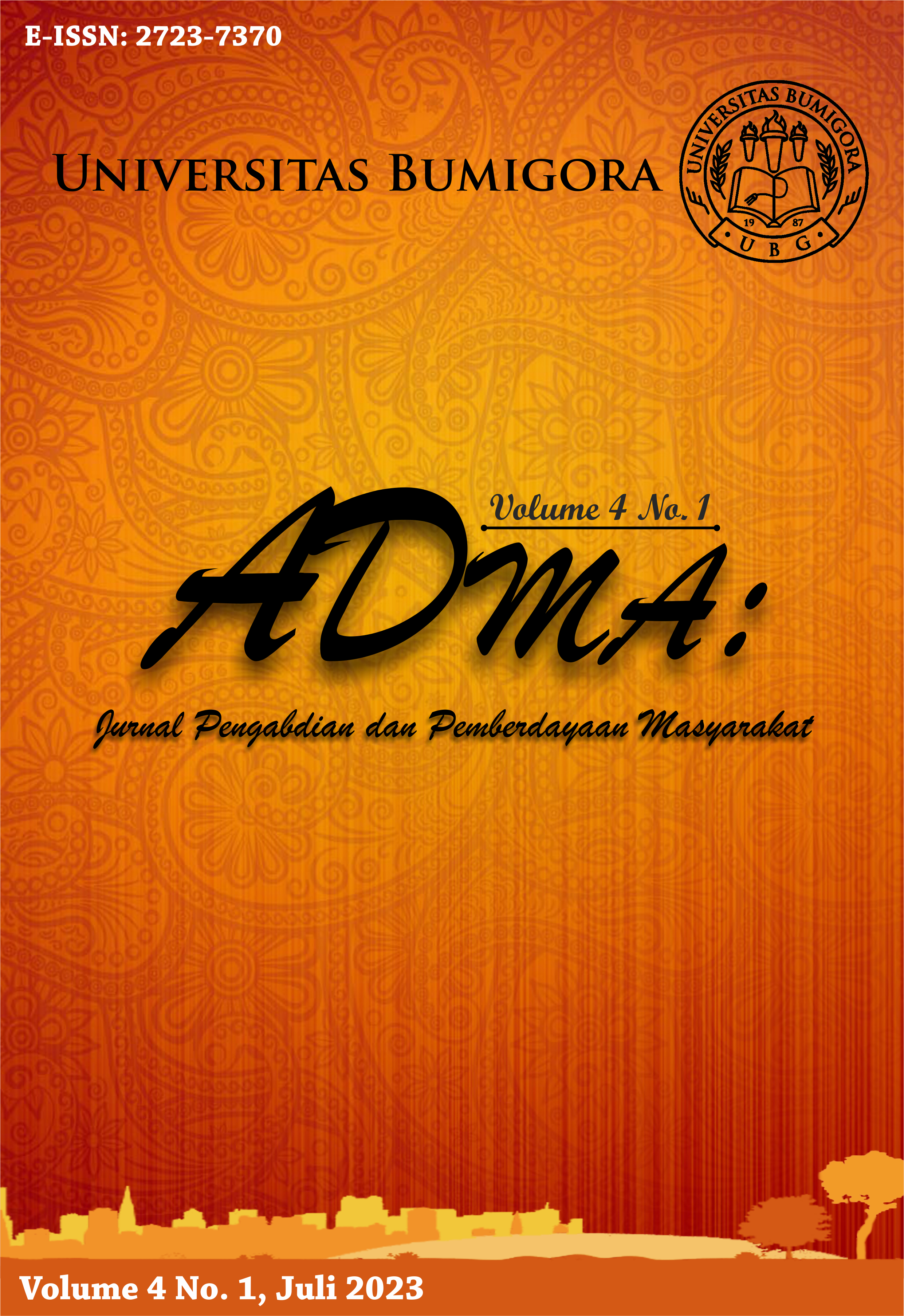 This work is licensed under a Creative Commons Attribution-ShareAlike 4.0 International License.