Sosialisasi Mengenai Gut Microbiota dan Probiotik Serta Perannya Bagi Kesehatan Saluran Cerna Pada Anak Gizi Kurang
Husnita Komalasari

Universitas Bumigora

Destiana Adinda Putri

Universitas Bumigora

Lalu Danu Prima Arzani

Universitas Bumigora

Muhammad Nizhar Naufali

Universitas Bumigora

Nurul Hidayah

Universitas Bumigora

Rina Heldiyanti

Universitas Bumigora
Keywords:
gut microbiota, probiotic, undernutrition
Abstract
The purpose of this community service activity is to provide knowledge to the community about the gut microbiota and probiotics and their role in gastrointestinal health, especially in children with undernutrition. Children with malnutrition experience changes in the composition of the gut microbiota so that they are more susceptible to gastrointestinal infections. The gut microbiota can be positively or negatively related to influencing nutrient absorption in the gut. Probiotics are live bacteria that are able to provide health effects such as maintaining the balance of the intestinal microbiota and increasing the body's immunity. In this community service, there will be outreach activities regarding the gut microbiota and the importance of consuming probiotics as an effort to prevent dysbiosis at SDN 3 Belanting, East Lombok. This activity was carried out by Community Service Program (PKM) of Bumigora University. The implementation of this community service activity has been able to increase the knowledge of students and parents of targeted students of socialization regarding nutrition, nutritional status, gut microbiota, the importance of gastrointestinal health, especially its relation to nutritional status and the role of probiotics on digestive health.
References
Alou, MJ., Million, M., Traore, S., Mouelhi, D., Khelaifia, S., Bachar, D., Caputo, A., Delerce, J., Brah, S., Alhousseini, D., Sokhna, C., Robert, C., Diallo, B., Diallo, A., Parola, P., Golden, M., Lagier, J., Raoult, D. 2017. Gut Bacteria Missing in Severe Acute Malnutrition, Can We Identify Potential Probiotics by Culturomics?. Frontiers in Microbiology. 8 : 899.
Berger, SG., Pee, DS., Bloem, MW., Halati, S., Semba, RD. 2008. Malnutrition and morbidity among children not reached by the national vitamin A capsule programme in urban slum areas of Indonesia. Public Health.122 : 371-378.
FAO/WHO. 2002. Joint FAO/WHO Working Group Report on Drafting Guidelines for the Evaluation of Probiotics in Food. London.
Gough, EK., Stephens, DA., Moodie, EE., Prendergast, AJ., Stoltzfus, RJ., Humphrey, JH., Manges, AR. 2015. Linear Growth Faltering in Infants is Associated With Acidaminococcus Sp. And Community-Level Changes in The Gut Microbiota. Journal of Microbiome. 13 : 3-24.
Hashimoto, T., Perlot, T., Rehman, A., Trichereau, J., Ishiguro, H., Paolino, M. 2012. ACE2 links amino acid malnutrition to microbial ecology and intestinal inflammation. Nature. 487:477–481
Kementerian Kesehatan Republik Indonesia. 2018. Riset Kesehatan Dasar. Badan Penelitian Dan Pengembangan Kesehatan. Jakarta.
Komalasari, H. 2020. Pola Makan dan Pengaruh Konsumsi Cokelat Probiotik Lactobacillus plantarum Dad-13 terhadap Antropometri dan Populasi Gut Microbiota pada Anak Kurang Gizi di SDN 3 dan 5 Belanting, Lombok Timur. Thesis. Universitas Gadjah Mada. Yogyakarta.
Komalasari, H., Putri, DA., Hidayah, N. 2022. Potensi Umbi Kentang Hitam (Coleus tuberosus) Sebagai Pangan Fungsional : Review. Food and Agro-Industry Journal. 3 (1) : 105-114.
Krisnansari D. 2010. Nutrisi dan Gizi Buruk. Journal of Mandala Of Health. 4 : 60-68
Mack I, Cuntz U, Grämer C, Niedermaier S, Pohl C, Schwiertz A, Zimmermann K, Zipfel S, Enck P, Penders J. 2016. Weight gain in anorexia nervosa does not ameliorate the faecal microbiota, branched chain fatty acid profiles and gastrointestinal complaints. Scientific Report.
Monira S, Nakamura, S., Gotoh, K, Izutsu K, Watanabe H, Alam NH, Endtz, HP, Cravioto A, Ali S.K, Nakaya T, Iida T, Horii T, Alam M. 2011. Gut microbiota of healthy and malnourished children in Bangladesh. Frontiers in microbiology. 21.
Preidis, GA. dan Versalovic, J. 2015. Targeting The Human Microbiome With Antibiotics, Probiotics, And Prebiotics: Gastroenterology Enters The Metagenomics Era. Journal Of Gastroenterology. 136 : 6.
Rahayu, ES., Rusdan, IH., Athennia, A, Kamil, RZ., Pramesi, PC., Marsono, Y., Utami, T., Widada, J. 2019. Safety Assessment of Indigenous Probiotic Strain Lactobacillus plantarum Dad-13 Isolated from Dadih Using Sprague Dawley Rats as a Model. American Journal Of Pharmacology and Toxicology. 14 : 38-47.
Rahayu, ES., Mariyatun., Manurung, NEP., Hasan, PN., Therdtatha, P., Mishima, R., Komalasari, H., Mahfuzah, NA., Pamungkaningtyas, FH., Yoga, WK., Nurfiana, DA., Liwan, SY., Juffrie, M., Nugroho, AE., Utami, T. 2021. Effect of Probiotic Lactobacillus Plantarum Dad-13 Powder Consumption On The Gut Microbiota And Intestinal Health Of Overweight Adults. Wourld Journal Of Gastroenterology. 27 (1) : 107-128.
Smith, MI., Yatsunenko, T., Manary, MJ., Trehan, I., Mkakosya, R., Cheng, J., Kau, AL., Rich, SS., Concannon, P., Mychaleckyj, JC., Liu, J., Houpt, E., Li, JV., Holmes, E., Nicholson, J., Knights, D., Ursell, LK., Knight, R., Gordon, JI. 2013. Gut microbiomes of Malawian twin pairs discordant for kwashiorkor. Science. 339:548–54.
World Health Organization. Pelayanan Kesehatan Anak di Rumah Sakit. Jakarta: WHO Indonesia. 2009. 193-221.
Yoga, WK. 2020. Pengaruh Konsumsi Cokelat Probiotik Lactobacillus plantarum Dad-13 Terhadap Mikroniota Saluran Pencernaan dan SCFA Anak-Anak Kurang Gizi Di Sekolah Dasar Belanting, Lombok Timur. Thesis. Universitas Gadjah Mada. Yogyakarta.
Yoga, WK. dan Komalasari, H. 2022. Ulasan Ilmiah : Potensi Alga Hijau (Caulerpa racemosa) Sebagai Sumber Antioksidan Alami. Jurnal Teknologi dan Mutu Pangan. 1 (2) : 16-21.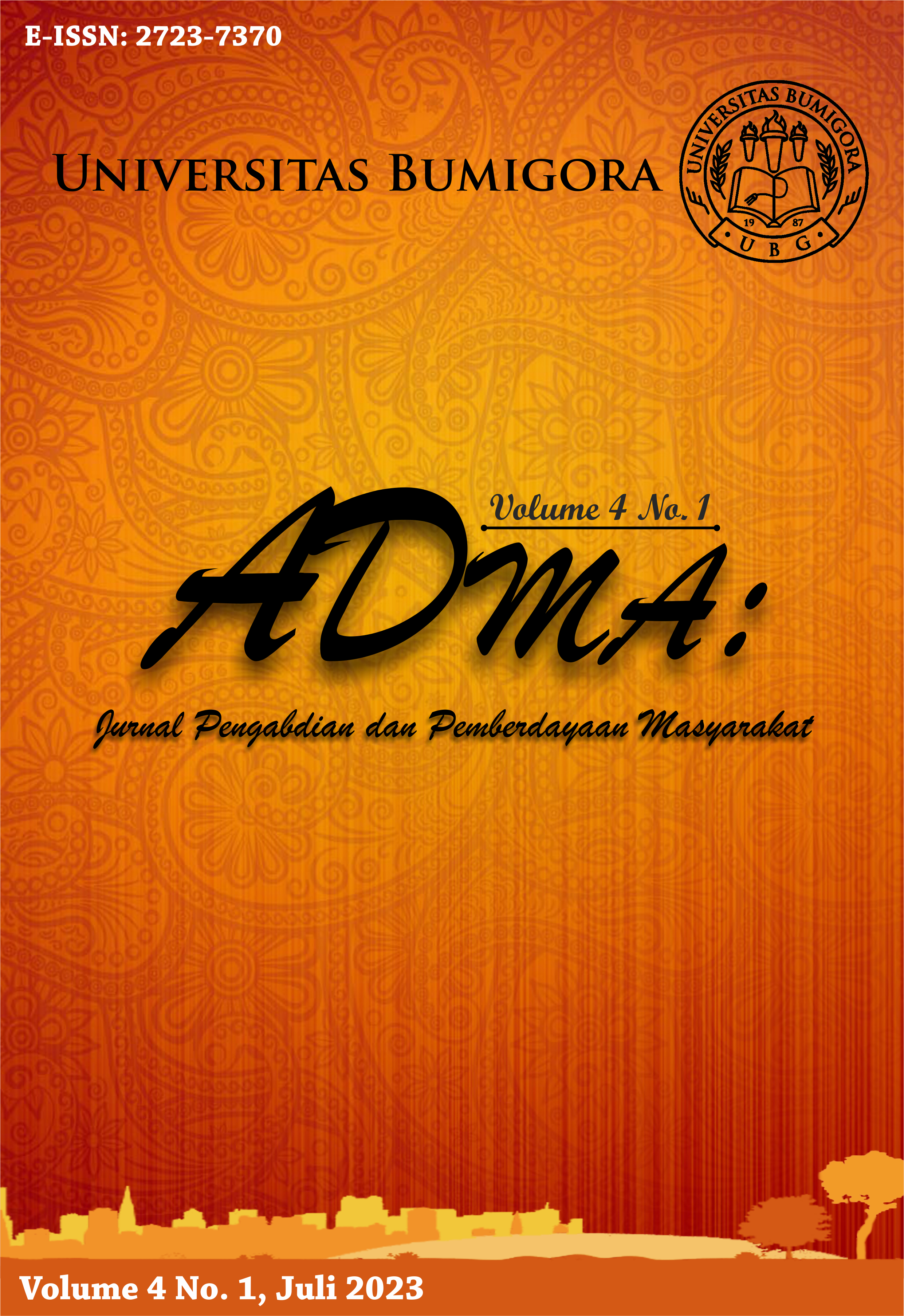 This work is licensed under a Creative Commons Attribution-ShareAlike 4.0 International License.