Pelatihan Pengolahan Data Menggunakan Software SPSS di Kantor Lurah Bungo Pasang Kec. Koto Tangah
Lita Lovia

Universitas PGRI Sumatera Barat

Sefna Rismen

Universitas PGRI Sumatera Barat

Ramadoni Ramadoni

Universitas PGRI Sumatera Barat
Keywords:
Data, statistics, SPSS software
Abstract
Limitations of officers in analyzing data in district offices. Most of these problems are caused by the lack of knowledge and expertise of the apparatus and the limited number of computers. The data in the district office is not stored properly, and there is no data management and technology-assisted data presentation. Implementation method by providing training and mentoring. The training provided is in the form of basic skills in using SPSS in presenting district population data. Its activities are training and assistance in presenting and processing data using the SPSS program in the Bungo Pasang District. The implementation of the service conducted interviews and provided questionnaires to find out the extent of the training participants' understanding of the use of SPSS software. The service team explained the presentation of the data accurately and concisely. District employees are helped in understanding and processing data using this SPSS software. District officers find it helpful in their work with the applications taught.
References
Febrilia, B. R. A., & Setyawati, D. U. (2020). Workshop Pengolahan Data Menggunakan SPSS Bagi Mahasiswa Universitas Pendidikan Mandalika. Martabe, Jurnal Pengabdian Kepada Masyarakat, 3(2). http://jurnal.umtapsel.ac.id/index.php/martabe/article/view/1339
Hasyim, M., & Listiawan, T. (2018). Penerapan Aplikasi Ibm Spss untuk Analisis Data Bagi Pengajar Pondok Hidayatul Mubtadi'in Ngunut Tulungagung Demi Meningkatkan Kualitas Pembelajaran Dan Kreativitas Karya Ilmiah Guru. J-ADIMAS (Jurnal Pengabdian kepadaMasyarakat), 2(1).
Hustia, Anggreany. (2021). Pelatihan Pengolahan Data Statistik Menggunakan SPSS Bagi Mahasiswa. Jurnal Masyarakat Mandiri, 5 (4), 2050–2061. https://doi.org/10.31764/jmm.v5i4.5016
Karhab, fenty fauziah; R. S. (2019). Pelatihan pengolahan Data Menggunakan SPSS Pada Mahasiswa. Jurnal Pesut, Pengabdian Untuk Kesejahteraan Umat, 1 (2).
Kiha, E. K., & Nafanu, S. (2019). Pelatihan Pengolahan Data Statistik dengan Menggunakan Aplikasi Program SPSS Bagi Mahasiswa Fakultas Ekonomi dan Bisnis Universitas Timor Demi Meningkatkan Kualitas Karya Ilmiah Mahasiswa. Jurnal Akrab Juara, 4 (1), 41-51.
Panjaitan, D. J., & Firmansyah, F. (2018). Pelatihan Pengolahan Data Statistik Dengan Menggunakan SPSS. Prosiding Seminar Nasional Hasil Pengabdian, 1 (1).
Peraturan Walikota Padang Nomor 93 Tahun 2016; Kedudukan Susunan Organisasi, Tugas, Fungsi dan Tata Kerja di Kelurahan.
Ramadhani & Harafap, Juli Yanti. (2019). Pengaruh Penggunaan Aplikasi SPSS Tehadap Kemampuan Pemahaman Konsep Matematis Mahasiswa. Prosiding Hasil Penelitian, 3(1), 476–483.
Riyanto, S., & Nugrahanti, F. (2018). Pengembangan Pembelajaran Statistika Berbasis Praktikum Aplikasi Software SPSS dengan Bantuan Multimedia untuk Mempermudah Pemahaman Mahasiswa terhadap Ilmu Statistika. Journal of Computer and Information Technology, 1(2), 62. https://doi.org/10.25273/doubleclick.v1i2.1590
Ruru, Y., Hutabarat, I. M., & Turua, U. (2019). Pelatihan Pengolahan Data Statistik dengan Menggunakan Aplikasi SPSS Bagi Guru-Guru SMP untuk Menunjang Penulisan Karya Ilmiah. Jurnal Pengabdian Papua, 3(3), 96-99.
Zein, S., Yasyifa, L., etc. (2019). Pengolahan dan Analisis Data Kuantitatif Menggunakan Aplikasi SPSS. Jurnal Teknologi Pembelajaran, 4 (2).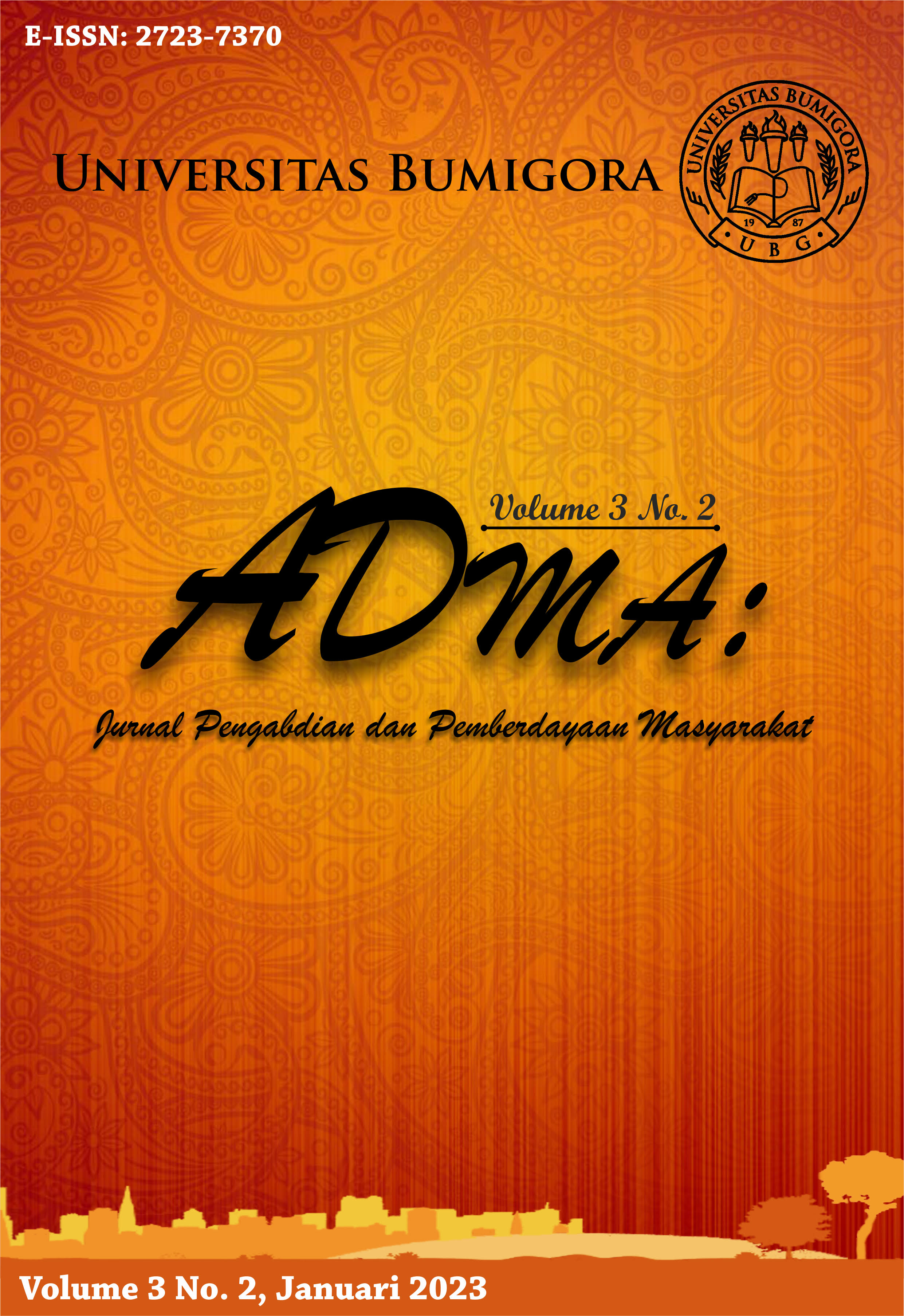 This work is licensed under a Creative Commons Attribution-ShareAlike 4.0 International License.