Pelatihan Pemanfaatan Limbah Sekam Padi pada Siswa SMA Eunterpreneurship Chevalier Anasai Merauke
Henie Poerwandar Asmaningrum

Universitas Musamus

Martha Betaubun

Universitas Musamus

Alexander Phuk Tjilen

Universitas Musamus
Keywords:
Rice husk, Briquettes, Planting media
Abstract
The absence of assistance and training efforts to the community regarding rice husk waste management is the focus of this PDM program. In this program, students will assist the community in processing rice husk waste into various products that can be used alone or sold again so as to improve the community's economy. The target of this activity is ECA High School students, the majority of whom are indigenous Papuans. Rice husk waste is processed into briquettes and planting media that can be used alone or sold again to improve the lives of students and the community.
This program is able to increase the knowledge and ability of the community in processing rice husk waste, which has an impact on improving public health and education as well. In addition, this program will provide new knowledge insights for students, as well as trigger students' critical attitude and creativity in solving problems in the surrounding community.
References
Admin. (2021). Pemanfaatan Limbah Sekam Menjadi Arang Sekam di BPP Banjar. Dinas Pertanian Pemerintah Kabupaten Buleleng. https://distan.bulelengkab.go.id/informasi/detail/berita/97-pemanfaatan-limbah-sekam-menjadi-arang-sekam-di-bpp-banjar
Agung, G. F., Hanafie, M. R., & Mardina, P. (2013). Ekstraksi Silika dari Abu Sekam Padi dengan Pelarut KOH. Konversi, 2(1).
Anggriani, R., Abdurrahman, & Ibrahim, I. D. K. (2021). Pelatihan Strategi Pemasaran Di Era New Normal Pada Kalangan Mahasiswa Fakultas Ekonomi Dan Bisnis Universitas Bumigora. ADMA : Jurnal Pengabdian Dan Pemberdayaan Masyarakat, 1(2), 91–98.
Bakhtiar, F. A. (2018). Pengembangan Aplikasi Berbasis Multimedia pada Pembelajaran Tematik Kelas III Sekolah Dasar. Mimbar Sekolah Dasar, 5(1), 16. https://doi.org/10.17509/mimbar-sd.v5i1.9363
Handayani, P. A., Nurjanah, E., & Rengga, W. D. P. (2014). Pemanfaatan Limbah Abu Sekam Padi Menjadi Silika Gel. Jurnal Bahan Alam Terbarukan, 3(2).
Houston, D. . (1972). Rice Chemistry and Technology. American Association of Cereal Chemist, Inc.
Jasman. (2011). UJI COBA ARANG SEKAM PADI SEBAGAI MEDIA FILTRASI DALAM MENURUNKAN KADAR Fe PADA AIR SUMUR BOR DI ASRAMA JURUSAN KESEHATAN LINGKUNGAN MANADO. Jurnal Kesehatan Lingkungan, 1(1), 49–53. https://ejurnal.poltekkes-manado.ac.id/index.php/jkl/article/view/291
Muhammad, I., Hairani, Hammad, R., Irfan, P., & Abd, K. L. (2021). Pelatihan Pembuatan Media Pembelajaran Bagi Guru MI NW Darussholohin Kalijaga dalam Rangka Meningkatkan Mutu Pembelajaran. ADMA : Jurnal Pengabdian Dan Pemberdayaan Masyarakat, 1(2), 135–142.
Terasne, Setianingsih, T., Hanan, A., Sukarni, S., Baiq, & Nafisah, Z. (2021). Pelatihan Pengolahan Singkong Menjadi Keripik bagi Pemuda untuk Meningkatkan Kreatifitas di Masa Covid-19 di Desa Sukadana. ADMA : Jurnal Pengabdian Pemberdayaan Masyarakat, 2(1), 99–108.
Yusuf, M. (2019). Metode Penelitian Kuantitatif, Kualitatif & Penelitian. Prenadamedia Group.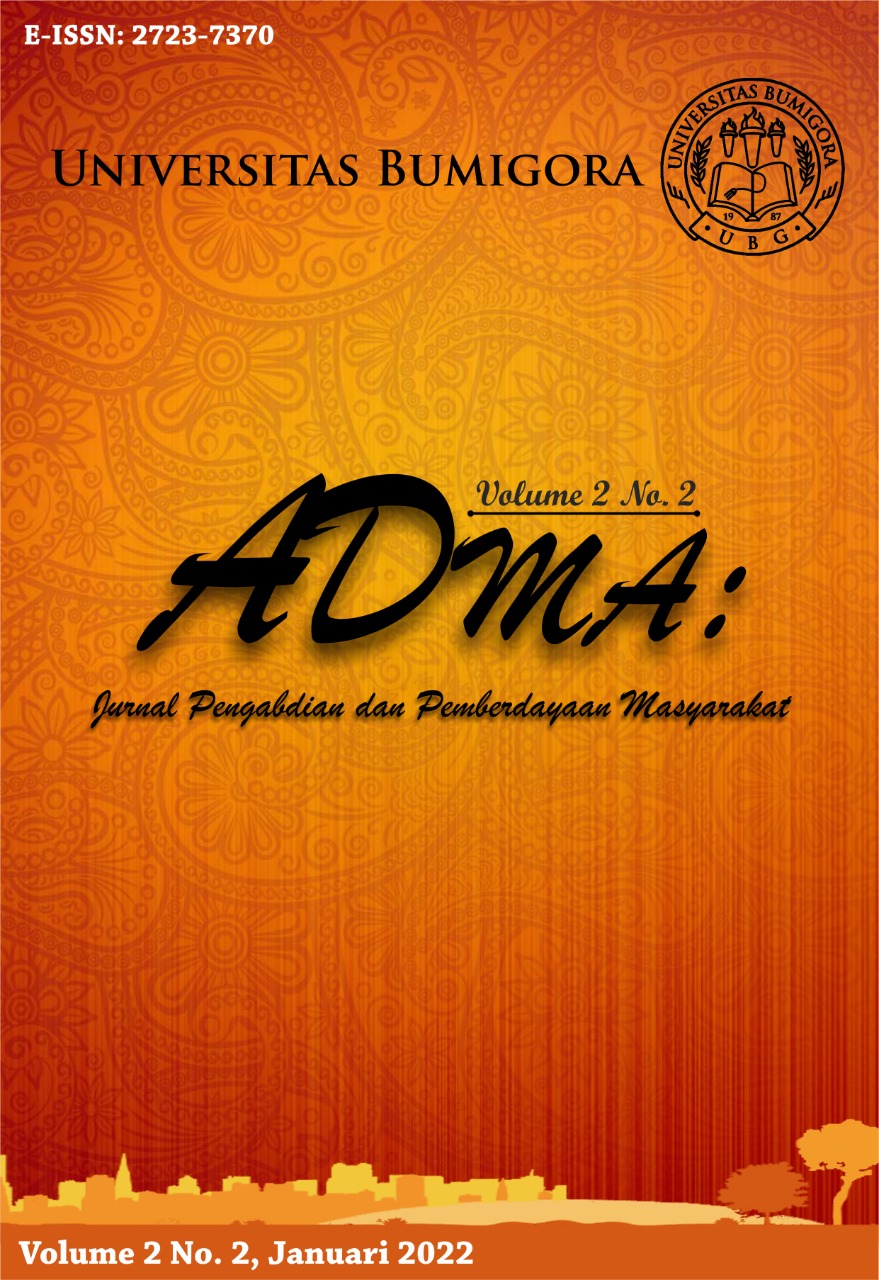 This work is licensed under a Creative Commons Attribution-ShareAlike 4.0 International License.